Do you know what nt.tidesearch.net is?
Nt.tidesearch.net is a search engine that is used by the TideSearch.net browser hijacker. This potentially harmful computer security threat happens to affect only the Google Chrome browser. Nevertheless, if you use some other browser, it does not mean that this program cannot be installed on your computer. You may experience particular difficulties if you try to remove nt.tidesearch.net from your computer, but in this description, we provide detailed manual removal instructions that will definitely help you get rid of this infection. While you are at it, you should also look for other potential threats that might be installed on your PC.
According to our research team, this browser hijacker belongs to the SuperWeb family. This family is notorious for its adware applications, but it seems like it is switching into browser hijackers as well. The feature common to all the programs from this group is the fact they want to present themselves as reliable tools. For example, if you visit the official website for this browser hijacker, it will definitely look user-friendly and trustworthy. The official homepage is located at tidesearch.net, and there the application is promoted as a useful and phenomenal search provider.
However, once you look deeper, discrepancies start to appear. There is nothing substantial about the application, and if you click the Get Tide Search button, you are redirected to the Chrome Web Store. Technically, it should be possible to install this tool on your browser from the official Chrome Web Store, but at the time of writing the page that used to distribute the application was no longer available. Thus, we need to rule out the direct distribution option. Nevertheless, there are still other ways for users to get infected with this browser hijacker, and you should be aware of that.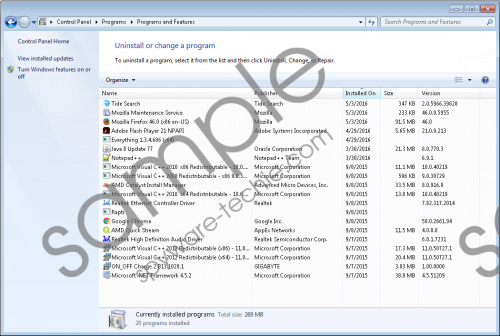 Nt.tidesearch.net screenshot
Scroll down for full removal instructions
Browser hijackers, adware, potentially unwanted programs, freeware applications are, more often than not, distributed in software packages. It means they are bundled in one third-party installer, and they are installed on a target computer simultaneously. Users often are not aware of the potential threats that come along with freeware. If you fail to read most of the steps in the installation wizard (and most of the users do), you will end up installing a number of additional programs no one wants or needs. Incidentally, nt.tidesearch.net might be one of them. Therefore, a lot depends on your attitude to system security as well.
During our tests, we did not notice any annoying pop-up ads, but that is not the problem here. The problem is that nt.tidesearch.net takes over your Chrome browser without permission, and the program is resistant to removal. Once the browser hijacker is in, it will hijack your homepage and change your default search engine to nt.tidesearch.net. If you want to change these settings, the moment you open Chrome Settings, you will be greeted with the line under the On Startup and Search sections that says "An extension, Tide Search is controlling this setting." Meaning, the browser hijacker will not allow you to modify anything.
What's more, it will continuously redirect you to search.tidesearch.net and search.yahoo.com. The hijacker will make use of the customized version of the Yahoo! Search engine to provide you with supposedly relevant search results. Unfortunately, all of the results will be modified in one way or the other, and it is very likely that you will be exposed to unreliable the third-party content. By promoting third-party content, browser hijackers and similar applications make money, but that does not that you get anything in return. If you do not remove nt.tidesearch.net from your computer immediately, in the long run, you might get infected with malware, and it could lead to severe computer security problems and even financial losses.
You will need to remove specific Registry entries and files that are associated with nt.tidesearch.net. If you think that you cannot do that on your own, you can always get yourself a licensed antispyware tool that will terminate the program for you automatically. Also, you have to remember that there might be more unfamiliar and harmful applications in your system. So a computer security tool of your choice is always a good idea even if you are adept at removing adware and browser hijackers on your own. Investing in your computer's safety is a commendable solution to future problems!
How to Remove Nt.tidesearch.net
Press Win+R and type regedit into the Open box. Click OK.
Depending on your version of Windows, go to HKEY_LOCAL_MACHINE\SOFTWARE\Wow6432Node\Google\Chrome\Extensions
or HKEY_LOCAL_MACHINE\SOFTWARE\Google\Chrome\Extensions.
Delete the ddmjcpmnojdjnhgahifmgilboffjpbce key.
Press Win+R again and type %LocalAppData%. Click OK.
Go to Google\Chrome\User Data\Default\Extensions.
Delete the ddmjcpmnojdjnhgahifmgilboffjpbce folder.
Press Win+R once more and now enter %AppData% into the Open box.
Click OK and navigate to Local\Application Data\Google\Chrome\User Data\[USER PROFILE]\Extensions.
Delete the ddmjcpmnojdjnhgahifmgilboffjpbce folder.
Open Run by pressing Win+R and type %ProgramFiles%.
Press Enter and delete the Tide Search folder from the directory.
To be absolutely sure that you have no other leftovers remaining, please run a full system scan with a security tool. That is your best shot at ensuring your system's security.
In non-techie terms:
It goes without saying that when your browser settings get changed without your permission, you are dealing with a computer infection. Although nt.tidesearch.net does not look dangerous, this browser hijacker is extremely annoying and resists being removed from your browser. You need to get rid of nt.tidesearch.net as soon as possible because such programs cannot be trusted. Should you need any assistance with the browser hijacker removal, you can always leave us a comment below.