Do you know what Notifier PLUS is?
If you have noticed tons of third-party ads and annoying pop-ups within your browser, it is a primary indication that an adware application known as Notifier PLUS is up and running on your operating system. In most cases, suspicious programs like Notifier PLUS are advertised as great tools that should enhance your web browsing experience in one way or another. Even though, at first it might sound as a great application to have you must know that such promises are nothing more than a marketing gimmick used to lure naïve Internet users into downloading and installing an utterly useless piece of software. Do not get fooled by these marketing gimmicks and keep your PC clean and secure at all times. We have prepared a detail removal guide that is easy to follow and will help you delete Notifier PLUS in no time.
Once this invasive adware gains access to your operating system, it will almost instantly fill your web browser with numerous third-party commercial ads and annoying pop-ups. This activity will make your web browser virtually unusable because you will need to fight through numerous third-party ads every single time you decide to browse the web. No user is entirely safe since it has been discovered that Notifier PLUS is compatible with major browsers such as Mozilla Firefox, Internet Explorer, and Google Chrome. Ads and pop-ups presented by Notifier PLUS could seem quite useful as they might provide discount deals, but you must know that in reality all the ads are worthless as they will in no way help you reduce the amount of money that you would spend online. If you wish to stop this invasive activity within your web browser make sure to conduct a complete removal of Notifier PLUS from your operating system. If you fail to do so, your browser will continue to be filled with unwanted third-party content at all times.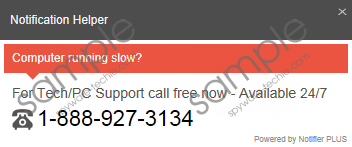 Notifier PLUS screenshot
Scroll down for full removal instructions
Our reports show that usually Notifier PLUS is obtained as a part of a software bundle. Bundled installers are the main way that questionable programs like Notifier PLUS are distributed. There are a few preventative steps that you can take in order to reduce the risk of getting your operating system infected. You should always download your software from its official vendor's websites as it is your best bet to avoid software bundles. You also need always to choose advanced installation method as it provides maximum information about the setup processes; this way you could be able to cancel the installation of any third-party unwated application. Lastly, but most importantly you need to have an active professional antimalware tool on your PC at all times as it will provide overall security of your PC at all times.
The removal of Notifier PLUS is crucial because it has been discovered that in some cases this intrusive adware program could be used by other Internet-based infections as a backdoor into your operating system. This is also the reason you are firmly advised to conduct an in-depth analysis of your operating system for potential Notifier PLUS leftovers as soon as manual removal is executed as it is the only way to you can be sure that every single bit of Notifier PLUS has been removed.
How to remove Notifier PLUS from your PC
How to remove Notifier PLUS from Windows Vista and Windows 7
Click the Windows button.

Select Control Panel.
Click Uninstall a program.
Right-click Notifier PLUS.
Select Uninstall.
How to remove Notifier PLUS from Windows XP
Click Start and select Control Panel.
Click Add or Remove Programs.
Double-click Notifier PLUS.
Confirm that you want to remove Notifier PLUS.
How to remove Notifier PLUS from Windows 8
Move the mouse pointer to the lower-left corner of the screen.
Right-click.
Click Control Panel and select Uninstall a program.
Select Notifier PLUS and then click Uninstall.
In non-techie terms:
Manual analysis of your PC could be a bit too difficult as it involves registry tweaking, which requires advanced computer knowledge because a single mistake while editing the registry system could be the reason your PC might malfunction. This is why you are advised to follow the instructions provided below which will remove Notifier PLUS in an automatic way.