Do you know what NoterSave is?
NoterSave is promoted as an application for organizing and saving online notes the way you want. While using it, you can create tables, specify columns and labels. This program should, in theory, help you manage projects, improve productivity and keep up with commitments. However, our cyber security specialists have concluded that NoterSave is a potentially unwanted program (PUP) because it is distributed with adware-like software that shows. While this program is no malicious per se, you should be aware that the adware that comes along with it can redirect you to potentially malicious websites.
NoterSave has a website that serves to promote it. The site is hosted at Notersave.com but, while this site features a download button, you cannot download it from the site as the download does not initiate. This might be a temporary technical problem, or it might have been set up this way from the very start. Our researchers have found that this program is also distributed via software bundles featured on freeware distributing websites. These websites might hide this application and install it without your knowledge or consent. However, others might disclose the full contents of the bundle and allow you to deselect the software you do not like or need.
Researchers say that that the bundled version of NoterSave comes with adware components that were designed to open your web browser by force and load promoted websites. We insist that that is an intrusive action that hinders the browsing experience and is plain wrong. This application should open the browser and load promoted websites if you use Google Chrome, Mozilla Firefox or Microsoft Internet Explorer.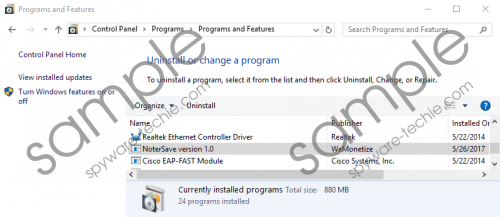 NoterSave screenshot
Scroll down for full removal instructions
Our security experts have analyzed NoterSave and found that the adware component files are placed in the %PROGRAMFILES% folder. The adware component files include 40W8I2OLP.exe, 40W8I2OLP.exe.config, cast.config, uninstaller.exe, and uninstaller.exe.config. However, there might also be files placed at %APPDATA%, but the file names and folder can be random. In the tested sample, there were two files named mjtgitgcuj5.exe and mjtgitgcuj5.exe.config placed in a folder named reuiddxwtbf. Therefore, if you want to identify the randomly named undesirable files, look for a weirdly named folder with two executable files with one of them having the extension ".config" after the ".exe" extension. If you run NoterSave's uninstaller from Control Panel, then it will delete the files of the program but leave the adware component files, so you might continue seeing ads. Therefore, you have to get rid of them manually.
While this application can be useful in some instances, we believe that you should look for a better alternative if you installed NoterSave intentionally because its adware component files are bound to serve you annoying and possibly malicious ads. The program is set to open your web browser at random and load a promoted website. As a result, you may be forcefully subjected to shady content that can compromise your privacy and your computer's security. For this reason, you should consider getting rid of this program.
In closing, NoterSave is a potentially unwanted program that comes bundled with adware components that server advertisements while you browse the web. We find this program unreliable because the websites it promotes that might contain links to malicious content. To reduce the chances of your PC being under threat by a cyber attack, we invite you to remove this PUP suing the instructions presented below.
Manual Removal Guide
Hold down Windows+E keys.
In the address box, enter %PROGRAMFILES(x86)% or %PROGRAMFILES% and hit Enter.
Find the NoterSave folder, right-click it and click Delete.
Then, Enter %PROGRAMFILES% and delete the following files.

40W8I2OLP.exe
40W8I2OLP.exe.config
cast.config
uninstaller.exe
uninstaller.exe.config

Then type %APPDATA% and hit Enter.
Find a randomly named folder (e.g. reuiddxwtbf)
Identify and delete the adware files. (e.g. mjtgitgcuj5.exe; mjtgitgcuj5.exe.config)
In non-techie terms:
NoterSave is a program that offers you a service of storing your notes online. However, it does not disclose the fact that it is ad-supported and that can open your browser and load promoted websites of unknown origin. The adware component is both annoying and potentially malicious, so we recommend that you stay on the safe side of things and remove this PUP at your earliest convenience.