Do you know what Notblocked.biz is?
Notblocked.biz is an adware server that comes from a big group of similar applications. It is very likely that this program enters your computer together with some other application, as adware servers are often used by adware applications and browser hijackers. Therefore, when you remove Notblocked.biz from your system, you should look out for other unwanted applications. If you cannot find them on your own, do not hesitate to employ a legitimate antispyware tool to help you. Your computer's security should be one of your top concerns because a disaster can easily start with something trivial.
With the arrival of this application, you will notice the increase in commercial advertisements on various websites. At first, the ads will be random, but the longer this program remains on your system, the more customized these ads will become. It is very likely that another application that makes use of Notblocked.biz will collect data on your web browsing habits, thus figuring out your likes and preferences. When that happens, your job is to ignore those custom ads because clicking them cannot result in anything good. In the best case, you would be redirected to a random commercial website. In the worst case, you might get infected with malware.
This adware server comes with many different names, so in other computer security websites, it might be presented as Un-stop.org, Un-stop.info, unstop.me, or nonereblock.com. Also, it could be part of many other unwanted applications because our research shows the adware server reaches target computers in software packages. In other words, the program comes bundled with freeware. Most of the time, users know when they download freeware applications and they do it consciously. What they do not know, however, is that they might as well install multiple unwanted applications, with this program they wanted to have.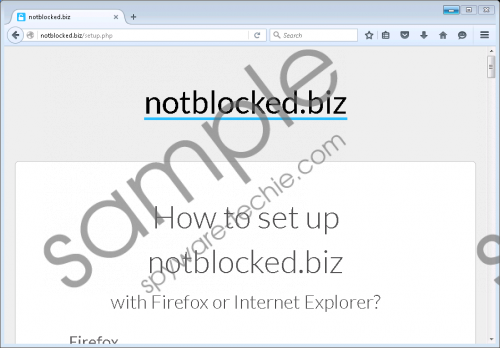 Notblocked.biz screenshot
Scroll down for full removal instructions
Does that mean you can avoid Notblocked.biz and other similar intruders? Very much so. The most definite way to avoid them is to stay away from file-sharing websites. If you must have a particular application, make sure you download it from its official homepage. Next, if you happen to launch a third-party installer, you should go through each and every step carefully. Quite often, they inform users about the additional programs and features that are about to be added to their computers, but users are too preoccupied with this one application they need to notice that. Hence, being attentive could easily save you the trouble of dealing with Notblocked.biz later on.
Now, what happens if this adware server does enter your system? The program changes proxy settings and allows third-parties to reach your browser for commercial advertising. If you access a website that has some advertising space designated for third-party ads, Notblocked.biz will take over that space, and it will display custom commercial content. It might take some time until the adware server starts showing ads that would be entirely of your liking, but you can be sure that quite soon this program will know exactly what to show you and you will have a hard time resisting the urge to click those ads.
Why is it dangerous to click third-party advertisements? For the most part, Notblocked.biz and other similar servers do not have the intention to steal your personal data or infect you with malware. However, we need to remember that there are a lot of malevolent third parties out there, ready to make use of such vulnerable applications. After all, this adware server relies on third parties to generate the commercial content, and if cyber criminals decide to make use of the program to promote their own sites, you could find yourself in deep trouble.
Notblocked.biz does not have an entry in the list of installed programs, and there are no files associated with the server, so it is not possible to remove this program via Control Panel. Nevertheless, you can restore your browser settings to default and delete everything this adware server has collected about your web browsing habits.
Finally, to get rid of other unwanted programs and to terminate all the risky files, scan your computer with the SpyHunter free scanner. Relying on an automated security tool will save time, as it will effortlessly delete any undesirable piece of software left.
How to Remove Notblocked.biz
Firefox
Press Alt+H and go to Troubleshooting information.
Click Refresh Firefox on the new tab.
Press Refresh Firefox on the confirmation box.
Click Finish.
Chrome
Press Alt+F and go to Settings.
Scroll down and click Show advanced settings.
Scroll down again and press Reset settings.
Click Reset.
Internet Explorer
Press Alt+T and go to Internet options.
Open the Advanced tab and click Reset.
Select Delete personal settings and press Reset.
Click Close.
In non-techie terms:
At first glance, Notblocked.biz may not seem much of a security problem, but this adware server can easily redirect you to dangerous websites. It is not a good sign when you often land on pages you do not recognize. To ensure your computer's safety, you should terminate Notblocked.biz and everything associated with this domain immediately. And do not forget to invest in a computer security application that would safeguard your PC against similar intruders in the future.