Do you know what Norton-fix.net is?
Norton-fix.net is an adware server which is used for the promotion of fictitious services. Our malware analysts have discovered that the server will promote pop-ups and interstitial advertisements using the credentials of Norton. As a matter of fact, the company has nothing to do with the presented offers. The name of the reputable, well-known company has been employed to trick computer users into thinking that the presented offers and recommendations are trustworthy. We can assure you that they are not, which is why we urge to delete Norton-fix.net advertisements as soon as possible. Needless to say, it will not be enough to close the displayed offers to remove them for good. The removal is far more complex in most cases, which is why you should read this report before making further decisions.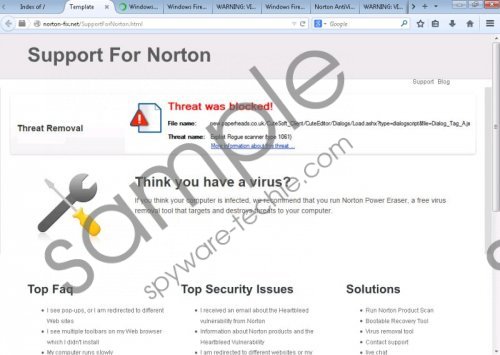 Norton-fix.net screenshot
Scroll down for full removal instructions
If you discover online pop-ups supposedly presented by Norton indicating that your computer is infected with adware, spyware, or viruses that supposedly require removal, you need to be suspicious. A reliable antivirus would never introduce you to random pop-ups indicating the existence of malware, even if the antivirus is not installed onto your operating system. In fact, if you keep facing Norton-fix.net warnings, it is most likely that your operating system is truly affected by adware, but not by adware identified via the warnings. Advert-supported programs may be installed onto your operating system to present supposedly beneficial deals and offers. Unfortunately, most ad-supported apps require removal, because they are intrusive. If you do not remove Norton-fix.net related adware, this is the kind of ads you will be introduced to.
Windows Firewall warning:
YOUR COMPUTER MIGHT HAVE ADWARE / SPYWARE VIRUS
Call 1-844-213-0040 immediately for assistance on how to remove the virus.
Do you know what will happen if you call the provided number? You will be connected to a schemer who will try to lure out personal information, including your credit card details. Even though the person speaking to you may promise to help you with the removal of malware, we can assure you that this is a scam. What is more, the calls may be expensive, and you do not want to waste your credit on useless conversations. Of course, some users will have trouble removing Norton-fix.net ads. If you cannot close the page showing the misleading warnings and ads, you should terminate the process of your browser. Open the Task Manager, go to Processes, and End the corrupted process.
Note that adware linked to Norton-fix.net is usually installed using software bundles presented by Justplugit, Crossrider, and similar software distributors. Do not forget to scan your operating system and delete Norton-fix.net related threats. If you cannot delete them manually, employ automatic malware removal software.
Delete undesirable programs from Windows
Delete from Windows 8:
Tap the Windows key on the keyboard to access the Metro UI menu.
Right-click on the screen, select All apps, and open the Control Panel.
Move to Uninstall a program and right-click the app you wish to remove.
Select Uninstall.
Delete from Windows Vista or Windows 7:
Open the Start menu from the Taskbar at the bottom of the screen.
Select Control Panel and go to Uninstall a program.
Right-click the undesirable application you wish to remove and select Uninstall.
Delete from Windows XP:
Move to the left of the Taskbar and click Start to open a menu.
Select Control Panel and double-click Add or Remove Programs.
Now select Change or Remove Programs and Remove the undesirable software.
In non-techie terms:
Norton-fix.net is not a reliable adware server and it is not linked to Norton. The ads and notifications presented via this server are unreliable, and you should not pay any attention to them. You can try to delete adware using the manual removal instructions below; however, if Norton-fix.net ads keep appearing, you should install automatic malware removal software.