Do you know what No-block.net is?
No-block.net is a website promoting an application that should enable users to access any website and bypass blocked services. Generally speaking, it should make it possible for computer users to "surf the web without any geo-restrictions." According to the information available on no-block.net, the application which can be downloaded from this website should allow users to access Netflix, ESPN, HBO, NBC, Spotify, and other popular pages blocked in the area. Users are told that it is a safe and private service, and if they install the No-block.net program on their PCs, they will not need any additional software. Although this proxy modifier seems to be an extremely useful application at first glance, it, sadly, has several drawbacks too, so researchers cannot call it a fully reliable program. They do not think that it is a good idea to keep dubious applications, so, no matter it works well or not, the No-block.net program should be deleted, according to them. Read more about the drawbacks of this piece of software and then make a final decision whether or not it should stay installed on your PC.
We can neither deny nor confirm that the No-block.net application works the way it promises to, but our specialists are sure that it is not an application that can be trusted fully even though it works as a tool for modifying proxy. Our malware analysts say so because they have made two disturbing findings. First, they have discovered that the No-block.net application might start displaying advertisements. These ads might appear on pages users visit, so they do not always realize that they see those ads because of the presence of this program. As a consequence, this application is often called an adware server. It is advisable to eliminate a program displaying these irritating ads because untrustworthy commercials might be presented to you too. Users might be redirected to bad pages after clicking on them, so it is better to go to erase the No-block.net application rather than risk infecting the computer with dangerous software every day.
Users should also be aware of the fact that information about them is being recorded by the program promoted on No-block.net. The following details are going to be collected by it automatically: information provided by the browser, the time and date of the computer the program is installed on, and an IP address. On top of that, it is clearly stated that third-party advertising partners might "send you cookies or use web beacons." This also suggests that information about you might be known for third parties as well. They will get more and more important details every day if you let the proxy changer stay on your PC.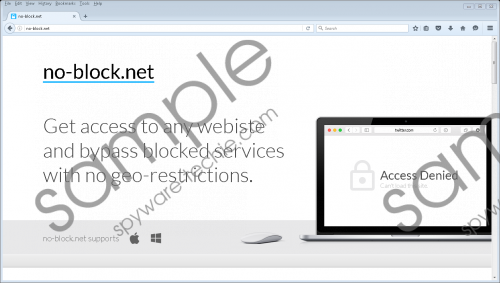 No-block.net screenshot
Scroll down for full removal instructions
Just like other suspicious proxy modification tools promoted on such pages as Un-stop.org, Un-stop.info, Nonereblock.com, and Unstop.ne, the No-block.net application can also come bundled, which immediately makes it a suspicious program too. It is up to you whether or not to let it stay on your computer if you have not downloaded and installed it willingly, but it would not be a very rational decision, in the opinion of our researchers, to keep it when it does not do anything beneficial to you.
You can go to undo the changes applied to your computer by the No-block.net program manually, but, in our opinion, it should be easier for users to go to reset their web browsers to default settings instead. Our experienced specialists say that this should work. If not, using a reputable antimalware scanner, such as SpyHunter, is highly recommended. This removal method is even easier than resetting browsers.
Undo changes applied by the No-block.net program
Internet Explorer
Start your browser.
Press Alt+T simultaneously.
Click Tools and then open the Advanced tab.
Click on the Reset button.
Put a tick in the Delete personal settings box.
Click Reset.
Mozilla Firefox
Open Mozilla Firefox.
Click on its menu button (top-right corner) and click on the question mark icon.
Click Troubleshooting information.
Locate the Refresh Firefox button at the top and click on it.
Click Refresh Firefox again in the confirmation window.
Google Chrome
Open your web browser.
Press Alt+F simultaneously.
Click Settings.
At the bottom, click Show advanced settings.
Click on the Reset settings button.
Click Reset if you are sure you want to reset your Google Chrome.
In non-techie terms:
The No-block.net proxy changer could have been installed on your system together with other dubious applications, so is it advisable to use an automatic scanner to find out more about other programs installed on the system. If there are malicious programs on the computer, they will all be found and deleted within seconds by a reputable scanner you use.