Do you know what nJoyMusic Search Plus is?
If you love music, you may not mind a browser extension like nJoyMusic Search Plus, even if it appears in your browser without you knowingly installing it, but you would be wrong. Unfortunately, our researchers have found that this Google Chrome browser extension may pose a threat to your system security, although it cannot be called a serious direct danger. For this reason, it has been labeled as a potentially unwanted program (PUP). But it does not mean that you should take it lightly. This PUP can show up on your system with a company of malicious software installers and thus create multiple virtual security issues as well as exposure to unsafe third-party web content, such as malicious websites and unreliable third-party advertisements. This is why we suggest that you remove nJoyMusic Search Plus from your browser and hunt down all other threats that could be hiding on your system.
This PUP is available on the web on official forums, such as its own webpage, njoyapps.com, and its Chrome web store page, chrome.google.com/webstore/detail/njoymusic-search-plus/mmknijdjkplcnomiifmhakkjdjccfeak. The official webpage is, in fact, home for ten very similar PUPs, including nJoyMovies Now and nJoyMusic Search. The first suspicious thing about this extension, and certainly not the last one, is that it pushes you to install another tool as well. It is presented to you on a new tab where you are made believe that your installation of this PUP is not finished and you seemingly need to install this other extension by pressing "Add now" to finish the process. Of course, the "Skip" button is hardly visible, and on purpose. While this may not be a good enough reason for you to delete nJoyMusic Search Plus, we have more to say.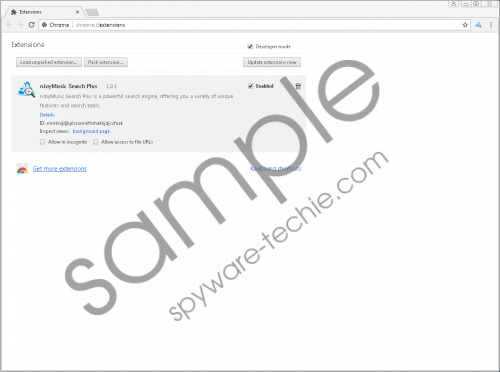 nJoyMusic Search Plus screenshot
Scroll down for full removal instructions
Our researchers have found freeware bundles spreading this PUP along with other PUPs and even malware infections. You should be aware that bundling has become a major distribution method for cyber criminals to infect unsuspecting users with PUPs and malicious programs as well. Therefore, every time you are about to install a software package, you must make sure that you know what it contains exactly, or else, you could infect your system with adware programs, browser hijackers, Trojans, ransomware programs, keyloggers, fake alerts, and more. And, all this, in one single go. If you would like to save yourself this headache, you need to stop downloading free programs from shady torrent and freeware sites, visiting other suspicious pages related to porn, online gaming, betting, and streaming videos. In addition to these, you should also refrain from clicking on third-party ads to be on the safe side. But right now it is essential that after you delete nJoyMusic Search Plus, you also scan your PC with a reliable malware scanner.
This new tool promotes gomusix.com, which is a questionable website offering online streaming music in all kinds of categories. However, this site contains questionable third-party ads, which can be rather annoying as well as potentially dangerous if you were to engage with them. This PUP displays an icon in your Google Chrome browser taskbar. If you click this icon, a small window pops up with a search box and below it, a number of offered thumbnail links leading to different music styles on this promoted website. The search tool also redirects you to a search results page on this website.
But this browser extension also changes your default search engine to musix.eanswers.com, a questionable search page, and makes modifications to your homepage and new tab so that you would be pushed to use this default search engine from the address bar. It is important for us to warn you that this search engine is not to be trusted. It redirects all your searches to a modified Yahoo search results page. This means that you could be exposed to promoted content like third-party advertisements and links disguised as hits. If you were to click on these contents, you could end up on a malicious website and being scammed or drop further threats onto your machine. This is why we think that it is best for you to remove nJoyMusic Search Plus as soon as possible.
Fortunately, it is not even too difficult and will not take more than a minute. If you follow our instructions below, you can easily eliminate this PUP by removing this browser extension via the Extension Manager. As you can see now, it may be easier to infect your computer than you may have thought. If you do not feel up to the task of defending your PC against all kinds of threats that are out there waiting to attack you, we suggest that you install a trustworthy anti-malware program, such as SpyHunter.
nJoyMusic Search Plus removal from your browser
Google Chrome
Tap Alt+F and open More tools.
Go to Extensions.
When you find the extension, click on the Trash icon on its right.
Press Remove.
In non-techie terms:
When you find nJoyMusic Search Plus in your browser, it is possible that you will be introduced to potentially harmful third-party advertisements and links. This new potentially unwanted program comes from a relatively new family of useless tools. This family already has given birth to at least two dozen of questionable browser extensions that only work under Google Chrome fortunately. Another issue with this new extension is that it can sneak onto your system using deceptive methods like bundling. This way, however, malware infections can also infiltrate your system without your knowledge or noticing. Therefore, it is essential that you do not just remove nJoyMusic Search Plus alone but all other possible threats as well. We recommend that you start protecting your PC by installing a reliable anti-malware program.