Do you know what NJax is?
NJax is an adware application, so it enters your computer with intention to help its creators make easy money. Take note that adware programs do not "infect" their target systems per se. Users often install NJax and other similar applications willingly, although they usually do not realize just how many applications they set up on their computers. If you happen to have NJax on your system, you are strongly recommended to remove this application at once. Despite the fact that it does not intend to infect you with malware, it still poses specific computer security threats.
You might say that NJax is a dangerous infection because you do not remember installing it. It is true that you probably have no memory of installing this application, but it does not mean that NJax is malicious. Our research lab team says that there is no direct download link for the app, but it can come bundled with some potentially suspicious installers. Users encounter third-party installers on file sharing websites. If you want to avoid various computer security issues, you should NEVER download a program at a third-party website. As far as NJax is concerned, it seems to be distributed at Portuguese language file sharing web pages.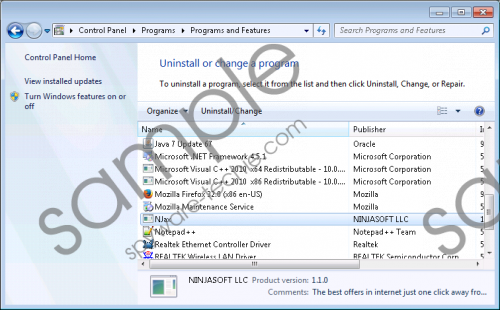 NJax screenshot
Scroll down for full removal instructions
Once the program gets installed on your computer together with some other unwanted applications, NJax does not behave like your average adware app. It does not add any extensions and plug-ins to your browser and it does not change your default search provider. There is, however, a process running in your system background called NJax.exe. What is more, you will notice that something is off immediately because this adware application redirects all of your searches to a modified Yahoo! search engine. For example, if you enter your search query in Google and press Enter, NJax automatically redirects you to Yahoo! search and displays modified search results.
On top of that, this redirection is not direct. You get redirected through NJax servers and it means that the adware program can collect data on your web browsing habits and what you search for online. It is definitely a security concern because if NJax gets exploited by malevolent third parties and this personally non-identifiable information gets leaked, you could be exposed to a potentially corrupted content. Eventually, it could even result in malware infection.
To avoid this from happening, remove NJax right now. It is not hard to do because you can uninstall the application via Control Panel. Do not forget to check for other potentially unwanted applications. The best way to do it would be running a full system scan with SpyHunter free scanner. Should you have any further questions on how to protect your PC from harm, please leave us a comment.
How to uninstall NJax
Windows 8
Drag mouse cursor to the bottom right of the screen.
Click Settings on Charm bar and select Control panel.
Open Uninstall a program and remove NJax.
Windows Vista & Windows 7
Open Start menu and click Control panel.
Go to Uninstall a program and remove NJax.
Windows XP
Click Start menu and go to Control panel.
Select Add or remove programs and uninstall NJax.
In non-techie terms:
NJax is an application that redirects your search queries to Yahoo! search engine. Yahoo! has nothing to do with this program, but you need to remove NJax from the system as soon as possible because adware applications are not safe.