Do you know what Ninja Savings is?
Ninja Savings can show banners, pop-ups, interstitial ads, coupons, video ads, and sponsored links. This is why it is only fitting to call it an advertisement-supported program. This adware is identical to such unreliable programs as Proshopper, PriceChomper, and Sliding-Coupons, which also should be removed. Although the creator of these programs is unknown, it is obvious that they were created to serve as advertising tools. Once these programs infiltrate your operating system, they contact adware servers and inject ads. Although you might control the coupons that show up by adjusting the settings of the program, it is unlikely that you will be able to stop the annoying video ads, pop-ups, and other types of advertising unless you remove Ninja Savings.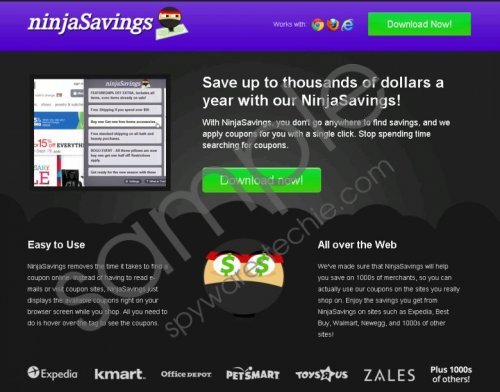 Ninja Savings screenshot
Scroll down for full removal instructions
According to our research, Ninja Savings is compatible with Internet Explorer, Mozilla Firefox, and the outdated versions of Chrome browser. As soon as this adware is installed as a browser extension, it starts showing ads, and clicking on them is against our recommendation. You could be exposed to malware installers, fake data-collecting prize-giveaways, bogus software updates, and phishing scams if you were to trust the offers of Ninja Savings. Unfortunately, many users are blinded by the bogus promises to help them save money, which is why they become victims of malicious activity. Have you been scammed already? If you suspect that your security has been breached, the first thing you should do is scan your PC to see if you need to remove malicious programs. Unfortunately, you might have to delete malware even if you refrain from interacting with the unreliable ads injected by Ninja Savings.
The installer on ninjasavings.com does not work, but the creators of Ninja Savings have turned to third-party distributors to spread it across the web. There is no doubt that third-party distributors will bundle Ninja Savings with other programs, and they might require removal as well. If you decide to use an automated malware removal tool, you do not need to worry about the number or the nature of the infections active on your operating system. However, if you decide to delete Ninja Savings and its counterparts manually, you have to identify all threats before initiating the removal process. Although the unreliable ad-supported program can be removed easily using the guide we have provided, other infections might require more attention. If you cannot handle them yourself, do not hesitate to install a security tool that will delete them automatically.
Remove Ninja Savings
Remove from Mozilla Firefox
Launch Firefox, tap Alt+T, and select Add-ons.
Move to Extensions and Remove Ninja Savings.
Remove from Internet Explorer
Launch IE, tap Alt+T, and click Manage Add-ons.
Move to Toolbars and Extensions and Disable the undesirable add-on.
Remove from Google Chrome
Launch Chrome, tap Alt+F, select More tools, and click Extensions.
Click the recycle bin associated with the unwanted add-on and click Remove.
In non-techie terms:
The suspicious Ninja Savings is an advertisement-supported program we recommend deleting as soon as possible. Even though you might be able to use this program without facing security problems – if you ignore the ads it injects – there is no reason you should keep it running, considering that it does not offer beneficial services. You need to remove Ninja Savings directly from your browsers to get rid of it, and most users should be able to do this manually. Unfortunately, the infections installed along with this adware or via it might be much more dangerous, and it is a good idea to use an automated malware detection and removal tool to eliminate them.