Do you know what Ninja Ransomware is?
Ninja Ransomware is a Russian Trojan horse malware infection that you should take seriously if it attacks your computer. Although you will not realize the moment it sneaks silently onto your Windows operating system, once it activates itself and displays its ransom note on your desktop, you will definitely know about its presence. When this Trojan hits you, it hits you hard. It encrypts main file types on your hard drive, which you can only decrypt by paying a certain amount to the cyber criminals behind this intrusive Trojan. Unfortunately, it is rather complicated to manually remove Ninja Ransomware, but we can still offer you a solution below. Nevertheless, it is possible that you will not be able to decrypt your files and they will be lost after this vicious attack. Let us tell you more about this nasty infection so that you can see how you can protect your computer from such threats and what you can do to handle this situation.
The most usual way for this Trojan horse to spread over the Internet is via e-mails; more specifically, in attachments. There are sophisticated Trojan infections that can use a widely known company, such as an Internet provider, as the sender of the infected e-mail, or even a friend from your contact list in order to make sure that you will open the attachment without a second thought. This Trojan might arrive as a simple spam e-mail to your Inbox, and disguise itself as a "must see" picture or video, but it can also be a .pdf file sometimes. Once you click on the attachment, it downloads and activates in the background right away. So, as usual, the problem reveals the key to the solution. You need to be careful with opening attachments no matter who you get it from. Open only the ones that you actually know that they were sent to you, i.e., you expect them. By this simple rule you can practically save yourself the nightmare that comes with losing precious files.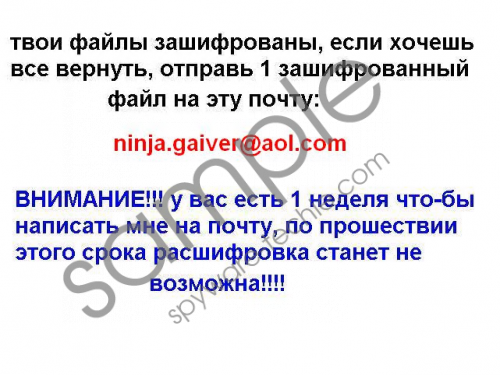 Ninja Ransomware screenshot
Scroll down for full removal instructions
It is also possible that this Trojan comes in a freeware bundle. So there is another lesson to learn here. You always need to be careful what websites you visit or choose as a source for downloading free software. Most computer users get malware infections via bundles that are packed with malware and can be downloaded from shady shareware websites. If you stay away from such sites, there is a good chance that you avoid the encounter with Ninja Ransomware and the like. However, if this Trojan infiltrated your computer in such a package, chances are there are multiple threats on-board attacking your system. Simply deleting Ninja Ransomware cannot solve all your problems; that is why we suggest that you also use an online malware scanner to identify all the malware infections.
When Ninja Ransomware appears on your computer, it starts to encrypt all of your major files that have .mp3, .jpg, .txt, .rtf, and .7Z extensions. Once it finishes its job, it will display its ransom warning in Russian language, of course. This Trojan offers you an e-mail address so that you can send an infected file that will be returned to you, thus proving that they can actually decrypt the files. Then, you need to pay in order to have your files back. But we need to warn you. There is never any guarantee that even if you pay, your files will be decrypted. That is why it is very important to keep saving the most important files onto an external drive. If you do so, you can easily restore them; otherwise, you may have no other choice but to say goodbye to your files.
Since it would require an experienced computer user to manually find the Trojan executable files on the system, we recommend that you follow our instructions below and install a powerful antimalware application, such as SpyHunter, that can eliminate Ninja Ransomware and all other infections as well. You need to restart your machine in Safe Mode in order to be able stop this dangerous malware from functioning so that it can be removed. If you have any questions regarding this malware, please leave us a message below.
Ninja Ransomware Removal from Windows
Windows XP, Windows Vista, and Windows 7
Restart your computer and start tapping the F8 key when the BIOS loads.
Choose Safe Mode with Networking and press Enter.
Launch your browser, go to http://www.spyware-techie.com/spyhunter, and download SpyHunter.
Install the application, run a full system scan, and remove all the threats.
Restart your PC in Normal Mode.
Windows 8, Windows 8.1, and Windows 10
Press Win+I and click on the Power Options icon. Press and hold the Shift key and click Restart.
Go to Troubleshoot and choose Advanced Options. Select Startup Settings.
Click Restart. Tap F5 to reboot the PC into Safe Mode with Networking.
Start up your browser, go to http://www.spyware-techie.com/spyhunter, and download SpyHunter.
Install the application, run a full system scan, and remove all the threats.
Restart your PC in Normal Mode.
In non-techie terms:
Ninja Ransomware is a dangerous Trojan infection that can sneak onto your computer silently and encrypt the major files on your hard drive. You can only decrypt your files if you pay the criminals behind this Trojan. However, you cannot be sure that they really deliver what they promise. What is for sure, though, is that you need to remove Ninja Ransomware immediately. We advise you to install a reliable antimalware program to handle this intrusion for you and protect your system from similar attacks.