Do you know what Nicer Together is?
If you think of downloading and installing a program known as Nicer Together you should think twice. Malware experts at Spyware-Techie.com have conducted an in-depth analysis of this application and have eventually classified it as an adware program due to its intrusive nature. During the investigation, it has been found out that the creators of this adware program tend to use misleading marketing techniques to get unsuspecting users to believing that this piece of software is useful. Unfortunately, such claims are false, to say the least, as this ad-supported program does the opposite of what can be considered an improvement of your online experience; it mostly cases disruptions while you are surfing the web. Your web browsing experience will continue to be ruined for as long as this adware is fully active on your computer. If that was not enough this invasive program could turn out to act not only in an invasive way but in a malicious one as well. Read the rest of our report and find out more about the dubious functionality of Nicer Together while learning how you can delete it in the most efficient way.
Nicer Together does not exhibit any unusual features taking into account that is an adware application. Just like the majority of its counterparts, that fits this category it heavily relies on a browser extensions to act in the way it does. The ad-supported program in question will implement its intrusive extensions to web browsers such as Internet Explorer and Mozilla Firefox and will start presenting you with a large amount of unwanted third-party ads, pop-ups, and coupons. All such content comes from a number of adware servers. This is so due to the fact that this adware establishes connections to such servers with a help of those intrusive browser extensions. At times, you web browser could get filled up with such a large amount of dubious web content that surfing the web could become virtually impossible as you might have to stop all your online activities in order to close down each ad, pop-up, or coupon. It is critical to highlight the fact that by simply terminating the intrusive browser extension you will not be able to stop this annoying activity entirely. If you wish to surf the web the way you are used to you need to delete Nicer Together as a whole; otherwise, just a few leftover files or registry entries could still be enough for this adware to fully function.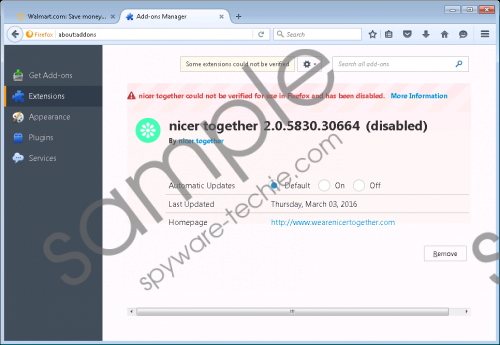 Nicer Together screenshot
Scroll down for full removal instructions
Another feature that Nicer Together exhibits is much more alarming. During our investigation, we have found out that some of the worthless ads and pop-ups that this adware program present could actually b much more dangerous than you might think. Some of them could turn out to be hosting redirect links, which is dangerous, to say the least, because by clicking on such an ad you might land on a questionable site. Some of them could even be hosting malicious web content. It should be more than obvious that ending up on such websites is a risk that no user should take. Even though such ads or pop-ups are not presented often, it remains a possibility to come across one. If that was not enough, you must know that this adware program could also trigger silent downloads. Since adware servers are infamously related to malware distribution it is not a coincidence that it could obtain an unknown invasive program. Therefore, we highly recommend checking your operating system for other questionable software if you happen to have Nicer Together already running on your computer. It goes without saying that a complete removal of this adware is essential if you wish to maintain operating system that is fully secure at all times.
Execute the removal of Nicer Together by closely following the instructions that we present below. It is imperative to delete every single file and registry entry related to this ad-supported software because just a few leftovers could be still be used for full functionality of it or worse – the adware program could be silently restored with a help of just a few files or registry entries. To be sure that the removal of Nicer Together was successful, you must double-check your computer for dubious content linked to it.
How to delete Nicer Together from your operating system
Windows 10
Type Control Panel into the search field and tap Enter.
Click Uninstall a program.
Select the unwanted program and click the Uninstall button.
Windows 8 and 8.1
Right-click your Task Bar.
Select Control Panel and click Uninstall a program.
Right-click Nicer Together.
Select the Uninstall option.
Windows 7
Click the Windows button and select Control Panel.
Click Uninstall a program.
Select the malicious application and select Uninstall.
Windows XP
Tap the Windows key on your keyboard.
Select Control Panel and click Add or remove programs.
Double-click the unwanted program.
Confirm that you want to remove it.
In non-techie terms:
If you are a user that finds manual removal of Nicer Together a bit too complicated you should not worry. Malware researchers at our internal labs have put up an alternative removal guide that you should follow right now. By executing it you will be able to delete this intrusive adware application in an automatic way.