Do you know what NextFlix is?
NextFlix is an application you should avoid because it may put your virtual security at risk with its constant flow of third-party advertisements. In fact, this software pretends to be a useful tool to access geo-restricted web content (popular internet TV channels), but failing to do so, it has really no use for you. Unfortunately, finding this adware on your computer can easily mean that there are other malware infections on board, too, including adware programs, browser hijackers, Trojans, and potentially unwanted programs, which most commonly travel together. Even if you are "lucky" and do not have all of these possibilities on your system, there is a good chance that you will find a couple of malware infections apart from this ad-supported program. This is why we suggest that you remove NextFlix and then, run a malware scanner to find and eliminate all other risky applications. According to our researchers, without this, your PC could not be secure again.
The most likely way for you to download this useless adware is to click on an unsafe third-party ad (banner or pop-up). This can normally happen if your computer was previously infected with malware or when you land on unfamiliar websites that host several third-party ads. These websites include gaming, dating, torrent, and other file-sharing websites. The advertisements on these pages can be very annoying and misleading, too. You may think, for instance, that you click on a system error message or a driver update that will enable you to see some content on the page. The bad news is that all these are simply deceiving third-party ads that promote malicious third-party installers. It is quite likely that you downloaded NextFlix this way. If you recall clicking on ads or visiting such sites, you should delete NextFlix right away and scan your system for more infections.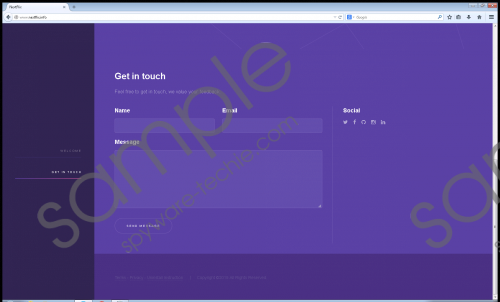 NextFlix screenshot
Scroll down for full removal instructions
It is less likely that you downloaded this junk through its official webpage, nextflix.info, because, in fact, there is no such availability there. It is quite annoying and also strange when you cannot download an application from its own website; however, not as unique as you may think. This is a rather simple webpage indeed with limited information about this software. All you learn here is that this program is supposed to enable you to access otherwise geographically limited content, such as the following internet TV platforms: NetFlix, Spotify, CBS, HBO, ESPN, BBC iPlayer, and ITV. While this may sound an amazing offer, you should know that it is not at all true.
Similarly to the other adware applications NextFlix was cloned after, including CloudScout and DNS Unlocker, this program's only goal is to display as many third-party ads as possible and to make you click on them since that is the main source of its income. This adware works based on the pay-per-click system, which makes it clear that the more you click on ads generated by this program, the more you support potential cyber criminals. But, of course, this is only one of the reasons why you should not engage with any content coming through NextFlix. As a matter of fact, you should remove this adware the moment you notice its presence. If you click on any unsafe ads, the consequences will not be bright. In fact, you can easily let more infections onto your PC or even lose money by being scammed by cyber criminals. If you do not want to experience such scenarios, we recommend that your delete NextFlix immediately.
Unfortunately, we cannot tell you this time that it is simple to eliminate this threat because of the DNS setting changes. But do not worry; you can still make it go away with leftovers if you follow our guide below. First, you need to locate and run the uninstaller of this application, which should take care of all the mess caused by NextFlix. Second, you need to undo the changes made to your DNS settings. If you follow our instructions below, you should have no problems tackling this malware infection. Since the efficient protection of your virtual world is very important if you do not want to lose or damage your files as well as lose your bank account details to criminals, you should install a reliable anti-malware application. Before you choose security software, though, make sure that it is a reputable one because you can easily end up with a fake tool that could cause you more issues instead of weeding them out.
Remove NextFlix from Windows
Windows 8/Windows 8.1/Windows 10
Tap Win+X and pick Programs and Features.
Click on the application and click Uninstall.
Windows Vista/Windows 7
Open the Start menu and choose Control Panel.
Access Uninstall a program.
Click on the application and click Uninstall.
Windows XP
Tap Win+R and type control panel. Click OK.
Open Add or Remove Programs.
Click on the application and click Remove.
Restore DNS settings
Windows 8/Windows 8.1/Windows 10
Press Win+I and pick Control Panel.
Choose Network and Internet and go to Network and Sharing Center.
Select the active connection next to Connections.
Click Properties in the pop-up.
Choose Internet Protocol Version 4 (TCP/IPv4)/Internet Protocol Version 6 (TCP/IPv6) in the item list box and click Properties.
Select the "Obtain DNS server address automatically" option and click OK.
Press OK.
Windows Vista/Windows 7
Press Win+R and type Control Panel. Click OK.
Choose Network and Internet and pick Network and Sharing Center.
Select your connection type.
Click Properties and choose Internet Protocol Version 4 (TCP/IPv4)/Internet Protocol Version 6 (TCP/IPv6).
Click Properties and select "Obtain DNS Server address automatically".
Press OK.
Press OK one more time.
Windows XP
Click the Start button and pick Control Panel.
Open Network Connections.
Right-click on the active connection and choose Properties.
Select Internet Protocol on the Local Area Connection Properties panel.
Click Properties and select "Obtain DNS server address automatically".
Press OK.
In non-techie terms:
NextFlix is a worthless piece of software that can cause a lot of headaches for you with its endless flow of potentially risky third-party ads. This application has no use for you at all unless you want to increase your system's vulnerability. Clicking on the ads shown by this ad-supported program can be dangerous as you may end up on malicious websites. It is also possible that this infection brings other malware threats along and multiplies your security issues. Therefore, we advise you to remove NextFlix ASAP and eliminate all other threat sources as well if you want to protect your computer. If you do not want to hunt down infections manually, we recommend that you invest in a decent up-to-date anti-malware application to take that burden off your shoulders.