Do you know what Nextbestgame.org is?
Nextbestgame.org is a web domain that is used by adware programs to display and promote affiliated content. The website is more of a tool that can be used by multiple applications. It cannot infect you with anything on its own, but if you constantly get redirected to Nextbestgame.org, it means that you have multiple adware programs installed on your computer. Therefore, in order to remove Nextbestgame.org from your browser you have to terminate all the adware applications that are currently running on your PC. By getting rid of these annoying programs, you will make sure that your system does not get exposed to even more serious threats.
Whenever you get redirected to Nextbestgame.org, it is not like you "stay" on that website for a long period of time. The moment you land on the site, you get automatically transferred to gameplayinfo.org. This website promotes adult games for the Russian-speaking users, and it constantly displays commercial pop-ups whenever you land on the site. If you do not speak Russian, it is very likely that you will be inclined to close the site the moment it opens. However, closing the page would not solve the problem; you would also have to remove all the programs that could be possibly associated with Nextbestgame.org.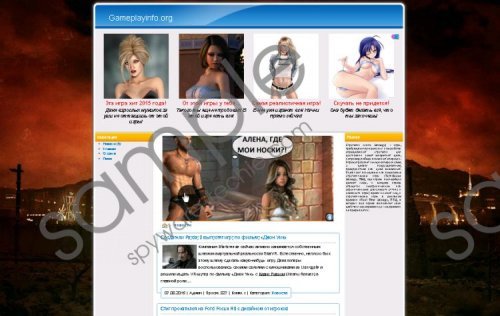 Nextbestgame.org screenshot
Scroll down for full removal instructions
You think you must have been infected with adware behind your back? We would not be so sure about that. It is far more likely that you accidentally downloaded adware programs on your computer when you were browsing a file-sharing or a torrent website. Such sites are full of fake download buttons, and one stray click might initiate an adware download. What's more, sometimes adware programs are included in a freeware software package that users download willingly, hoping to install a program they have been looking for. Going through the setup as fast as possible eventually results in adware installation, and then you have to deal with multiple side effects. Some of them might result in a malware infection, so it is obvious that you should not waste any more of your time.
Users often think that pop-up ads are just annoying nuisances that slow down their browsers and impede the web browsing process. However, that is only part of the problem. You have to remember that pop-up ads also distribute third-party content, and they are often embedded with outgoing links. The program that generates such ads and promotes them (that would include Nextbestgame.org as well) never check whether the links promoted in their ads lead to safe websites. We cannot rule out the possibility of malicious exploitation, so you have to take care of this issue right now before it turned into a severe problem.
If you do not know what kind of adware programs you have installed on your PC, scan the system with the SpyHunter free scanner. You will get a list of potentially dangerous programs, and you will be able to delete them all via Control Panel. Some files might require automatic removal, so please invest in a licensed antispyware tool. Once you have all the unwanted files and programs removed, you will never get redirected to Nextbestgame.org again.
How to Remove Unwanted Programs
Windows 8 & Windows 8.1
Move the mouse cursor to the bottom right of your screen.
When the Charm bar appears, click Settings and go to Control Panel.
Open Uninstall a program and remove unwanted applications.
Windows Vista & Windows 7
Open the Start menu and click Control Panel.
Go to Uninstall a program and remove unwanted applications.
Windows XP
Click the Start button and open Control Panel.
Select Add or remove programs and uninstall unwanted applications.
In non-techie terms:
Nextbestgame.org is just one of the many websites that is used in advertising campaigns by adware programs. If you are constantly redirected to this domain, it means you have several unwanted programs on-board. To avoid opening Nextbestgame.org in the future, you have to remove all the potential threats from your computer. Do not hesitate to acquire a licensed antispyware tool that would help you make this task easier.