Do you know what Newtab.win is?
If Newtab.win, a new search engine page, shows up in your browsers, it is possible that you have infected your PC with a browser hijacker or other malicious threats. Our researchers say that this search engine does not show any malicious functions and activities yet, but it might have future potential. For example, it can remain hidden from unsuspecting users due to its clone-like resemblance to the Google Chrome new tab. Once you get used to its presence, it might be a matter of time when the authors may start using it to promote affiliates and other questionable third parties. This search engine is an exact clone of a previous one called Newtab.today. The real issue right now is that its presence in your browsers could be a sign that your computer is under attack by several malware infections. This is the main reason why we think that it is best to remove Newtab.win from your PC. Please go on reading our article to learn more about this threat and how you can avoid infecting your system with malware.
Whenever you find a new search page in your browsers, it should alert you that you have either clicked on the wrong third-party banner or pop-up ad, a corrupt link, or you have infected your computer with malware or potentially unwanted programs, which may install this search page in your browsers. Of course, it is also possible that it is not installed but you simply get redirected there by clicking on the wrong content.
If your computer is infected with adware programs, browser hijackers, or potentially unwanted programs, it is quite likely that you have installed a freeware bundle lately. These threats usually travel "hand in hand" to infect unsuspecting users all over the world. No wonder why we keep emphasizing the dangers of downloading programs from shady torrent and freeware pages. These sites generally promote bundles, which could be packed with all kinds of malicious and potential threats as well. But this is not the only way to drop such a virtual bomb onto your computer. If you are too careless, you may click on random third-party ads or even disguised content, which could also be the reason why you have such threats on your system. You may already know that having infections on your computer can also be the reason why you keep dropping more threats or why you are more exposed to malicious web content, redirections to fake websites, and so on. This is why it is essential for you to use a good online malware scanner after you delete Newtab.win.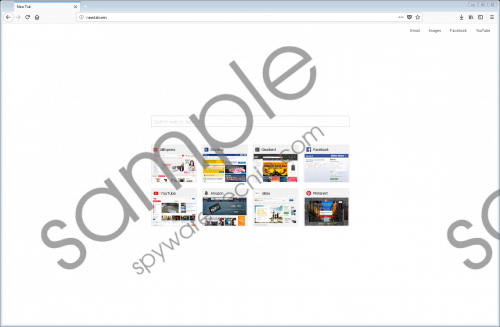 Newtab.win screenshot
Scroll down for full removal instructions
It is not that easy to spot this search engine page in your browsers since it really looks almost identical to the usual Google Chrome homepage; the only difference being that the Google logo or doodle is missing. Of course, if you are a malware expert or a security-minded user, you may notice one important thing about this page: There is no contact link, copyright notice, and, most importantly, no Terms of Use and Privacy Policy, either. Without such legal documents made available, such a page can be considered potentially dangerous since there is no way to tell what might happen by using it. This search engine may, for instance, gather data about your browsing habits and share this with affiliates. How would you know it is not so?
Another difference, as compared to Google, is that the eight thumbnail quick links here lead to promoted pages, including AliExpress, Booking.com, YouTube, and eBay, instead of your previously visited websites. Right now it seems that this search engine forwards all your searches to a Google search results page, which does not appear to be altered. But the authors may change their mind in the near future and start promoting potentially unreliable third parties. How can you know this will not happen? We advise you to act now and remove Newtab.win from your PC.
It is not too complicated to delete Newtab.win from your computer. If your system is all void of threats, which is highly unlikely, you can simply close your browser window. However, if you want to make sure that no browser-related threats remain on board, you should reset all your affected browsers. We have included our guide below if you would like to use manual removal. Since it is possible that there are several different types of infections on your system, we advise you to install a professional anti-malware program, such as SpyHunter.
Remove Newtab.win from your browsers
Mozilla Firefox
Press Alt+H and navigate to Troubleshooting Information.
Click Refresh Firefox and in the confirmation box, click Refresh Firefox.
Google Chrome
Press Alt+F and go to Settings.
Scroll down and click Advanced.
Scroll down and click Reset.
In the confirmation box, press Reset.
Internet Explorer
Press Alt+T and open Internet Options.
Select the Advanced tab and click Reset.
Select Delete personal settings and click Reset.
Press Close.
In non-techie terms:
Newtab.win is a new search engine that our researchers have found questionable; therefore, we do not advise you to keep it or use it if it emerges in your browsers. This search engine page looks practically like a clone of the Chrome new tab page or the default homepage. It has a search box and below it, you will find eight thumbnail links leading to promoted pages. Of course, in the case of Chrome, these links represent the last visited or frequent websites. Apart from these promoted and thus pushed websites, the only suspicious thing we can mention for the time being is that there are no legal documents shared on this search page. This also means that you cannot possibly know how this page operates, what sort of data it may collect about you, and how this data is used, among other issues. Since this search page may appear in your browsers due to a browser hijacker or other malware infections, we suggest that you remove Newtab.win from your computer. If you feel unsafe using your PC, we recommend that you install a powerful anti-malware program as soon as you can.