Do you know what Newsonly.info is?
Whenever your browser settings change without your permission, it means that you have a potentially unwanted program on your computer that probably entered your system behind your back. Newsonly.info is one of those programs, and it is a browser hijacker that can easily expose you to potentially corrupted content. Browser hijackers will not infect you with malware, but if you fail to remove Newsonly.info and other similar applications immediately, this could become a start of something big and nasty. Therefore, you need to protect your system from potential threats by terminating all the unwanted applications right now.
It is rather hard to determine which websites host and distribute Newsonly.info. This browser hijacker must be distributed in software packages. There are third-party downloaders that help users download and install third-party apps from file-sharing pages. These downloaders may bundle additional applications together with the program you want, and Newsonly.info might as well be one of those additional features. Normally, it should be possible to choose whether you want additional programs installed or not. But if users go through the installation process automatically, they are bound to miss the steps that inform them about the secondary features, and thus, browser hijacker and other undesirable applications slither into the target system.
Based on our previous research, this program is a direct clone of hrforlastnews.ru, bhnr1.ru, gdslkeee1ru.ru, and others. This shows that the people behind this scam are very thorough in making as many browser hijackers as possible. When there are many similar applications around, they are often very basic, and the same removal methods can be applied to all the programs in the group. Therefore, if you knew how to get rid of the previously released hijackers from this group, you will definitely know how to deal with Newsonly.info, too.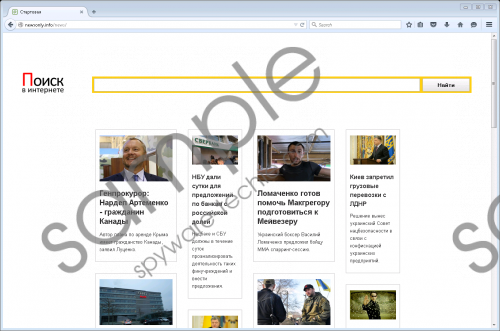 Newsonly.info screenshot
Scroll down for full removal instructions
When this program enters your computer, it creates a new task file in the System32 folder, called "Newsonly.info." This task launches your default browser and opens the Newsonly.info website every 32 minutes, whether you like it or not. This behavior is very intrusive, and it is just one of the many reasons you should not tolerate this application. The program may also collect information on your web browsing habits, thus trying to figure out your likes and preferences. Browser hijackers do that so they could generate custom content commercial content. After all, users are more inclined to interact with the content they find interesting.
Why does Newsonly.info do that? The program needs to generate financial profit for its creators. And it makes money whenever you click the content it promotes. Of course, the sum it makes with every single click is very small, but the more users it manages to affect, the biggest the revenue is. Technically, there is nothing illegal about such scheme, but the problem is that the browser hijacker does not check the reliability of the third-party content. So, it might become a vehicle for malware distribution. Before you know it, you may click a link that redirects you to a dangerous website, and you could get infected with malware.
Needless to say, you need to avoid dangerous security issues by deleting Newsonly.info today. You will find the removal guide right below this description. You will have to delete the task that opens the website regularly, and it would also be a good idea to restore your browser settings to default. That should be enough to make the browser hijacker disappear from your system.
However, after manual removal, you should scan your computer with a security tool that would help you determine the actual state of your system's security. As mentioned, Newsonly.info usually enters computers in software packages. This means you may have more undesirable and even dangerous programs on-board. It might be too tedious to look for these programs manually, so relying on a powerful antispyware tool would help you speed up that process.
What's more, when you delete all the potential threats automatically, a legitimate security tool of your choice will ensure that your computer remains protected against similar intruders in the future. Of course, that also highly depends on your web browsing habits, so you should stay away from unfamiliar websites that could be involved in various shady practices.
How to Remove Newsonly.info
Press Win+R and type %WINDIR%. Click OK.
Open the System32 folder and go to Tasks.
Delete the newsonly.info task.
Internet Explorer
Press Alt+T and click Internet options.
Open the Advanced tab and click Reset.
Select Delete personal settings and click Reset.
Press Close.
Firefox
Press Alt+H and go to Troubleshooting information.
Click Refresh Firefox at the top right of the new tab.
Click Refresh Firefox again and press Finish.
Chrome
Press Alt+F and go to Settings.
Scroll down and click Show advanced settings.
At the bottom of the page, click Reset settings.
Press Reset to confirm.
In non-techie terms:
A browser hijacker is not an extremely dangerous computer infection, but it should not be taken lightly. Such program like Newsonly.info can inadvertently lead you to something far worse. You should get rid of this program and restore your browser settings because the longer this browser hijacker remains on your computer, the more damage it may cause. To be absolutely sure that your computer is safe and clean, do not hesitate to acquire a licensed antispyware tool.