Do you know what News-cloud.net is?
Our malware analysts have analyzed News-cloud.net and concluded that it is a malicious search engine that falls into the category of browser hijackers and, thus, should be removed. It was revealed that it is distributed through malicious software bundles that contain browser extensions that inject this hijacker. Hence, this hijacker is distributed secretly and is set to replace your browser's homepage address without your knowledge or consent. It is part of a larger web monetization campaign that consists of many browser hijackers that display ads on their main pages and promotional links in their search results. News-cloud.net is expected to make money, so do not think that it will deliver you a reliable service.
Malware researchers say that News-cloud.net is compatible with Google Chrome, Mozilla Firefox, and Microsoft Internet Explorer. The bundles' installers are known to install a browser extension that acts as a vehicle for getting this hijacker on your browser. As a consequence, it will replace your browser's homepage address and if you use it as a regular search engine, then be warned that you will be shown shady promoted links and ads. Indeed, this malicious search engine was created with the intention of generating advertising revenue from the ads and links that it serves. Apart from ruining the search experience and jeopardizing the search results, it must be pointed out that this malicious hijacker's promotions come from unknown and probably unvetted sources. Moreover, its developers might not care about what News-cloud.net promotes. We warn you that this hijacker's promotions might redirect you to malicious websites if clicked and get your PC infected with malware that can encrypt your files or steal personal information. Note that this hijacker redirects its search queries to a modified Google search engine, but there is no guarantee that they are safe to interact with.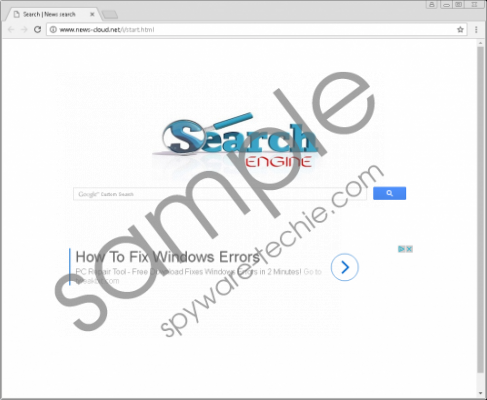 News-cloud.net screenshot
Scroll down for full removal instructions
Our malware analysts conclude that News-cloud.net was configured to collect non-personally identifiable information about you. All websites and search engines collect information about their visitors to some degree. However, the problem with this particular browser hijacker is the fact that it collects information to personalize an advertising campaign that can pose a risk to you and your computer's security. Researchers say that this hiajcker can obtain information such as your IP address and, thus, your approximate geographical location, browsing history, entered search terms, browser type, operating system type, and so on. They gather, analyze and then customize the adverting campaign for each unique user to maximize profits because the user must click the ads and links for the developers to get paid. Research has shown that this particular hijacker can have variable URLs such as http://www.news-cloud.net/i/start.html, http://blankpage1.ru/i/start.html, http://blankpage6.ru/i/start.html, http://chromepage8.ru/main.html, and so on. However, the main page looks the same.
News-cloud.net was developed by shady Russian developers. Therefore, this hijacker is included in a malicious browser extension and bundled with freeware installers that are hosted on Russian websites that distribute free software. Nevertheless, it seems that this hijacker is gaining popularity in places such as Saudi Arabia, Qatar, and Italy. The bundled installers install the elusive browser extension secretly. Thus, News-cloud.net is also injected without asking your permission.
If you want to keep your computer out of harm's way, then you should consider deleting this malicious search engine along with its accompanying browser extension which might not be included in some cases. News-cloud.net's search results feature questionable promotions that can jeopardize your computer's security, so act accordingly. You can make use of the removal guide provided below.
How to remove this hijacker from your browser
Microsoft Internet Explorer
Simultaneously press Alt+T.
Choose Manage add-ons and click Toolbars and extensions.
Locate the extension and click Remove.
Press Alt+T keys again.
Select Internet Options.
Enter a new URL in the home page line.
Click OK.
Google Chrome
Simultaneously press Alt+F.
Choose More tools and click Extensions.
Locate and Remove the add-on.
Press Alt+F keys.
Select Settings.
Click Set pages and enter a new URL.
Click OK.
Mozilla Firefox
Simultaneously press Ctrl+Shift+A.
Choose Extensions.
Locate the unwanted extension and click Remove.
Press Alt+T.
Click Options and select General.
In the Home Page box, enter a new URL.
In non-techie terms:
News-cloud.net is a browser hijacker that can get onto your computer if you download free software from Russian websites. It is set to replace your browser's homepage address and subject you to commercial advertisements and promotions of unknown origin. As a result, there is a real chance of you being subjected to dangerous content. Therefore, you should remove this hijacker ASAP.