Do you know what News Alert is?
News Alert is a free application that promises to inform you about the latest breaking news. The program might seem really useful for those who always like to be up-to-date; however, we believe that it is better to remove News Alert from the system because the application is definitely not the most reliable one. If you do not eliminate it from the system, there is a huge possibility that you will notice various advertisements on your screen. Various deals and offers might appear on commercials websites. If it happens to be true, you will probably not be able to do shopping without interruptions because ads generated by News Alert are very intrusive. In addition, there might be unreliable links embedded in them; thus, you might be exposed to malicious software.
It is very likely that the program will show ads on your screen. However, if it happens that you do not see them, but News Alert is present on your computer, you should still delete it from the system as soon as possible. You should also try to avoid Finance Alert and Celebrity Alerts applications because they act in the same manner as News Alert and they seem to be released by the same publisher. You will definitely not allow unreliable programs to slither onto your computer in the future if you install applications carefully and always find out whether they are trustworthy prior the installation.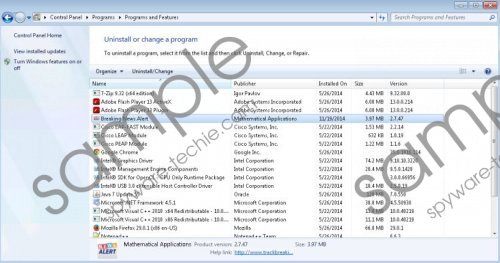 News Alert screenshot
Scroll down for full removal instructions
Advertising-supported applications, including News Alert, seem rather innocent; however, as you already know, they generate annoying commercial advertisements. Unfortunately, it is not the only drawback of such applications. The specialists at spyware-techie.com have found out that ads might collect information about your activities on the web. Therefore, if you decide to keep News Alert installed on your computer, you should know that this application might record such information as the websites you visit, your search queries, IP address, and the like.
Luckily, News Alert can be removed via Control Panel; thus, it seems that even less experienced users will not face any difficulties. If you feel that it is difficult for you to remove this threat alone, you should follow our manual removal instructions that are placed below the article. Make sure that you perform all the steps exactly as indicated if you want to get rid of News Alert entirely.
Remove News Alert
Windows XP
Click the Start button.
Select Control Panel.
Click Add or Remove Programs.
Select the unreliable application.
Click the Remove button.
Windows 7 and Vista
Open the Start menu.
Select Control Panel.
Click Uninstall a program.
Right-click on News Alert.
Click the Uninstall button.
Windows 8
Tap the Windows key.
Start typing Control Panel. Open it.
Click Uninstall a program.
Select the suspicious software.
Click Uninstall.
In non-techie terms:
You should know that there might be other infections onto your computer even if you have already removed News Alert. Therefore, we think that it would be clever that you scan your computer with a diagnostic tool, such as SpyHunter. If you upgrade the tool, you will be able to remove all the existing infections from your PC.