Do you know what NewPlayer is?
If you watch videos online and you have an extensive video library on your own computer, NewPlayer is an application you might be interested it. The program is meant to help you create playlists of video and music files, so that you could store and watch all of your favorite clips, music videos or songs from one single place. The application seems to be quite beneficial. Then why do computer users delete NewPlayer? It has been discovered that computer users find unfamiliar applications running on their computers after installing the application. What does this mean? Is the application employed for the distribution of unreliable software? As a matter of fact, the program is not deceitful and it is not related to clandestine software.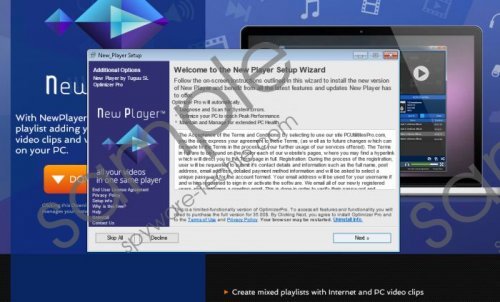 NewPlayer screenshot
Scroll down for full removal instructions
Do you pay attention when installing software? Did you pay attention with the NewPlayer installer? The information provided via this installer is presented in small print, and there is a lot of text, which is why computer users often skip through the important information and click Next or Install buttons without any care. This is a mistake. When you begin the installation of NewPlayer via newvideoplayer.com, you need to pay close attention because a number of different programs could be offered to you. As our malware researchers have found out, different browser extensions, game software, malware removal applications, and generally undesirable programs could be offered. NewPlayer related applications include Feven, ShoppinHelper toolbar, SearchProtect, MyPcBackup and Optimizer Pro.
What should you do about unfamiliar programs which exist on your personal computer? You certainly should not ignore them. If you are interested in the services they present – research the software to learn whether it is trustworthy or not. You should remove NewPlayer related applications if they seem suspicious and unreliable. The instructions presented below will help you delete some of the undesirable programs. We suggest you install a malware scanner (click the download button) to have the computer inspected and potentially unreliable programs disclosed.
Delete undesirable programs
Delete from Windows 8:
Right-click on the Metro UI screen to open a pane below and click All apps.
As the Apps menu shows up – click Control Panel and move to Uninstall a program.
Locate the application you wish to remove, right-click it and then select Uninstall.
Delete from Windows Vista or Windows 7:
Move to the Task Bar at the bottom of the screen and click the Start button on the left.
Now open the Control Panel and select Uninstall a program to find the installed software.
Right-click the application you wish to remove from the computer and click Uninstall.
Delete from Windows XP:
Move to the left of the Task Bar and click Start to open the user menu on the desktop.
Open the Control Panel and then double-click Add or Remove Programs.
Move to Change or Remove Programs, click the undesirable application and select Remove.
In non-techie terms:
NewPlayer is a computer application which computer users are not too sure about because of the additionally offered programs. If you do not want to run unfamiliar and possibly even unreliable programs on your personal computer, we suggest you scan it with a malware scanner and do a little research regarding the installed software. You can also use the instructions presented above to delete undesirable applications from your operating system.