Do you know what New App is?
New App is one of the new installments of the notorious group known as SuperWeb LLC. This group is infamous for crafting adware programs such as Sad Cloud, Picexa, Edu App and many others. Therefore, it is not surprising that we strongly advise you to remove New App just like all of its counterparts. Do not get fooled by the hoax marketing strategies employed by the developers of this intrusive program. Various misleading promises are used to lure into downloading and installing this utterly worthless application. Although adware application are infamous for the annoyance that they cases, in some cases they can act in a suspicious or even potentially malicious way. The removal of New App should be executed as soon as possible as it is your best bet to keep a system that is safe and secure.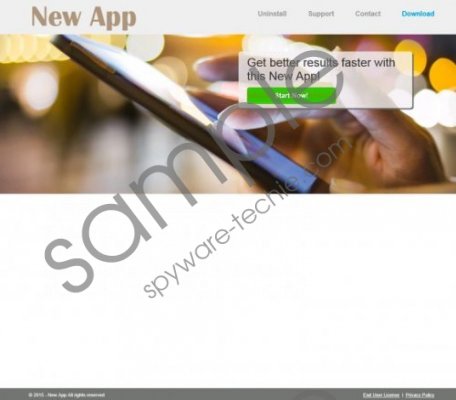 New App screenshot
Scroll down for full removal instructions
Like the majority of SuperWeb LLC adware programs, New App is compatible with browsers such as Mozilla Firefox, Internet Explorer, and Google Chrome; this, virtually no user is entirely safe. Once New App gains access to your PC, you will notice a suspicious activity within your web browser. Usually, once this adware is up and running your browser will be flooded with third-party commercial ads and annoying pop-ups. In order to stop this invasive activity you will have to delete New App from your PC. Otherwise this adware will continue to make your life miserable.
What is alarming about this adware program is that some ads provided by it could redirect you to suspicious third-party websites. Even though this is not an often instance, it remains a possibility. You could end up on a fake online shop, crafted by malware criminals for one purpose only – stealing your credit card data. Obviously landing on such a web page could have devastating outcomes, to say the least. If you encounter any suspicious third-party web store make sure to learn about it as much as possible before making any purchase, otherwise you could be handing your credit card data to cyber criminals. Do not take chances with New App if you wish to keep your sensitive data safe and your PC secure. Do not hesitate and remove New App as soon as it is discovered active on your PC.
Fortunately, the removal procedure is rather simple as you can delete it via Control Panel. Once manual removal is executed the annoying and potentially malicious activities promoted by New App should stop. Just to be extra safe we strongly advise you to check your PC for potential leftovers once the manual removal is performed. This is crucial as just a single file or registry entry could be used in order to restore New App.
How to remove New App from your PC
How to remove New App from Windows Vista and Windows 7
Click the Windows button and select Control Panel.
Click the Uninstall a program option.
Right-click New App and select Uninstall.
How to remove New App from Windows XP
Click Start and then select Control Panel.
Click Add or Remove Programs.
Uninstall the unwanted application.
How to remove New App from Windows 8
Move the mouse pointer to the lower-left corner of the screen.
Right-click and select Control Panel.
Click Uninstall a program.
Double-click New App to remove it
In non-techie terms:
In some cases users might not be comfortable performing manual removal or manual analysis of their system by themselves. In such case you should follow the instructions that we provide below. They will allow you to remove New App in an automatic way ensuring that every bit of the infection is removed from your PC.