Do you know what Neurowise is?
Various banners, in-text, interstitial, search-related, pop-up, and other kinds of advertisements on your screen probably indicate that your system is infected with Neurowise or other advertising-supported application. These programs are published for advertising purposes mainly; thus, you should not expect much from Neurowise even if it claims that it is able to enhance your browsing experience. The security specialists of spyware-techie.com also advise not to trust other programs published by Super Web LLC, for instance, Adanak, Gooternet, Albrechto, and similar because they are all going to act in the same manner as Neurowise. Actually, you should get rid of them as soon as possible, if you notice them on the system. Continue reading the article and you will find out how to remove Neurowise and other similar adware from the system.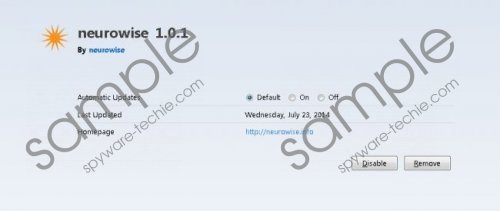 Neurowise screenshot
Scroll down for full removal instructions
If you are wondering why it is so important to get rid of Neurowise, you should know that this application is not very reliable because it might expose you to potential threats. It has been found out that you might be taken to a corrupted website after clicking on any of those advertisements; thus, you should definitely ignore them. Actually, it seems that the program seeks to lure computer users into clicking on the advertisements because it provides personalized ads. Thus, even though ads might seem decent, it does not mean that they are harmless.
As other advertising-supported applications, Neurowise often travels bundled with other applications; thus, do not be surprised if you detect this program on your system but cannot remember downloading and installing it yourself. Advertising-supported applications might come bundled in various installers and downloaders; thus, you should be extremely cautious in order not to allow them enter your system in the future. One of the most effective ways to prevent them from getting onto the computer is to install a reliable antimalware tool and keep it enabled all the time. In addition, it is also very important to install new applications, especially those that fall into the category of freeware, very carefully.
If you have not been able to protect your system and Neurowise has managed to enter your system, you should hurry to delete it because it is not the program that you should keep on your computer. The easiest way to get rid of it is to scan the system with a reliable antimalware tool; however, you should also know that you can delete Neurowise manually as well. Scroll down and you will find the instructions that will help you to erase it without any difficulties.
How to remove Neurowise
Windows XP
Click the Start button.
Select Control Panel.
Click Add or Remove Programs.
Select the suspicious application.
Click the Remove button.
Windows 7 and Vista
Open the Start menu.
Select Control Panel.
Click Uninstall a program.
Right-click on Neurowise.
Click Uninstall.
Windows 8
Tap the Windows key + R simultaneously.
Type in control panel and then click OK.
Select Uninstall a program.
Locate the software that has to be eliminated.
Click on it.
Click the Uninstall button.
In non-techie terms:
If you have deleted Neurowise manually, you should know that it is still possible that other kinds of infections are residing on your system. Thus, we highly recommend that you download a reliable scanner and then scan your system with it. In our opinion, SpyHunter scanner is one of the best ones, which is why we have provided the instructions below in order to help you download it.