Do you know what Netsafe Offers Ads is?
There are numerous applications crafted that should be ignored at all times and a program called Netsafe Offers Ads is one of them. It is crucial not to download or install it since it holds no positive features whatsoever. In fact, it will only cause various inconveniences if it is fully functioning on your operating system. The unfortunate thing is that quite a few users are deceived into obtaining it since its developers tend to use ambiguous marketing methods. Thus, it is important to acquire as much information as possible before downloading a new application as it could turn out to be rather invasive and at times even potentially malicious. If unfortunately your PC already runs Netsafe Offers Ads, we recommend executing its removal without second thoughts. You can and should do so by following an uncomplicated removal guide that we offer below our report. The further content of this article provides a deeper understanding why this devious piece of software is considered and adware program and why its termination is detrimental.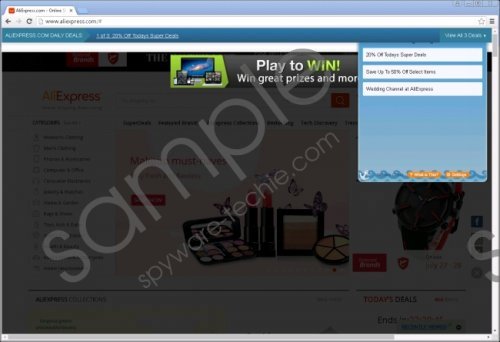 Netsafe Offers Ads screenshot
Scroll down for full removal instructions
As soon as Netsafe Offers Ads enters your operating system, it will start its full intrusive functionality immediately. This means that you will start seeing a rather large amount of unwanted web content, which is mostly presented as third-party commercial ads, pop-ups, and coupons. It is important to note that none of them are actually useful. In reality, all of the intrusive web content will only cause numerous disruptions that will interfere with your daily online activities. This means that at times you might be presented with so many invasive ads, coupons, and pop-ups that surfing the web without first closing each and every one of them down might be an impossible task. In some extreme cases, the web browser might even crash due to the amount of ads and pop-ups that you presented with. All such intrusive and annoying functionality of Netsafe Offers Ads is prompted by a background system service that is launched by it. The service in question is used to connect to an adware server which is the main source of all that content that causes frustration. Unfortunately, simply killing the intrusive service might not be enough as it is set to automatically restart with each system startup. To regain the full functionality of your web browser once and for all, you will need to conduct a complete removal of this ad-supported program. Once everything linked to it is terminated your web browser will function in the way you are used to.
Unfortunately, this is not all that Netsafe Offers Ads does. Upon further investigation, our malware researchers have discovered that in some cases this adware program might be the main reason your PC could be entered by other potentially suspicious programs without a lot of trouble. As it turns out an unauthorized connectivity to a dubious adware server could prove to be rather detrimental since in some cases it could prompt a download of some devious application without any notification. Thus, if you already have Netsafe Offers Ads up and fully running on your PC, we advise you to analyze your system for other questionable software. If that was not enough, you should know that in some instances ads presented by it might lead you to dubious websites since they could turn out to be embedded with redirect links. This means that clicking on anything that this intrusive program present you with is a risk, and it should not be taken under any circumstances as you could end up on websites that might be hosting potentially malicious software. Do not take chances with this adware and conduct its complete removal as soon as it is detected running on your personal computer.
The provided removal guide must be used without hesitation since it is the only way that you can restore the standard functionality of your web browser. It is paramount to note that Netsafe Offers Ads must be removed entirely. This means that not a single files or registry entry linked to it should be left on your personal computer. If any traces are still active on your PC, they could be enough for this devious adware program to function in its annoying way. To be sure that it has been deleted completely, we advise you to conduct a detailed analysis of your personal computer for traces associated with Netsafe Offers Ads.
How to remove Netsafe Offers Ads from your PC
Click the Windows button.
Type regedit into a search field and tap Enter.
Go to HKEY_LOCAL_MACHINE\SYSTEM\ControlSet001\services.
Delete a registry key called NetSecure.
Go to HKEY_LOCAL_MACHINE\SYSTEM\CurrentControlSet\services.
Once again delete a registry key called NetSecure.
Navigate to HKEY_LOCAL_MACHINE\SOFTWARE\Wow6432Node\Microsoft\Windows\CurrentVersion\Run.
Select and delete a registry value called Seucre Net.
Now move to HKEY_LOCAL_MACHINE\SOFTWARE\Microsoft\Windows\CurrentVersion\Run.
Right-click the registry entry entitled Secure Net and select Delete.
Open your File Explorer.
Go to C:\Windows, locate a file called ie.vbs and delete it.
In the same directory delete a folder called Netsafe.
In the C:\Windows delete a folder that is called [your username]_020716.
In non-techie terms:
If you believe that manual removal of Netsafe Offers Ads seems a bit too complicated do not worry. Malware researchers at Spyware-Techie.com have created an alternative removal guide that will help you delete this intrusive adware in an automatic manner.