Do you know what NetGaming Search is?
NetGaming Search comes from a family of potentially unwanted programs (PUPs) that has been growing ever since it surfaced a few months ago. We have seen at least a dozen very similar or even identical search tools emerging in this family, including ArcadeApp Search, MusicApp Search, FilmsApp Home, and FilmsApp Search, which all promote a questionable search engine (Eanswers.com). This particular PUP offers you quick access to online games by providing you with a button to press to display a pop-up window with a search tool and game offers. Our researchers have found that using this tool could present to you potentially harmful third-party advertisements and link. Also, this PUP may come on board bundled together with malicious software installers. All in all, we suggest that you remove NetGaming Search as soon as possible.
You can officially install this tool if you visit its promotional webpage at medianetnow.com. As a matter of fact, you will find there that this is not the only tool this page promotes; there are five extensions, which are very similar, including MoviesNet Search, FilmsNet Start, and MusicNet Search. If you click the "Add to Chrome" button next to the chosen application, you will be redirected to the respective Chrome web store page. In this case, it is at chrome.google.com/webstore/detail/netgaming-search/hhkjmcppnpikbcnnjbmhggbcjhdkhpcm. Although this page shows over 100 thousand installations, this could be due to the fact that its name contains "gaming," which is obviously a trending keyword at all times. Nevertheless, we do not think that most users who have this PUP on board actually found these pages. We also need to mention that when you install this tool from these sources, you will be prompted to download yet another promoted PUP and you could find yourself on a page like myprivatesearch.com/?lnk=ty. This page is designed to be deceitful and it may make you believe that the installation is only 60% through and you need to add the promoted tool in order to finish it. This is a rather obnoxious way to push you into a corner and should be a good enough reason for you to delete NetGaming Search.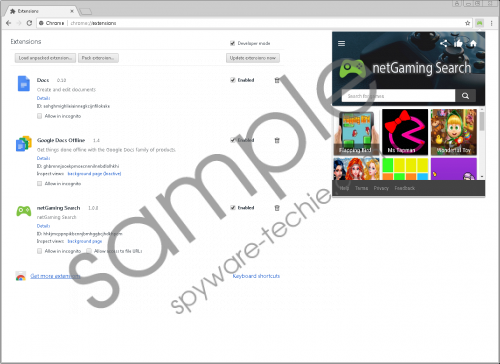 NetGaming Search screenshot
Scroll down for full removal instructions
However, this PUP may also be found in freeware bundles, which means that your system could be infected with a bunch of other threats, too. You should try to stay away from bundles or become more alert when installing one. Such a software package can carry a number of programs, including malware infections and PUPs. This is in fact how most unsuspecting computer users infect their machine with adware programs, Trojans, browser hijackers, and fake alerts as well. In order to avoid such threats, you should stop visiting suspicious file-sharing websites (torrent and freeware), online betting and gaming pages, or any other website that promotes questionable third-party ads. Clicking on such content can easily result in the drop of a malicious bundle and you will be left with no choice but to delete NetGaming Search and all other threats you may find on your system by running a reliable online malware scanner.
This browser extension only works for Google Chrome. It may attract inexperienced users with thirst to play online games. This PUP promotes cantstopplaying.com. You should know that the games you can find there may not be the latest and best games possible. But you could be presented with potentially unsafe third-party ads there since this PUP may be able to inject its own affiliates' ads. This tool also modifies your default search provider and sets play.eanswers.com to provide you with search results. The problem is that this search engine can show you manipulated Yahoo results, which may contain questionable ads and sponsored links. If you click on such ads and links, chances are you end up on a malicious website on a new tab or you may as well drop more infections onto your system directly and behind your back. If you land on malicious pages, you could easily be scammed and lose money from your bank account. No wonder why we suggest that you remove NetGaming Search as soon as you can.
Finally, we do have some good news for you. It is quite easy to eliminate this tool even if you are not an advanced user. Please use our instructions below if you would like to do this yourself. However, if you would like to make sure that there is not a single threat on your system and it stays clean too, you should probably install a decent up-to-date malware removal application like SpyHunter. Do not forget that you still need to keep all your programs updated for the best protection of your PC.
Remove NetGaming Search from your browser
Google Chrome
Press Alt+F to open the menu.
Go to More tools and choose Extensions.
Check the extension list for the unwanted extension and click on the Trash can icon on the right.
In the confirmation window, press Remove.
In non-techie terms:
NetGaming Search is a relatively new Google Chrome browser extension that may pose a threat to your system if you engage with it. This potentially unwanted program comes from a growing family of similar and useless tools. It does not mean serious danger but you could still be introduced to questionable third-party content that indirectly could actually put your computer at risk. Since this extension can be installed under questionable circumstances, it is possible that your system is already under attack by a couple of malware infections as well. This is why we advise you to take action and remove NetGaming Search from your computer. If you cannot do this yourself and protect your PC from future attacks, we suggest that you install a reliable anti-malware program.