Do you know what netGamer Start is?
If you have downloaded netGamer Start onto your Google Chrome web browser, you must have been convinced that this extension can help you play online games for free. According to the information that the developer of this add-on offers to potential users, you allegedly can play over 1000 games completely for free. While this might sound good "on paper," in reality, any online game website offers a ton of free games, and so the extension is sort of useless. On top of that, it does not actually offer a versatile service. In fact it appears that this extension was created only to promote the games that are available on cantstopplaying.com. This is one of the reasons our research team classifies this add-on as a potentially unwanted program (PUP). It is recommended that you remove netGamer Start, but that is a decision you have to reach on your own. If you decide to delete this PUP, the guide is available below.
Officially, netGamer Start is represented at medianetnow.com. This website promotes the installers for moviesNet Search, musicNet Start, and netGaming Search too. All of these extensions have installers on the Chrome web store too. The one we are discussing in this report can be downloaded from the chrome.google.com/webstore/detail/netgamer-start/nfkdcjgohmakdojfkjjobbmppjfonjom page. Our research team has also found that the suspicious potentially unwanted program could also be spread using pop-up advertisements. If this is how you downloaded the PUP too, there is one thing you need to do right away, and that is to scan your operating system. Implement a trusted malware scanner, and you will learn soon enough whether or not you need to delete netGamer Start-associated malware. Even if the threats found are not linked to the PUP, you need to remove them as soon as possible. The add-on is not dangerous, but we cannot guarantee that it will not come bundled with extremely malicious and harmful infections that could jeopardize your virtual security and your system's integrity.
According to our research, when the suspicious netGamer Start is installed onto Google Chrome, the New Tab page is replaced to introduce you to a bunch of easy-access links and a search tool. The links are not malicious. The first one routes to cantstopplaying.com – which, as we already discussed, is where you will find the free games – and the other ones represent Instagram, Twitter, Facebook, Amazon, YouTube, and other popular services. Some users might choose to stick with netGamer Start just because of the useful links that it offers in one spot. The search tool that the PUP offers is not reliable because it takes all search queries via play.eanswers.com to search.yahoo.com. The end result is that the search is modified to promote third-party links. Do you want to be exposed to potentially unreliable and unrelated search results every time you browse the web? If you do not, you have another reason to delete the potentially unwanted program.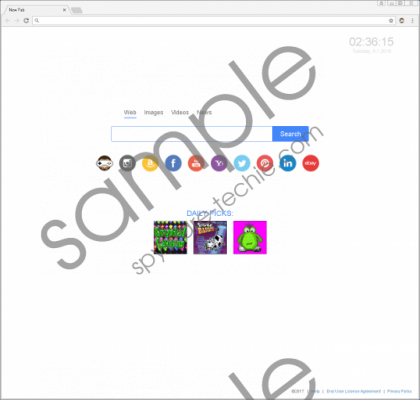 netGamer Start screenshot
Scroll down for full removal instructions
As you can see, there are not many steps in the netGamer Start removal guide available below. That is because the PUP is not a complicated piece of software, and it takes minimal effort to eliminate it. Even if you lack experience with the elimination of unwanted extensions, you should be able to follow the steps below. If that is not possible in your situation, you can install anti-malware software. We suggest doing this as well if you discover malware on your operating system and if you want to ensure full-time protection, which the software can take care of automatically.
Remove netGamer Start
Launch Google Chrome.
Simultaneously tap Alt+F.
In the menu on the right click More tools.
Select Extensions and then find the unwanted one.
Click the recycle bin on the right.
Select Remove and then restart the browser.
In non-techie terms:
At first, netGamer Start might seem like a great asset, but if you take into account that it only offers games available on one site and that it introduces you to a search tool that redirects to Yahoo Search and modifies the search results shown, you might come to a decision to remove this PUP. Before you do anything, we recommend scanning the system to check if other threats or PUPs exist. If they do not, you can successfully eliminate the unwanted add-on using the guide below, but if you find malware, it is far better to install anti-malware software. We also recommend installing it to keep your system protected. If you do figure that out, you might face other unwanted or malicious programs soon enough.