Do you know what Nefryhok.xyz is?
If you spotted a browser hijacker called Nefryhok.xyz, you might want to get rid of it as soon as possible. The search engine's developers are still unknown, although our researchers confirm that the program has a clone called Hightsearch.com. Just as its previous version the application might show you irritating and potentially harmful advertisements. Some of the ads could appear on the main search engine's page, while the other ones might be displayed among the search results. As it seems, interacting with such content could result in downloading more similar threats or infecting the system with malicious software. If that is something you would like to avoid, we encourage you to eliminate the browser hijacker. Just take a look at the removal instructions available below and we will guide you through the process.
According to the gathered research material, Nefryhok.xyz is mostly popular in the United States, although users from other countries may receive it too. Moreover, it might travel with bundled installers that could appear on unreliable file-sharing web pages, or it could be spread through questionable pop-up advertisements. Clearly, the main reason it manages to hijack users' browsers is because users download installers and other files too carelessly.
Before accepting any software, it is crucial to check who developed it and how is it rated among its users or experts. Also, clicking on various pop-ups and other ads is a bad idea too, especially if they are from companies you are not familiar with. If you often risk the computer's safety, you should at least consider getting a reputable antimalware tool. It could warn about threats or help users check suspicious data, e.g. setup files, email attachments, and so on.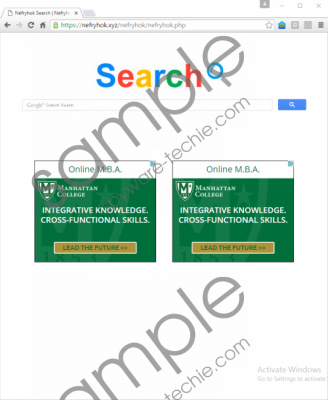 Nefryhok.xyz screenshot
Scroll down for full removal instructions
Once Nefryhok.xyz enters the system, it should hijack the Google Chrome browsers. It looks like, the application is not compatible with Internet Explorer, Mozilla Firefox, and other browsers. What's more, our specialists say that it uses a custom Google Search engine, and it allows the program's creators to modify search results by injecting them with third-party advertising. As we said before, it is possible that such ads could come from dangerous web pages and once you click these ads, they may redirect you to such web pages.
For example, some of the websites could offer free software updates, but the distributed files might be infected with Trojans, viruses, ransomware, and other malware. In such cases, users may download infections' installers without even realizing it. The other risk is that third-party sites might spread adware, potentially unwanted programs, or even different browser hijackers. We cannot say that these exact scenarios could happen to you, but it is possible. Those who do not want to take any chances with Nefryhok.xyz should erase the threat at once.
Given that there is a removal guide below the article it should not be difficult to get rid of the browser hijacker. The instructions contain steps that show how to reset the affected browser. Afterward, the application would be eliminated, and you should not have any trouble while replacing default search engine for Google Chrome. However, there still might be other suspicious software on the computer. Thus if you want not only to delete Nefryhok.xyz, but also clean the system, it would be more advisable to use an antimalware tool since it can perform a full system scan and erase all threats at the same time.
Erase Nefryhok.xyz from Google Chrome
Open the browser.
Search for the settings icon on the top-right corner and click it.
Choose Settings then slide down and click on Show advanced settings.
Scroll down, press the Reset Settings button and select Reset.
In non-techie terms:
Nefryhok.xyz is a search engine that users should not trust and delete it rather sooner than later. The application might hijack your browser and set itself as your main search engine. While using it, you might encounter suspicious third-party advertising that can be not only annoying but also potentially harmful. For instance, the clickable ads could redirect you to websites created to distribute malware or unreliable applications similar to the browser hijacker. Thus, we would advise you not to wait till something bad happens, but delete the software at once. If you do not know how to remove it, have a look at the instructions above or use a reliable antimalware tool.