Do you know what NCupons is?
Malware experts at Spyware-Techie.com have come across a new adware program known as NCupons. If you have found this adware running on your PC, you should know that its removal is a must in order to maintain a system that is free of any infectious programs. Although this application is advertised as an excellent tool that should provide you with best discount deals and various coupons that should help you save time and money. These statements are not entirely accurate as they are only used to lure frequent online shoppers into downloading and installing an utterly worthless program. Our research team have crafted a detailed removal guide that will help your delete NCupons in no time.
Usually once NCupons enters your operating system, it will instantly affect your web browser. The prominent sign that this adware is up and fully running on your PC are tons of ads within your browser. It is an extremely annoying and frustrating experience as you will not be able to surf the web the way you are used to. While some ads might seem quite tempting, you must know that they, in fact, are utterly useless and will in no way help save you time and money. If you are more tan annoyed by this activity promoted by NCupons, you need to conduct a thorough removal of this invasive adware because otherwise this infectious program will continue to bother you to no end.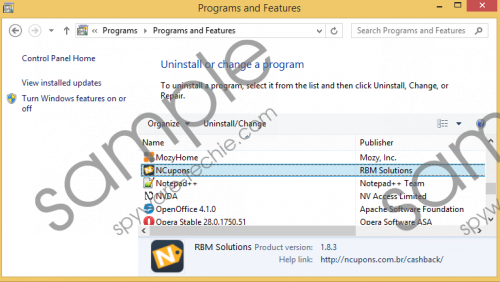 NCupons screenshot
Scroll down for full removal instructions
In order to avoid getting your PC infected with various other suspicious programs, you need to practice a few security measures. First of all, make sure to avoid every suspicious third-party download websites because they mostly provide installers filled with unwanted programs such as NCupons. Make sure to download your programs from official vendor's websites as it will significantly reduce the risk of getting your PC infected with numerous third-party programs. Additionally malware experts at Spyware-Techie.com firmly recommend installing a professional antimalware tool that would safeguard your PC at all times. This way your system would become virtually impossible to get infected.
The removal guide of NCupons will help you delete this invasive adware program without encountering any major problems. It is crucial to delete every single file, and registry entry as just a few leftovers could be used in order to restore NCupons or could be used by other Internet-based infections as a gateway to your PC. In order to be sure that NCupons was removed entirely conduct an in-depth analysis of your computer for potential leftovers.
How to remove NCupons from your PC
Remove NCupons from Windows Vista and Windows 7
Tap the Windows button and select Control Panel.
Click Uninstall a program.
Right-click NCupons and then select Uninstall.
Remove NCupons from Windows XP
Click Start.
Select Control Panel.
Click Add or Remove Programs.
Uninstall the unwanted application.
Remove NCupons from Windows 8
Move the mouse pointer to the lower-left corner of the desktop.
Right-click and select Control Panel.
Click Uninstall a program.
Select NCupons.
Click Uninstall.
In non-techie terms:
If you are a user that is not comfortable performing manual removal and conducting an analysis of your PC, please follow the instructions provided below. These instructions will help you delete NCupons in an automatic way.