Do you know what Navsmart.info is?
A program that goes by the name of Navsmart.info has been classified by malware researchers at Spyware-Techie.com as yet another browser hijacker that you should avoid at all times. Just like any other hijacker, the one in question must be removed without any hesitation as it holds no valuable features whatsoever. In fact, the hijacker in question will only cause numerous disruptions almost every single time you decide to surf the web. Additionally, it could turn out to be the reason other suspicious programs might be able to enter your operating system without a lot of trouble. In this report, we provide further information regarding the suspicious functionality of Navsmart.info and an extensive removal guide that you should use immediately. Only by terminating this browser hijacker will you be able to regain the default settings of your web browser.
It is important to note that Navsmart.info is compatible with major web browsers such as Google Chrome, Internet Explorer, and Mozilla Firefox. Such wide compatibility signifies that nearly every single Internet user could get their PC infected with this intrusive browser hijacker. The first indication that this invasive program is fully functioning on your computer is an unauthorized change made to your web browser's default settings. The hijacker in question can modify your default home page; it will present you with a devious third-party website every single time you decide to surf the web instead of your default home page. Such functionality will continue to annoy and frustrate you for as long as Navsmart.info is up and fully running on your personal computer. Unfortunately, these changes are not that simple to revert as the hijacker in question uses numerous files and registry entries that it has implemented on your system for its full functionality. You must execute a complete removal of Navsmart.info if you wish to surf the web the way you are used to; otherwise, the changes triggered by this browser hijacker will remain intact whether you like it or not.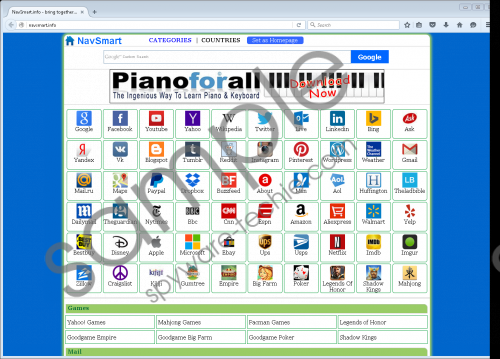 Navsmart.info screenshot
Scroll down for full removal instructions
What is much more alarming about Navsmart.info than the annoyance caused by it is the fact that at times it could turn out to be responsible for exposing your operating system to suspicious third-party web content. This could happen if you happen to use the questionable search box presented to you within the newly set home page; as it turns out, this devious search provider could present you with modified search results. It means that some of the seemingly harmless results could turn out to host redirect links, which is an instance that you do not want to find yourself in. In some cases, you could be taken to questionable and at times even potentially harmful website. For example, you could be taken to sites that might be embedded with an arbitrary code execution exploit, which is often used by malware developers since just entering a website with such an exploit active on it could turn out to be more than enough to get your personal computer infected. Such functionality of Navsmart.info is extremely dangerous and should never be ignored. If you think of yourself as a security conscious user, you should not waste your time and conduct a complete removal of this browser hijacker.
Do not take any chances with Navsmart.info as having it on your PC could turn out to have detrimental outcomes. The removal of it must be executed without any hesitation with extra care because just one skipped step could result in an incomplete removal of this browser hijacker, which could mean that the changes made by it could remain intact or worse - could be used to trigger a silent restoration procedure. If you are keen on avoiding finding yourself in such an unwanted situation, you will need to double-check your entire operating system for potential leftovers associated with Navsmart.info. If you happen to find such analysis of your personal computer a bit too complicated make sure, to perform a full system scan with a professional malware detection and removal tool. This way you will be sure that every single bit of this hijacker was removed from your operating system.
How to remove Navsmart.info from your computer
Google Chrome
Start your web browser.
Click the Chrome Menu button.
Select Settings and click Show advanced settings.
Select Reset settings.
Click the Reset option to confirm your choice.
Mozilla Firefox
Launch your web browser.
Select the Menu button.
Click the question mark icon at the bottom.
Select Troubleshooting Information and click Refresh Firefox.
Click Refresh Firefox to confirm your choice.
Internet Explorer
Open your web browser.
Click the Menu button.
Select Internet Options and click the Advanced tab.
Click Reset and check Delete personal settings.
Click the Reset button and select Close.
How to fix your Target Line
Right-click your browser's shortcut and select Properties.
From the Target line section remove everything that comes after .exe".
Click Apply and then OK.
In non-techie terms:
It is critical to delete Navsmart.info as soon as it is located on your operating system. If you happen to find the manual removal too complicated, do not worry. Our malware experts working at our internal labs have crafted an alternative removal guide that will allow you to terminate this browser hijacker in an automatic manner.