Do you know what Navigation.iwatchavi.com is?
Navigation.iwatchavi.com is a potentially risky search engine that may show up in your browser upon launch. If you have noticed it in your browsers, it is possible that you have been attacked by a browser hijacker. This is the most likely way that it ends up on your system unless you install it yourself knowingly; but we highly doubt that it is possible in this case since this tool is not available for download from any official source. Unfortunately, its presence is a clear indication that there may be other malware infections present as well. Therefore, it is possible that you will find annoying third-party ads and other browser changes while you are surfing the net. These infections may put your computer's health at risk as well as expose your stored data and personal information to cyber criminals. According to our researchers, you should remove Navigation.iwatchavi.com immediately if you want to save yourself the unnecessary security-related issues that may come if you leave this browser hijacker on your system.
As a matter of fact, this browser hijacker is rather suspicious. Right now it does not even seem to be functioning, and this is also true for its official website, iwatchavi.com. This can happen when an infection is just starting up or when it is just a test to prepare for a bigger hit next time probably under a different name. But still our research shows that it is getting popular and more and more users claim that they have been infected with it. The only way it is possible if Navigation.iwatchavi.com is spreading via free software bundles. This is a rather questionable method and when a tool enters your computer in such a package, you should be very careful since it may contain a number of adware applications, browser hijackers, Trojans, and potentially unwanted programs among others.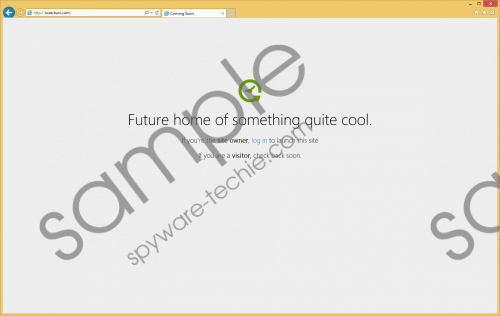 Navigation.iwatchavi.com screenshot
Scroll down for full removal instructions
You may not be aware but it is possible to download such malicious bundles when you visit shady P2P websites, such as torrent and shareware sites. You may have noticed that these pages are especially swarming with annoying, flashy third-party advertisements. Some of these do not even look like ads but rather like a button or a system error message. Obviously, these ads have a reason to pretend to be something else. They want to attract your attention and they need your click to promote infections or useless third-party free tools. However, it is also possible that you are presented with such advertisement by an adware application that is on your computer. In any case, you should stay away from third-party ads and never click on them. But, if this browser hijacker found a way to your system, it is advisable to scan your PC with a reliable online malware scanner right after you delete Navigation.iwatchavi.com.
Our researchers have found that this hijacker uses the very same technique as Yeabests.cc, even though they have not really been able to find any connection between the two browser hijackers yet. These infections use Windows Management Instrumentation (WMI) in order to modify the Target lines of your browser shortcuts. From the script used by this hijacker it becomes clear that it can attack a dozen of the most popular web browsers. Changing the Target lines serves one purpose: You cannot reset your browsers to undo the home page setting changes. Since this WMI technique is used, it seems that you cannot restore your Target line even manually unless you delete the particular subscriptions from the WMI database. This obviously makes it more complicated to remove Navigation.iwatchavi.com.
As a browser hijacker, this program sets itself as the home page in a number of browsers and offers you a web search tool. However, using this tool could end badly for you. It is likely that this hijacker displays modified search results that may redirect you to malicious websites. Visiting pages that are operated by cyber criminals never ends well for unsuspecting computer users. If you do not realize that you are on a fake website, you may easily disclose your bank account information, for instance. But it is also possible to get infected with more dangerous malware threats. All in all, we recommend that you remove Navigation.iwatchavi.com ASAP.
The only good news we have for you is that we do have a solution for you to eliminate this ugly malware infection. Please use our guide below to clear this mess up. It is possible that you need to run the Command Prompt in with Administrator privileges to make the commands work. If you do not want to go into battle with malware infections again, you should think about protecting your PC with an automated tool. If you download and install a professional malware removal application and keep it always updated, you should have the best protection you can think of.
How to remove Navigation.iwatchavi.com from Windows
Windows 8, Windows 8.1, and Windows 10
Tap Win+Q and type in command prompt.
Right-click the appearing Command Prompt link and choose Run as administrator.
Type in the following commands at the prompt and hit Enter key after the lines:
wmic/namespace:\\root\subscription PATH__EventConsumer delete
wmic/namespace:\\root\subscription PATH__EventFilter delete
Close the Command Prompt.
Windows XP, Windows Vista, and Windows 7
Open the Start menu and choose All Programs.
Select Accessories.
Right-click Command Prompt, and then choose Run as administrator.
Type in the following commands at the prompt and hit Enter key after the lines:
wmic/namespace:\\root\subscription PATH__EventConsumer delete
wmic/namespace:\\root\subscription PATH__EventFilter delete
Close the Command Prompt.
How to restore the Target lines
Right-click on your browser shortcut on your desktop.
Choose Properties and click on the General Tab.
Check if the Read-only box is unchecked.
Click on the Shortcut tab.
Remove the extra string in the Target line after the quotes. Press OK.
Right-click on the shortcut on your Taskbar to display the menu.
Right-click on the browser name option at the bottom.
Repeat steps 2 to 5 to restore the Target line.
In non-techie terms:
Navigation.iwatchavi.com is unlike most browser hijackers out there on the web today. It uses a special technique to overwrite the Target lines of your browsers and it may affect a dozen of different browsers, including Internet Explorer, Mozilla Firefox, Google Chrome, and Opera. The problem with the Target line change is that every time you launch your browsers, this unreliable search engine comes up even if you reset your browsers. Because of this special WMI technique you cannot make permanent restoration of the Target lines either since your modifications will be undone again and again. This browser hijacker may not be active at the moment, but if it functions, it may introduce you to potentially unsafe third-party content. Due to the harm it may cause to your virtual security, we suggest that you remove Navigation.iwatchavi.com and all other malware infections you can find on your PC. If you are looking for an effective method, we advise you to install a reputable anti-malware application.