Do you know what Native Info is?
If you see annoying ads by Native Info, then it is certain that this adware application settled in your computer. The program can be irritating and persistent as it continuously displays pop-ups while you search the Internet. Also, it can redirect you to unknown websites, which can be harmful to your system too. While the application's creators claim to be helping you by displaying these ads, they refuse to take any responsibility for the harm you might receive. Therefore, if you want to protect your computer, you should avoid Native Info ads and get rid of this program. Although the removal itself does not look that difficult, we will provide the instructions for inexperienced users below the article.
Native Info is compatible with the Internet Explorer and Mozilla Firefox browsers, meaning that the ads should appear only in these two. For instance, if you have Opera or another browser it should not be affected.
So anywhere you go you will be followed by various ads offering you to purchase products and services at best prices. Although it is always tempting to save a little money, you should check the seller first, because some of these ads will try to sell you fake products. Many of the items should have detailed and convincing descriptions, for example, there might be even options for choosing a size, color, design, etc. That is why it is so difficult to separate real offers and real e-shops from the fake ones. As for Native Info, since they do not take any responsibility, they do not review what they promote too. This adware was created only to gather money per clicks.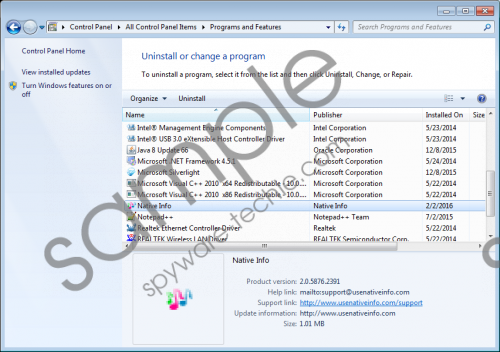 Native Info screenshot
Scroll down for full removal instructions
Furthermore, there are more risks than losing your money while buying fake products. As you know, there are websites that contain Trojans, viruses and other malware. It is a possibility that Native Info could redirect you to such web pages since it promotes unreliable sites. For example, some of the advertised sites can offer you products like computer security tools or other software. However, there is a risk that it only pretends to be a legitimate program, and so you can install malware unknowingly. Needless to say that based on the type of malware it could be very harmful to your computer.
Some users claim that they did not download it by themselves, and it seems to be very believable because you cannot see any download link on UseNativeInfo.com, which appears to be Native Info official site. We can think of many options how it could get into your system, but it is more likely that it came with bundled downloads. To be precise, you could have installed it with another application. Probably it was one of the free programs from a file-sharing website. In fact, it is probably the most common way for an adware to spread; otherwise, it is hard to imagine that someone would like to install a program whose the only function is showing ads. Native Info has many clones that work in same manner e.g. Sale Charger, Assist Point, Positive Finds, etc.
Hopefully, this article was useful, and you understand what kind of a program Native Info is and what harm it might bring. The smart choice would be deleting this application from your system. For that, you will need to uninstall the adware via Control Panel. Also, you should remove the added extensions from your browsers and delete all the leftovers. It can look rather confusing, but do not worry as you will find our recommended steps for this program's removal at the end of the article.
Delete Native Info from your computer
Windows 10 & Windows 8
Press Win+R to launch the RUN dialog box.
Type Control Panel and press OK.
Choose Uninstall a program.
Locate the adware and click Uninstall.
Windows 7 & Windows Vista
Open Start menu and choose Control Panel.
Click on Uninstall a program.
Pick the program and press Uninstall.
Windows XP
Click on Start.
Select Control Panel.
Pick Add or Remove Programs.
Find the application and click Uninstall.
Remove native Info from browsers
Internet Explorer
Press Alt+X.
Select Manage add-ons and choose Toolbars and extensions.
Find the adware and delete it.
Mozilla Firefox
Press CTRL+SHIFT+A.
Choose Extensions.
Pick the program and click Remove.
Erase the remaining junk files
Find listed paths: C:\Program Files (x86)\Native Info; C:\Users\User\AppData\Local\Temp\Native Info.
Delete Native Info folders from these paths.
Remove the remaining keys from the Windows Registry
Press Windows Key+R.
Type regedit and press OK.
Locate and delete NativeInfo, Service Mgr NativeInfo, Update Mgr NativeInfo keys from following paths:
HKEY_LOCAL_MACHINE\SOFTWARE\Wow6432Node\NativeInfo.
HKEY_LOCAL_MACHINE\SOFTWARE\NativeInfo.
HKEY_LOCAL_MACHINE\SOFTWARE\Wow6432Node\Microsoft\Windows\CurrentVersion\Uninstall\Native Info.
HKEY_LOCAL_MACHINE\SYSTEM\ControlSet001\services\Service Mgr NativeInfo.
HKEY_LOCAL_MACHINE\SYSTEM\ControlSet001\services\Update Mgr NativeInfo.
HKEY_LOCAL_MACHINE\SYSTEM\CurrentControlSet\services\Service Mgr NativeInfo.
HKEY_LOCAL_MACHINE\SYSTEM\CurrentControlSet\services\Update Mgr NativeInfo.
In non-techie terms:
Native Info is not a useful program that would be worth the risk of keeping it on your computer. As you are aware, now it can redirect you to websites that might be harmful to your system. So, we advise you to get rid of the application and feel safe again while surfing the Internet. Though, you should check your computer for possible threats if you have clicked or downloaded something from the promoted websites. You can do it either manually or automatically with a legitimate antimalware tool that would keep you safe in the future, too.