Do you know what the MyWeddingAdviser Toolbar is?
MyWeddingAdviser is a browser extension aimed for those computer users who are organizing their wedding. The browser extension creates a toolbar on Internet Explorer, Google Chrome, and Mozilla Firefox and can also change the settings of the browsers. As regards the latter, it is crucial to pay close attention to the installation process of the program; otherwise, you may not like the changes made. The MyWeddingAdviser Toolbar offers computer users access to wedding-related websites, including websites featuring wedding dresses, rings, and themes for the wedding.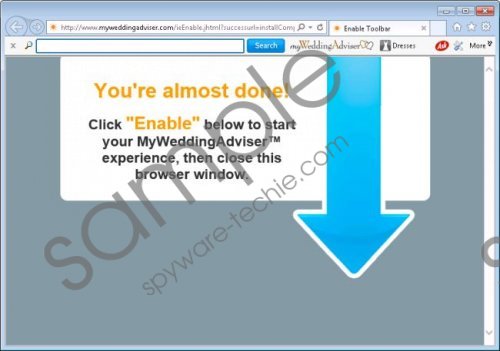 MyWeddingAdviser Toolbar screenshot
Scroll down for full removal instructions
TheMyWeddingAdviser Toolbar is a product of Mindspark Interactive Network, Inc, which is well-known to computer users due to a great variety of interactive and engaging browser extensions. The products of this software developer are usually promoted on their separate websites, and the MyWeddingAdviser Toolbar is available at myweddingadviser.com. However, it is important to note that free programs, including Mindspark extensions, can be bundled with other free programs. If you do not remember installing the MyWeddingAdviser Toolbar, the odds are that you have installed it alongside some other programs, so all that you have to do now is remove the unwanted extension.
The MyWeddingAdviser Toolbar is powered by Ask.com, a search engine that displays sponsored links. Those links are supposed to help you find things that you are looking for much faster, but we recommend that you avoid clicking on those links. Some of them may be unrelated to your search terms and redirect you to unreliable websites, which is another reason why you should not delay the removal of the unwanted extension and search engine.
Like other browser extensions and browser add-ons, the MyWeddingAdviser Toolbar automatically collects certain non-personally identifiable information, including your IP address, search terms, browsing history, browser settings, etc. This information is collected in order to understand how you browse the Internet and interact with this Mindspark program. Similar information is also collected by the Ask search engine, and, if you do not want to be monitored by this search engine, do not wait but take action to remove it from your browsers.
As regards the removal of the MyWeddingAdviser Toolbar and the unwanted search engine, we recommend that you rely on a reputable security program. Our advice is to implement SpyHunter, because this program easily eliminates the MyWeddingAdviser extension and fixes your browsers. Moreover, it shields the system against various infections, including Trojan horses, browser hijackers, ransomware infections, and many other terms. In case you want to remove MyWeddingAdviser by yourself, use the following instructions and then scan the system to make sure that all the components of the MyWeddingAdviser Toolbar are deleted.
How to remove the MyWeddingAdviser Toolbar
Windows Vista and Windows 7
Open the Start menu.
Select Control Panel.
Click the Uninstall a program option.
Remove MyWeddingAdviser.
Windows XP
Click Start.
Select Control Panel.
Click the Add or Remove Programs option.
Uninstall the unwanted browser.
Windows 8
Move the mouse pointer to the lower-left corner of the screen.
Right-click.
Select Control Panel and click Uninstall a program.
Remove MyWeddingAdviser Toolbar.
Fix your browsers
Internet Explorer
Press Alt+T and click Internet Options.
Open the General tab and change the home page.
Click OK.
Press Alt+T and click Manage Add-ons.
Select Search Providers and set a new search engine.
Mozilla Firefox
Press Ctrl+Shift+A and click Extensions.
Remove MyWeddingAdviser.
Close the tab.
Click the search engine icon next to the search box and set a new search provider.
Press Alt+T and click Options.
Open the General tab.
Change the home page and click OK.
Google Chrome
Press Alt+F and point to Tools.
Click Extensions.
Remove the unwanted extension.
Click Settings on the left side of the browser window.
In the On startup section, select the third option and click Set page.
Set a new startup page.
In the Search section, select Manage search engines and set a new search provider.
In non-techie terms:
The MyWeddingAdviser Toolbar is a free browser extension that you can install yourself or find bundled with other programs. In case you have no intention of using this program, simply remove it from the PC. The instructions provided below will help you install our recommended application, but, if you have any questions, feel free to leave a comment below so that we can help you.