Do you know what Myweb.house is?
You probably already have an idea what Myweb.house wants from you, but you just cannot believe how this intruder slithered into your PC. The truth is that there are many ways for such search engines to perch on your browser. It must have been used by a browser hijacker that entered your computer surreptitiously with the intention to make easy money out of you. You should not let this program make use of you. The sooner you remove Myweb.house from the system, the better. Such browser hijacker could easily lead to severe computer security issues, and that is something everyone wants to avoid.
First, we should discuss how these search engines get distributed around. Although this program mostly affects computers in the United States, it could be found anywhere in the world. That is, of course, because it uses the Internet to spread around. This sentence might sound a bit redundant, but we think that sometimes users are not aware of the malware distribution tactics. Also, while quite a few malicious infections are very stealthy when it comes to spreading around, browser hijackers and adware apps seldom try to conceal themselves. They simply hitch a ride on some freeware installer.
So, this leads to yet another revelation: you must have installed Myweb.house on your PC yourself. Needless to say, no one would want such an annoying app on their computer, but the problem is that users are seldom aware they are installing more than just one application when they add freeware apps to their system. Not to mention that those freeware apps look like they take very little space and they do not influence the system performance at all. It is especially relevant to the applications you download from file-sharing websites. Think about it: have you downloaded anything from a random file-sharing page recently? Did you check every single step in the installation wizard? If you skipped a few steps, that would be no surprise if Myweb.house is not the only unwanted app on-board.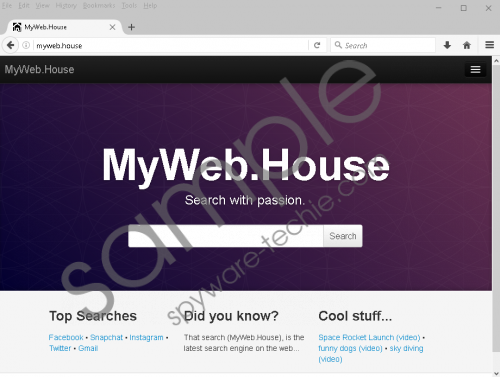 Myweb.house screenshot
Scroll down for full removal instructions
Now, what about the program's functionality? Myweb.house promotes itself as one of the best search engines out there, offering you the best web search experience. That does not seem to be true because the search engine did not work at well when we tested it in our internal lab. Normally, browser hijackers employ other popular search engines like Google or Yahoo! Search to do their job, but this one does not seem to do anything.
On the other hand, the search engine can still collect information on your web browsing habits and display commercial ads. At first, the ads will seem random, but soon enough, they will be related to your most recent web searches. This way, the browser hijacker tries to lure you into clicking the ads because this is how it makes money. Each click you make on the ads helps the program generate income via the pay-per-click system. The system itself is not dangerous or illegal, but we have to consider all the potential exploitation tricks that could be applied here by cyber criminals.
For instance, Myweb.house will not review the content embedded in its ads. So if a cyber criminal wants to promote their content, they can easily embed outgoing corrupted links to their sites in the Myweb.house ads. Again, the possibility of many users clicking those ads it not that high, but once in a while a user ends up clicking one, and that is when a random browser hijacker infection could result in a serious computer security issue. You need to prevent that from happening by taking care of this search engine right now.
It is not complicated to reset your browser settings to default at all. If you follow the instructions right below the description, you will be able to get rid of the intruder in no time. Also, do not forget that this search engine must have come bundled with freeware. If you cannot pinpoint the exact applications that must be uninstalled, run a full system scan with a security program, and you will get an entire list of the programs you have to remove. Then, you will be able to do that automatically with a security tool.
How to Delete Myweb.house
Internet Explorer
Press Alt+T and open Internet options.
Click the Advanced tab and press Reset.
Select Delete personal settings and click Reset.
Press Close.
Firefox
Press Alt+H and open Troubleshooting information.
Click Refresh Firefox on the top right of the new tab.
Click Refresh Firefox and press Finish.
Chrome
Press Alt+F and open Settings.
Click Settings at the bottom of the page.
Scroll down and press the Reset Settings button.
Click Reset.
In non-techie terms:
It is not a good thing when your homepage suddenly changes. It means that there is a bad program on your computer. It is possible to remove Myweb.house and other unwanted apps manually, but the safest way to deal with such threats would be investing in a security application. An antispyware program will help you terminate the unwanted apps, and it will protect your computer from similar intruders. There are always dangerous threats waiting for you on the Internet, so you should do what is best for you and your computer.