Do you know what MyTrustSearch.com is?
MyTrustSearch.com can appear in your Mozilla Firefox, Google Chrome, and Internet Explorer browsers as you new home page, new tab page, or even your default search engine, and you may not even know how it got there. It is possible not to remember installing this search engine page since it mostly enters computers in questionable ways. This means that most likely you did not knowingly install it but as a part of a software package or by simply clicking on an unreliable third-party ad. Our researchers have labeled this threat as a browser hijacker because of its capabilities. This hijacker may look very similar to Google and this could mislead you into believing that you are using a trustworthy search engine. However, the content this infection may show you could be potentially harmful to your virtual security. Therefore, we recommend that you remove MyTrustSearch.com from your browsers as quickly as you can if you do not want to cause more infections and increase the vulnerability level of your operating system. Please read our full report to learn more about this browser hijacker and the potential risks it may hold for you.
Our researchers have found that this malware is an identical clone of other well-known browser hijackers, such as Searchglobo.com and Myinfosearch.biz. So obviously it uses the same methods, too, to spread on the net. The most likely way for you to install this useless search page is to click on unreliable third-party content, such as an advertisement (banner or pop-up) or a link. There are a few scenarios how it is possible. First, you may land on a suspicious file-sharing or gaming website that offers you an annoying number of third-party ads. If this is an unfamiliar page to you, it could mislead you and you may click on a fake download button or other unreliable content that could drop a whole bundle of malware threats onto your computer containing this browser hijacker. This is why we always emphasize the importance of downloading files and software only from official and reputable sources.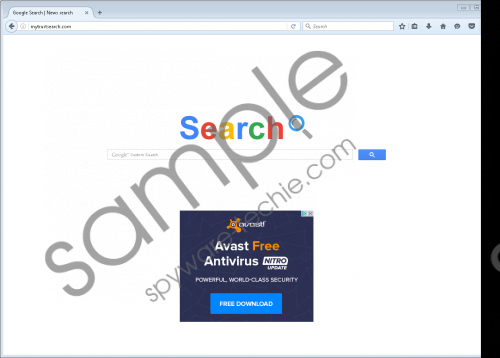 MyTrustSearch.com screenshot
Scroll down for full removal instructions
Second, it is possible that your system is infected with adware programs or browser hijackers, which both can introduce you to unreliable content that can install this browser hijacker or a bundle of infections. This is why it is so important to keep your system clean of any potential threats because one single infection is enough for you to cause more issues. We suggest that you delete MyTrustSearch.com right now but this is only the first step towards full security since you should also run a malware scanner to detect all other threats as well.
This browser hijacker can pose a threat on two fronts. First, there is a third-party ad on its main page, below the search box. This ad could display misleading ads disguised as system notifications or update downloads. Clicking on this ad might take you to unsafe websites where you could download malicious software installers or be scammed other ways. The same can unfortunately happen to you if you use the search box. This search page sends your queries to a customized Google search results page, which could lead you to believe that you are on a safe and reliable page. However, these results could be modified to include affiliated third parties' ads and links. Since cyber criminals could hide among these third parties, the risk is always there that you click on content coming from unreliable sources. This could redirect you to malicious websites and that could harm your virtual security and your privacy as well. If you do not want to end up with more malicious programs on board or losing your money from your bank account because of an online scam, you should not hesitate to remove MyTrustSearch.com from your browsers.
Finally, we are here with the solution. Our researchers say that resetting your affected browsers should do the trick, i.e., eliminate this threat. If you have never done this before, you can use our instructions below. Since preventing malware invasions is very important so that you do not end up fighting such battles, we recommend that you consider investing in a decent malware removal application to automatically protect your system from any possible malicious attacks. Also, it is just as important that you keep all your programs and drivers always up-to-date to make it more difficult for cyber criminals to gain access to your computer and to your data stored on your hard drive.
How to remove MyTrustSearch.com from browsers
Google Chrome
Press Alt+F and select Settings.
Click Show advanced settings at the bottom of the page.
Click Reset settings at the bottom.
Press Reset.
Mozilla Firefox
Press Alt+H and select Troubleshooting Information.
Click Refresh Firefox and click Refresh Firefox in the pop-up window.
Click Finish.
Internet Explorer
Press Alt+T and choose Internet Options.
On the Advanced tab, press Reset.
Select Delete personal settings and press Reset.
Click Close.
In non-techie terms:
MyTrustSearch.com is an undesirable search page that may show up in your browsers after you click on corrupt third-party ads or search results presented to you by browser hijackers. This browser hijacker can change some of your browser settings and expose you to potentially harmful third-party web contents. Keeping or using this search page could lead to virtual security issues and potentially more malware infections or even online scams. Since the presence of this browser hijacker can indicate that your system has also been infected with a number of other malicious programs, you are facing multiple threats endangering the regular and normal operation of your system; not to mention the fact that your browsing experience could also be ruined by a constant flow of annoying and potentially risky commercials. We suggest that you remove MyTrustSearch.com as soon as possible if you do not want the security-related issues to increase to a point where your system stops operating properly. If you cannot stop this invasion manually, we advise you to install a reliable anti-malware program.