Do you know what MyTransitMapper Toolbar is?
You may notice a new search website with a toolbar in your browsers called MyTransitMapper Toolbar when you launch them or click for a new tab. You should know that this tool may be unreliable and thus could pose a threat to your system security, even if indirectly. As a matter of fact, our researchers tested this browser extension in our internal lab and concluded that this application is a new child in the notorious Mindspark family of potentially unwanted programs, or PUPs. Although, there is a possibility that you installed this tool yourself knowingly, but, unfortunately, it is also possible that you do not even remember doing so or wanting so. If the latter could be your case, you should also know that there might be further threats hiding on your system, and some of them could be way more serious and dangerous than this one. PUPs are usually not regarded as real threats or taken seriously by most of inexperienced users. But let us tell you in more detail why we believe that you should remove MyTransitMapper Toolbar from your system if you want to avoid additional infections and online scams.
In all fairness, we need to mention first that there is a promotional page, mytransitmapper.com, where you can officially install this browser extension. If you are a traveler or need directions on a daily basis, you may think you need such a tool. But let us remind you that you can just as well use the bookmark function of your browsers and save every URL you want easy access to. You can even display your bookmarks bar and have all your preferred websites at the ready, one click away; and all this, without any risk. So why would you need such a questionable tool instead? And, if you notice such an application in your browsers, why would you not want to delete it right away? Of course, there is more to this PUP; so let us give you more reasons why you should delete MyTransitMapper Toolbar.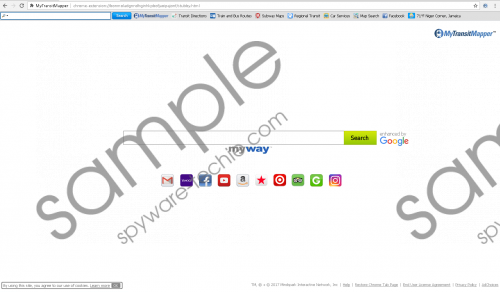 MyTransitMapper Toolbar screenshot
Scroll down for full removal instructions
This application can also be found spreading in free software bundles. Of course, this alone would not be a bad thing since there are legitimate software packages with authentic free software and third-party programs. The real issue regarding bundles is that cyber criminals can use them as a means of distribution. In other words, crooks can set up malicious installers that may pack several PUPs and malware infections, such as adware programs, fake alerts, browser hijackers, and more. After you install such a package, you may experience a drop in your PC performance, slower Internet speed, increased number of third-party advertising, and so on. These infections and PUPs may expose you to questionable third-party content, which could lead to further infections and online scams. This is why we are here to warn you that you be more careful with what kind of websites you land on and what kind of content you decide to click on. One single click on the wrong advertisement, for example, could be enough for you to download a malicious bundle but you could also be redirected to malicious websites. If you cannot recall installing this PUP, we highly recommend that you search the web for a trustworthy malware scanner to use to detect all possibly risky applications on your system. But as a first step, we advise you to remove MyTransitMapper Toolbar.
A lot of people travel every day; locally, globally, and some even virtually. Thus, it may seem like a good idea to have all the real-time maps, transportation, and direction-related websites (e.g., raileurope.com) one click away. However, let us remind you that visiting promoted websites through a PUP like this one could be risky as it might inject questionable third-party ads into them if they host any. Of course, this is not the worst that can happen to you while using this browser extension. As a matter of fact, this search website (Search.myway.com) with the fake toolbar is set as your home page, new tab as well as your default search provider. This means constant exposure to this tool. You may not even notice this change because such a page may be totally similar to others you have seen or used. But using this PUP for web search could present you with questionable content.
This PUP may collect information about you that could be used to put customized content on your screen through modified search results. Although your queries are forwarded to a Google search results page, they might be filled with questionable third-party ads and links. Most likely you cannot distinguish between a legitimate ad or linked website, and a corrupt one. Therefore, you may click on the wrong content and end up with more serious threats on board. What is even worse, you could become the next victim of an online scam, for example, by purchasing a fake product and disclosing your banking details in the meanwhile. This could have serious consequences apart from your losing money. All in all, we believe that it is safer to you to remove MyTransitMapper Toolbar from your PC.
The first step in eliminating this PUP is to run its uninstaller, which you can locate in the list of installed programs in your Control Panel. Once done, however, you also need to reset your Google Chrome and Mozilla Firefox browsers since this uninstaller does not touch them unfortunately. Please find our guide below, which explains all the steps needed to put an end to this questionable program. If you do not think you can perform these steps manually or protect your PC from future malware attacks, we suggest that you employ a trustworthy anti-malware program (e.g., SpyHunter). But having a security tool installed is not all; remember to update it regularly for best results. Speaking of which, you should update all your programs and drivers frequently to make sure that your vulnerability level is the lowest possible.
How to remove MyTransitMapper Toolbar from Windows
Windows XP
Access the Start menu and pick Control Panel.
Click Add or Remove Programs.
Select the uninstaller and press Remove.
Windows Vista and Windows 7
Press the Start button on the Taskbar and choose Control Panel.
Open Uninstall a program.
Select the uninstaller and press Uninstall.
Windows 8, Windows 8.1, and Windows 10
Tap Win+R and type control panel. Click OK.
Choose Uninstall a program.
Select the uninstaller and press Uninstall.
How to reset your browsers
Mozilla Firefox
Tap Alt+H and select Troubleshooting Information.
Click Refresh Firefox and click Refresh Firefox again in the confirmation window.
Google Chrome
Tap Alt+F and navigate to Settings.
Click Show advanced settings at the bottom of the page.
Press Reset settings at the bottom.
Click Reset in the confirmation window.
In non-techie terms:
MyTransitMapper Toolbar is a browser extension that was designed to seem to be useful for those who travel a lot or need to access online maps and directions on a regular basis for any reason. The only problem is that this bad toolbar comes from a well-know family of potentially unwanted programs we refer to as the Mindspark family. While this tool may strike you as a beneficial addition to your browsers, our researchers say that it may introduce you to questionable web content through altered and customized search results. It is also quite possible that this extension enters your computer in a freeware bundle that could contain malicious software installers as well. This could seriously increase your system's vulnerability to cyber attacks. Thus, we suggest that you remove MyTransitMapper Toolbar from your system. If you cannot protect your system yourself manually, we advise you to use a professional anti-malware program that can automatically do this for you.