Do you know what Mysupersearch.net is?
Even though we tested Mysupersearch.net in our internal lab, we cannot say we noticed any qualities that would allow saying there is anything super about this search engine. On the contrary, it looks like an application with basic tools. It does not even have a unique engine to collect the results since Mysupersearch.net was noticed to use google.com to do this job. In other words, if you were expecting the tool would enhance your browsing you will most likely end up being disappointed as it is almost the same as browsing on Google. The difference is this suspicious search engine may influence the results by adding advertisements from its third-party partners. Such content could be potentially dangerous, but we will talk about this further in the text. For now, you should know that if you decide to eliminate this application, you can find a removal guide located below to help you in this task.
Firstly, it would be best to discuss the suspicious search engine's possible distribution methods. The researchers learned that Mysupersearch.net is on the same server together with another unreliable search tool called Launchpage.org. For this reason, we believe it might be distributed through bundled software setup files or come as a redirect after clicking questionable pop-up ads. Either way, the application's appearance on the browser may suggest there could be other untrustworthy programs on the computer.
Installers downloaded from doubtful or malicious file-sharing web pages can be bundled with adware, browser hijackers, potentially unwanted programs, or even more dangerous threats and there might be a few suggestions on one setup wizard. Speaking about the mentioned redirection via unreliable pop-up ads, such content is quite often shown by another doubtful application that is already on the system. Thus, no matter how you came across Mysupersearch.net, it might be a good idea to check the PC and see if there is nothing else you may want to get rid of.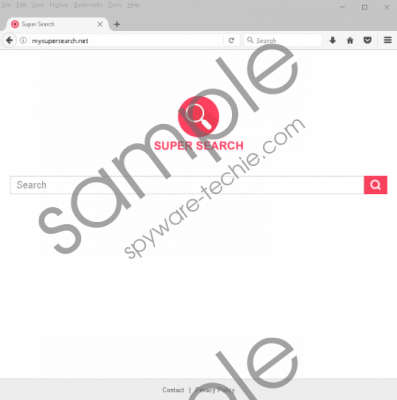 Mysupersearch.net screenshot
Scroll down for full removal instructions
The search engine could be loaded as your homepage, or you might be redirected to it. After encountering an unseen tool for the first time, it would be smartest to learn more about it before starting to use it. However, in this case, it might be difficult to find out any information. The links provided at the end of Mysupersearch.net page provided only contact details and Privacy Policy document. Neither of these links contain information about the software's creators; meaning they remain to be unknown. As you are probably aware of reputable program developers are one of the ways to determine whether the application can be trusted, so in this case, the lack of such details does not make a good impression.
Furthermore, even though there is Privacy Policy we are still missing the End User License Agreement document that should explain to us how the application could alter the user's browser settings, how it might be updated, and so on. As for the provided statements they raise some suspicion; according to Mysupersearch.net Privacy Policy, the search tool can gather anonymous user data. Apparently, such information could be used for tracking and advertising purposes. This may mean, it is possible you might receive questionable third-party advertising content while searching the Internet with this engine. Such ads could be potentially dangerous because they might promote unwanted or malicious applications (e.g. viruses, ransomware, and so on.).
Since the search engine does not look reliable and there is a risk, it could show users unreliable advertising content we recommend erasing it right away. To delete Mysupersearch.net on your own take a look at the removal guide placed below this text and complete the provided steps. There is also a way to erase the suspicious application automatically if you are willing to employ a reputable antimalware tool. In such case, just click the scanning button and wait till the process is finished. Then click the removal button, and the tool should take care of all identified threats.
Get rid of Mysupersearch.net
Internet Explorer
Click Alt+X.
Open Internet Options.
Select the Advanced tab.
Press Reset and click on Delete personal settings.
Select Reset again and click Close.
Mozilla Firefox
Select the Help icon.
Navigate to Troubleshooting information.
Click Refresh Firefox and select Refresh Firefox.
Press Finish.
Google Chrome
Use Alt+F combination.
Go to Settings and slide down.
Click on Show advanced settings, then scroll below.
Select Reset Settings and click Reset.
In non-techie terms:
Mysupersearch.net might look like a powerful search engine at first, but after doing a little research, you should learn it is an unreliable tool from unknown developers. Our researchers say it does not appear to be that the application could anyhow enhance user's browsing. It would seem it might be using a modified version of google.com. Thus, while it may feel like you are searching with Google, you could encounter suspicious advertising content coming from the search tool's third-party partners. Given there is no information where such advertising could come from, we advise you not to risk your privacy or system's safety and delete the application with the removal guide placed above or legitimate antimalware software of your preference.