Do you know what MyStart Toolbar is?
Malware researchers at Spyware-Techie.com advise you to remove MyStart Toolbar once it is located on your operating system. MyStart Toolbar is a suspicious browser add-on that you probably allowed to be installed without actually realizing because this suspicious application is distributed via software bundles. Due to the suspicious distribution method and annoying features that this application exhibits it is advised to remove this application as it could turn out to be quite detrimental if not removed in a timely manner. MyStart Toolbar is an application that will annoy you and will probably cause further virtual security problems. Fortunately, malware experts at Spyware-Techie.com crafted an easy-to-use removal guide that does not require any special computer knowledge. Read the rest of report and find out why removal of MyStart Toolbar is a must.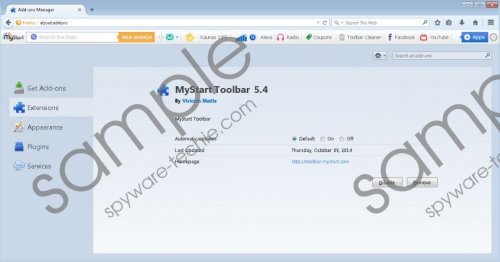 MyStart Toolbar screenshot
Scroll down for full removal instructions
Although it is possible to download this toolbar from official website, reports show that most users infect their system with MyStart Toolbar via bundled installers. The only way to avoid infecting your PC in this manner is to refrain yourself from dubious third-party download websites or websites that are associated with online piracy. It goes without saying that you should always pay extra attention while installing any kind of program onto your operating system. Always make sure that you receive maximum information about the setup processes. In order to make your system extra safe you must install a reliable antimalware tool that will provide real-time security as well as it will ease up the removal process if needed.
Once MyStart Toolbar enters your operating system you will notice the dubious toolbar on web browsers such as Mozilla Firefox and Internet Explorer. The dubious browser add-on will also change your default search engine and home page without any warning. It is quite annoying, to say the least, and the default settings will only be restored if MyStart Toolbar is removed altogether. If that was not enough, our research team revealed MyStart Toolbar could attract other internet-based infections. It is possible that MyStart Toolbar could come along with other dubious programs. It was noticed that in some cases MyStart Toolbar came along with MyPC backup, VuuPC, ZombieAlert, PriceMeter and other suspicious applications. Removal of this toolbar is essential if you want to maintain a system that is clean, secure and fully functioning.
The removal of MyStart Toolbar is very important to your system's virtual security. In order to clean the dubious application completely, follow the removal instructions carefully as just one mistake could mean that MyStart Toolbar was no removed completely. It is important to conduct and analysis to make sure that no traces of the infection remained.
How to delete MyStart Toolbar
Delete MyStart Toolbar from Windows 7 and Windows Vista
Tap the Windows key to enter the Start menu.
Now locate and select Control Panel.
Then select Uninstall a program.
Now select MyStart Toolbar and click Uninstall.
Delete MyStart Toolbar from Windows 8
Navigate the mouse cursor to the bottom right corner of the screen.
Then select Settings in the Charm bar.
Then locate and select Control Panel.
Then click Uninstall a program.
Now double-click MyStart Toolbar.
Confirm that you want to remove MyStart Toolbar.
Delete MyStart Toolbar from Windows XP
Click the Start button.
Then select Control Panel.
Now select Add or Remove Programs.
Finally, select MyStart Toolbar and click Uninstall.
In non-techie terms:
If you doubt whether you will be able to remove MyStart Toolbar, you should not be worried as malware experts at Spyware-Techie.com provide instruction of automatic removal, please follow the in order to remove MyStart Toolbar completely.