Do you know what MySafeSavings is?
MySafeSavings is an adware application that currently affects only users from the United States. The program shows huge amounts of adware on a regular basis while surfing the Internet. Sadly, it cannot be removed via Control Panel, so getting rid of these annoying ads manually might take some time and patience. Thus, you might want to check the removal instructions available below the article. In any case, before you delete the software, it is important to know why it is considered dangerous to your computer and what can be done to avoid similar threats in the future. If there is anything else you want to know about the adware, let us know by leaving a message in the comments section below.
This application is very similar to the GorillaPrice software that our researchers reviewed a while ago. In fact, many new adware applications are clones of its previous versions, so it is not surprising that they work similarly too. When MySafeSavings enters your computer, you should notice suspicious ads appearing while you search the Internet. The ads could promote various products, services or even similar software from many different companies. The program's website is not available at the moment, so we cannot check its Privacy Policy or Terms of Use documents, but we have no doubt that the companies behind the ads would be called a third party. Probably, MySafeSavings creators do not review third-party websites, and they cannot guarantee their safety. You should be aware that if you click some pop-up, you might land on a malicious site that could contain viruses, Trojans, and so on.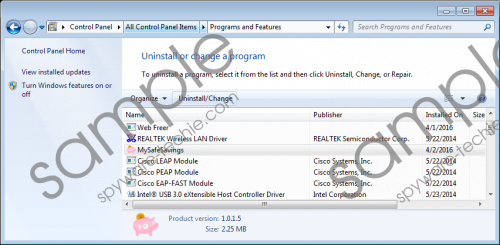 MySafeSavings screenshot
Scroll down for full removal instructions
Furthermore, some of the third-party websites could try to gather your private information. For example, you may be asked if you want to submit your name, email or telephone number in exchange for some free trial or other services. Therefore, in such situations, you should always read the Privacy Policy and similar documents before you give your personal data. On the other hand, it would be even better if you avoided suspicious websites. Accordingly, a legitimate security tool would also be helpful in these situations as it can inform you about malicious web pages or untrustworthy software.
Often, programs like MySafeSavings can be downloaded from their official sites, but they are also spread in other ways too. In most cases, such software travels in other suspicious programs' installers. Once you launch it, the bundled applications appear as additional programs on the setup wizard. They might be not related to the main program, but many users do not read the information on the installation wizard. Since the adware's website is unavailable, it is more likely that for now it is spread through bundled installers.
It was mentioned before that the application cannot be removed through Control Panel. Our researchers noticed that when you click the uninstall option the application connects to uninstall.mysafesavings.com, and it is a wrong link, so naturally it does not work. As a result, the manual removal appears to be more complicated than you might have expected it to be.
To delete the application manually, users should delete some Windows Registry entries and erase MySafeSavings folders from the %PROGRAMFILES%, %ALLUSERSPROFILE%, and %PROGRAMFILES(x86)% directories. The process might look confusing for inexperienced users, but you can use the step by step instructions available below the text. Moreover, you could try removing the program with a security tool as well. Once you install an antimalware tool, you can search your system for MySafeSavings or other potentially harmful programs. It might take some time, but once the threats are located, you can delete them all at once.
Delete MySafeSavings from Windows Registry
Press Windows Key+R.
Type regedit and click OK.
Locate these following paths one by one:
HKEY_LOCAL_MACHINE\SOFTWARE\Wow6432Node\Microsoft\Windows\CurrentVersion\Uninstall\MySafeSavings
HKEY_LOCAL_MACHINE\SOFTWARE\Microsoft\Windows\CurrentVersion\Uninstall\MySafeSavings
HKEY_LOCAL_MACHINE\SYSTEM\ControlSet001\services\smass
HKEY_LOCAL_MACHINE\SYSTEM\ControlSet002\services\smass
HKEY_LOCAL_MACHINE\SYSTEM\CurrentControlSet\services\smass
Find either Registry key names as MySafeSavings or smass.
Right-click MySafeSavings and smass Registry keys and select delete.
Erase MySafeSavings created folders
Press Windows Key+E.
Insert these locations separately: %PROGRAMFILES(x86)%, %PROGRAMFILES%
Find folders named as MySafeSavings and right-click them to delete.
Copy and Insert either %ALLUSERSPROFILE% for Win. 10, Win. 8, Win. 8.1, Win. 7 or %ALLUSERSPROFILE%\Application Data for Windows XP.
Locate folders titled as MySafeSavings, right-click separately and select Delete.
Insert %ALLUSERSPROFILE%\Microsoft\Windows for Win. 10, Win. 8, Win. 8.1, Win. 7 or %ALLUSERSPROFILE%\Application Data\Microsoft\Windows for Windows XP.
Locate folders names as WindowsAccountManager and right-click to delete them.
Empty your Recycle bin.
In non-techie terms:
MySafeSavings is a clone of another adware and as the previous version; it displays a lot of irritating ads that could redirect you to websites that contain malware. There are other risks to consider too, and the application is not a trustworthy tool. It is hard to imagine any reason why you should keep this program on your system. Consequently, we would advise you to delete it with the instructions above or with a security tool of your choice.