Do you know what Mysafenewpage.com is?
Mysafenewpage.com happens to be a browser hijacker. It means that this program will modify your default browser settings, thus successfully redirecting you to affiliated websites, some of which could prove to be dangerous to your computer. In order to protect your system and your personal information from malevolent exploitation, you have to remove Mysafenewpage.com from your PC immediately. You can find the removal instructions provided at the bottom of this description. In the meantime, please check out the further paragraphs that tell you more about this infection, and how it is possible to avoid similar intruders.
According to our research team, the browser hijacker belongs to the Imaly Media family. This would suggest that Mysafenewpage.com is not the first infection in line. At the same time, it gives us information that should help us fight this intruder.
One of the most important things you have to understand about browser hijackers is that Mysafenewpage.com and other similar threats do not just slither into your computer surreptitiously. The chances are you allowed this program to enter your PC without even realizing it. Of course, if you downloaded the application from its official page or the Chrome Web Store, you definitely know that the program is on-board. However, we should not ignore another common method of freeware and adware distribution. That would be software bundles.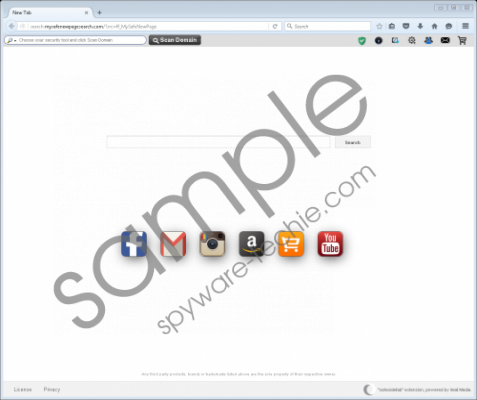 Mysafenewpage.com screenshot
Scroll down for full removal instructions
The name software bundle is pretty much straightforward. It entails that you download a few software applications bundled in one installer, and then you launch them all together. Unfortunately, users often are not aware of that because they believe they download only one program they need. However, if you often get your apps at third-party file sharing websites, it is very likely that you install more than just one application through those third-party installers. As a result, your computer ends up being full of unnecessary and potentially harmful programs.
It is sometimes hard to categorize Mysafenewpage.com as a malicious infection because this application has an official website, and it is also available for download from the Chrome Web Store. If you take a closer look at the information provided at the main website, you will see the following promotional line:
In today's cyber environment it is recommended that you browse the web with caution. My Safe New Page will change your newtab and default search settings and add the security tools needed.
There is some true to these claims, as it is definitely risky to browse the web nowadays. And supposedly, by changing your browser settings, this hijacker should prevent other unwanted applications from modifying your default search engine. Unfortunately, fighting fire with fire does not work in this case. The problem is that Mysafenewpage.com is associated with many other third-party websites that could eventually lead to system downfall.
Once this browser hijacker settles in your system, it starts promoting affiliated sites and programs by redirecting you through its domain to plusnetwork.com. This website collects your data in order to find out your basic web browsing patterns. Later on, this information could be used to target custom commercial advertisements at you whenever you open a particular website. What's more, there is no guarantee that the search results provided by this program will be reliable. Some of them could contain links to unfamiliar and perhaps even dangerous websites. If you click an outgoing link to a malware-related site, it is only a matter of time before you get infected with a dangerous virus. Sure enough, you cannot risk that.
Although it is not possible to delete Mysafenewpage.com via Control Panel, it should be enough to reset your browser to get rid of the new settings. Also, we will show you a few manual removal steps that will help you delete this browser hijacker from the Firefox and Chrome browsers. While you are at it, do yourself a favor and scan your computer with the SpyHunter free scanner because there is a good chance you have multiple unwanted applications installed on your PC. And since these are the unwanted programs we are talking about here, it goes without saying that you must remove them all at once.
Should you have any further questions about computer security or how to terminate unfamiliar applications, please feel free to leave us a comment.
How to Remove Mysafenewpage.com
Chrome
Press Win+R and type %AppData% into the Open box.
Click OK and go to Local\Google\Chrome\User Data\[USER PROFILE]\Extensions.
Delete the oaoajebjiaopijdmlhbefppbppgkciop folder.
Exit the directory and open your browser.
Press Alt+F and click Settings.
Scroll down and select Show advanced settings.
Scroll down again and click Reset settings.
Click Reset to confirm.
Firefox
Press Win+R and type %AppData% into the Open box.
Press Enter and navigate to Roaming\Mozilla\Firefox\Profiles\[USER PROFILE]\extensions.
Delete the MySafeNewPage-the-extension1@mozilla.com.xpi file.
Exit the directory and open your browser.
Press Alt+H and click Troubleshooting information.
Click Refresh Firefox at the top right of the new tab.
Click Refresh Firefox again and press Finish.
In non-techie terms:
Perhaps you did not notice how Mysafenewpage.com entered your system, but now you have a chance to remove this browser hijacker for good. The program changes your browser settings without your permission and monitors your online activity. The information this program collects could be used later on for various online marketing schemes. Thus, you need to take care of this security issue as soon as possible.