Do you know what MyRadioAccess Toolbar is?
MyRadioAccess Toolbar has been classified as a bad toolbar by our malware specialists since it may be found in freeware bundles and may also make modifications in your browsers without your consent. This toolbar might pose a threat to the security of your operating system, and you need to be aware of the consequences if you have it on your computer or plan to keep it. If this toolbar has slithered onto your computer, it is also possible that you will find several more infections. In order to find out more and how you can remove MyRadioAccess Toolbar, please read on.
Although it is possible to install this toolbar directly from its website, myradioaccess.com, a lot of users get infected with it via freeware bundles that may also contain other malware infections. The reason why people usually cannot remember installing MyRadioAccess Toolbar is that they ignore the license agreement or do not pay close attention to the wizard when they download and install free software packages. It is quite easy to get a bunch of malware onto your system this way. In order to prevent this, you need to stay away from unreliable websites associated with online piracy or file sharing. If you want to be on the safe side, we recommend deleting MyRadioAccess Toolbar and running an online scanner to see if there is anything else threatening your system.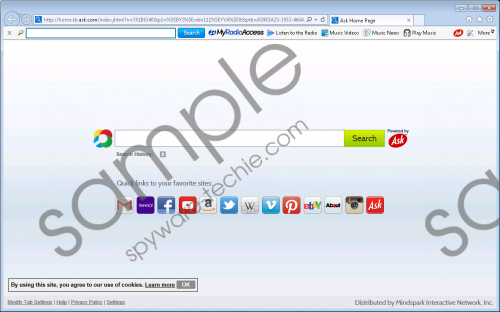 MyRadioAccess Toolbar screenshot
Scroll down for full removal instructions
MyRadioAccess Toolbar is a browser extension that offers quick links to radio stations and other music-related websites as well as a third-party web search service powered by Ask.com. This toolbar can collect information about your online activities in order to help third parties to return customized advertisements or links to your screen. MyRadioAccess Toolbar might use the third-party services it offers to display these ads or links through them. Thus, it is possible that you will find altered search result pages that include targeted links, once you decide to use its search tool. The exposure to potentially harmful third-party content has to be taken seriously since you might be introduced to more infections or online frauds. It is important that you understand the underlying dangers and remove MyRadioAccess Toolbar as soon as possible.
If you are convinced now and realize the risks of having MyRadioAccess Toolbar on your computer, it is time to know how you can clean it from your computer. In order to assist you with the removal steps, please use our instructions below. Make sure you do not leave out anything so that you can get rid of all the components entirely. Remember that this toolbar may not be the only invader on your computer. To take care of the other infections, we recommend applying an authentic malware remover, such as SpyHunter, which will detect and remove all possible threats with a simple click. It really pays to protect your system with a security tool unless you want to waste hours chasing malware and trying to get rid of them manually.
How to remove MyRadioAccess Toolbar
Windows 8/Windows 8.1
Tap Win+R and type in control panel. Press OK.
Click Uninstall a program.
Click on the app and select Uninstall.
Windows Vista/Windows 7
Click on the Windows button on the Taskbar and select Control Panel.
Select Uninstall a program.
Click on the app and click Uninstall.
Windows XP
Open the Start menu and go to Control Panel.
Access Add or Remove Programs.
Click on the app and click Remove.
How to reset your browsers
Internet Explorer
Tap Alt+T simultaneously and navigate to Internet Options.
Choose the Advanced tab and click Reset.
Tick the Delete personal settings checkbox and click Reset.
Click Close.
Google Chrome
Access the menu and go to Settings.
Click Show advanced settings at the bottom of the page.
Scroll down again and click Reset settings.
In the confirmation window click Reset.
Mozilla Firefox
Tap Alt+H simultaneously and select Troubleshooting Information.
Click Refresh Firefox.
Click Refresh Firefox in the pop-up.
Click Finish.
In non-techie terms:
MyRadioAccess Toolbar is a so-called bad toolbar that might present you with potentially dangerous third-party content. It is never safe to keep applications or tools on your computer that are suspicious or questionable to say the least. But this toolbar might not only display unreliable links to you, but it may also come with other infections. In order to restore your system's security, we advise you to remove MyRadioAccess Toolbar and every other infection that may be related to it. The most convenient way to do so is by using a reliable antimalware tool, which will automatically take care of everything and protect your system from further attacks.