Do you know what Myplayerhd.net is?
Myplayerhd.net promotes the so-called open source Flash player by Lightspark. You should not download thesoftware promoted on the site, and you should not interact with the pop-up advertisement served via the same domain. If you do interact with these ads, you will not only need to delete Myplayerhd.net-related malware, but you will also need to remove third-party computer infections. Unfortunately, malware must have attacked your operating system already; otherwise, you would not be bombarded by the suspicious pop-up/banner ads. This article has been created to help you remove the undesirable software and stop the suspicious Myplayerhd.net ads.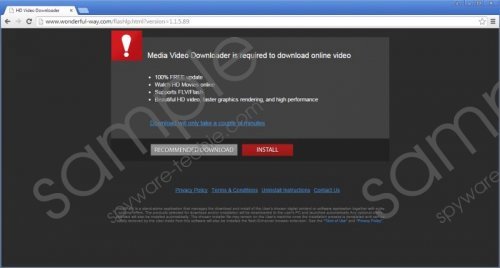 Myplayerhd.net screenshot
Scroll down for full removal instructions
If you have discovered the Myplayerhd.net ads, you must scan your PC for PicColor, WordProser, ZoomIt, VuuPC, and other suspicious applications, most of which are removed as advertisement-supported apps. According to our malware researchers, these programs could be installed on your PC using the suspicious Amonetize bundled installers. Whether they have been installed with or without your knowledge, you need to delete these programs, because they are intrusive and unreliable. Only if you remove this software will the unreliable ads cease popping up on the web pages that you browse. The advertisements presented via Myplayerhd.net are meant to push you into downloading a Media Video Downloader. Unfortunately, if you download the promoted software, it is most likely that you virtual security will be exposed to even more unreliable programs that will also require removal.
You should not even think about the manual removal of Myplayerhd.net-related malware if you are not experienced. If you do not follow our advice, it is likely that you will make mistakes or fail to delete all existing threats. All that schemers need to continue with their malicious activity is for you to leave one malicious file. For this reason, if you are not sure you can succeed on your own, you should look into installing automatic malware removal software. If you install this software, you will not need to spend your time detecting and deleting every single malicious component from your operating system.
Delete undesirable apps from Windows
Delete from Windows 8.1 or Windows 8:
Simultaneously tap Win+R to launch RUN.
Type Control Panel and click OK.
Select Uninstall a program.
Right-click the application you wish to remove.
Click Uninstall.
Delete from Windows 7 or Windows Vista
Click the Windows logo on the Taskbar to open the Start menu.
Select Control Panel and click Uninstall a program.
Right-click the program you wish to remove and click Uninstall.
Delete from Windows XP:
Move to the Taskbar and click the Start menu icon.
Open Control Panel and double-click Add or Remove Programs.
Identify the undesirable application, click it, and select Remove.
In non-techie terms:
You should not trust advertisements presented via Myplayerhd.net, because this website has been set up to promote a worthless, unreliable media player. You will endanger your virtual security by installing this software, and, if malware has already found its way in, you need to install a legitimate malware remover that will delete Myplayerhd.net-related malware from your PC automatically.