Do you know what Myoffers.bid is?
It is possible to find Myoffers.bid promoted pages in your browsers on new tabs when you get redirected either automatically, without your knowledge, or with your assistance, i.e., when you click on corrupt third-party ads or unsafe links. Our researchers say that you should be careful if you find pages related to this URL since it is an adware server that may put your virtual security at risk. If your computer has been infected with adware lately, it is quite possible that you were installing a freeware bundle packed with all kinds of threats. In other words, your system could be swarming with system security issues unless you take this seriously and start acting right now. We advise you to remove Myoffers.bid from your PC if you do not wish to experience such redirections and their possible consequences.
It is important for us to talk about in more detail how you can end up on a page promoted by this adware server. As we have mentioned, it is quite possible that your computer has been infected with malware like adware recently and this infection is the cause of the redirection to this questionable server. This infection is most likely to enter your computer without your permission or knowledge via freeware bundles. Bundling was originally a legitimate way to distribute free programs promoted by a reliable and useful free program, which was usually the target of users. Unfortunately, this method was later exploited by cyber crooks to deliver questionable programs as well as malware infections like adware, Trojans, and browser hijackers to unsuspecting users' machine.
If you want to avoid such multiple infections, you should stay away from suspicious torrent and shareware sites, and only download programs and updates from exclusively from official or reputable sites. In addition to that, you should also stop clicking on third-party advertisements on suspicious websites. It is also vital for you to understand that if there is one single threat on your computer, it may be capable of exposing you to malicious web content, which could end in further infections again. This is why we believe that it is best for you to scan your computer with a reliable malware scanner after you delete Myoffers.bid.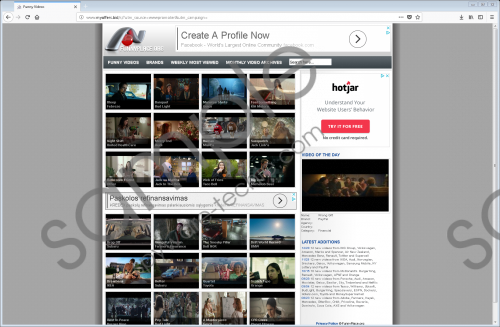 Myoffers.bid screenshot
Scroll down for full removal instructions
As you may already know, this adware server can distract you while you are browsing the web or simply are online by redirecting you to potentially unreliable pages promoted here, myoffers.bid/s/?utm_source=wwwpromoter&utm_campaign=. This adware server may promote a number of different sites, which, of course, can change from time to time. These sites may display questionable content and third-party advertisements. This is why it is dangerous not to eliminate this threat source right away. One click can cause further infections on your computer. But you may also end up on new tabs loaded with fake or malicious websites where cyber criminals cannot wait to scam you. In an online scam you may share your personal or banking information with criminals, which may have serious consequences. If you would like to save yourself from such headaches, we suggest that you remove Myoffers.bid as soon as possible.
It is essential that you reset your major browsers (Internet Explorer, Google Chrome, and Mozilla Firefox) that could be infected with malicious extensions responsible for this redirection. You can use our guide below if you have no idea how to do this. Please remember that there may be multiple threats hiding on your system. If you do not take care of them now, you would be risking further infections. It is possible though that you do not know how to detect and eliminate all the infections and potentially harmful programs from your PC manually. Therefore, you can start using a professional automatic malware removal application like SpyHunter.
Remove Myoffers.bid from your browsers
Internet Explorer
Press Alt+T and select Internet Options.
On the Advanced tab, press Reset.
Tick Delete personal settings and click Reset.
Press Close.
Google Chrome
Press Alt+F and choose Settings.
Scroll down and click Advanced.
Then, click Reset again at the bottom.
In the confirmation window, press Reset.
Mozilla Firefox
Press Alt+H and pick Troubleshooting Information.
Click Refresh Firefox and in the confirmation window, click Refresh Firefox again.
In non-techie terms:
Myoffers.bid is a potentially harmful adware server that may redirect you to questionable websites. If you land on a website promoted by this server, you could be exposed to questionable web content. Engaging with such content could lead to serious infections or serious money loss from your bank account if you were to be scammed by cyber criminals on a malicious website after being redirected. It is never really safe to click on third-party ads, let alone when your computer could be infected with adware that may also be responsible for taking you to this adware server. Although it is also a possibility that you simply click on the wrong content while browsing and this is how you are exposed to this adware server and its pages, we recommend that you remove Myoffers.bid from your computer as soon as possible. If you would like efficient protection, we advise you to install a trustworthy anti-malware program.