Do you know what Mynavpage.com is?
Mynavpage.com is a questionable search engine that will change homepages and search engines on all the major browsers, including Internet Explorer, Google Chrome, and Mozilla Firefox. At first glance, Mynavpage.com looks like a decent search engine that allows users to search for images, maps, videos, news, and other search results. In addition, icons on its main page might help users to access Facebook, YouTube, Pinterest, eBay, Twitter, Bing, LinkedIn, and other useful pages that promote games, videos, and news. Last but not least, Mynavpage.com provides users with Google search results, so it is not surprising at all why so many people decide to keep and use Mynavpage.com. In our opinion, it is better not to do that because there is a possibility that this search engine will redirect you to bad web pages that contain malicious software. As can be seen, Mynavpage.com might put your system into danger, so it would be best to remove it. In the meantime, be very careful.
Mynavpage.com itself is hosted on the 108.162.205.141 IP address, which shows that the server of this search engine is located in Los Angeles, California. Researchers have also found that Mynavpage.com itself is registered through GODADDY.COM. According to our specialists, Mynavpage.com is mainly prevalent in three countries: India, Spain, and Iran; however, it seems that Mynavpage.com is getting more and more popular, so it might replace your homepage and search engine as well. If this has already happened, eliminate Mynavpage.com as soon as you can. If you still do not think that it is necessary, you should know that all the most popular antimalware scanners recognize Mynavpage.com as a phishing or malicious website.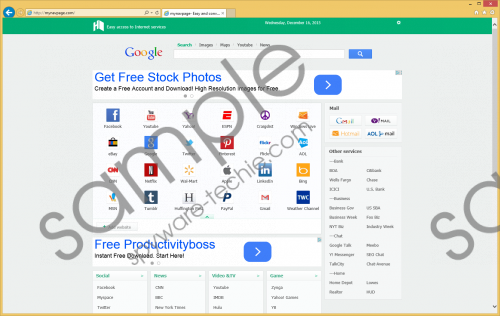 Mynavpage.com screenshot
Scroll down for full removal instructions
There are several reasons why we do not recommend keeping Mynavpage.com. First of all, it has been observed that this search engine might present users with all kinds of ads and third-party links. These ads will be incorporated among the legitimate search results. Some specialists also claim that you might see ads at the lower part of the search engine. It does not really matter where they appear; the most important thing is that you do not click on them. If you do not ignore these ads, you might be taken to bad web pages because each of these commercials might contain links leading to such sites. You should immediately close such websites as games.71box.com and aws.ookor.com too if you ever notice that they have been opened without permission. Furthermore, it is very likely that Mynavpage.com will gather details about your browsing activities in order to be able to present you with commercial ads. Yes, it can do that without the information about the user; however, it wants to show targeted ads and thus double the chances of luring users into clicking on them.
Mynavpage.com is usually spread through bundled malicious installers, and it is very likely that it does not travel alone. If you have installed the entire software bundle on your PC, it is very likely that you have other untrustworthy programs on your computer. In most cases, these are adware, potentially unwanted programs, and other suspicious applications. You might not even know that they have been installed because it is usually done rather secretly. Do not worry; you can find out more information about the condition of your system. All you need to do is to scan the system with an automatic antimalware scanner. You need a powerful tool for that, so we suggest downloading the SpyHunter diagnostic scanner from our website.
You must remove Mynavpage.com from browsers for the sake of your system's safety. There is basically no doubt that it will be enough to reset browsers one by one in order not to see it anymore. Below provided instructions will help you with that; however, if you do not have time for the manual Mynavpage.com removal, scan your system with a reputable antimalware remover. As you already know, we like SpyHunter.
Delete Mynavpage.com
Internet Explore
Open your browser.
Tap Alt+T.
Select Internet Options.
Click on the Advanced tab to open it.
Click Reset and then mark the Delete personal settings box.
Click Reset.
Mozilla Firefox
Open your browser.
Tap Alt+H.
Click Troubleshooting information.
Click Refresh Firefox.
Click the Refresh Firefox button once again.
Google Chrome
Open your browser and tap Alt+F.
Select Settings.
Click Show advanced settings.
Click Reset settings.
Click the Reset button.
In non-techie terms:
Users can protect their systems from all kinds of threats themselves. All they need to do is to install a security tool on their systems and keep it enabled all the time. It is also advisable to surf the web more cautiously and stop downloading programs from various third-party web pages, torrents, and P2P sites.