Do you know what Myluckysurfing.com is?
Myluckysurfing.com is a website promoted as a legitimate search tool. Obviously, it is created on the same template as MyLuckySearching.com, so it must belong to the ELEX family of browser hijackers, according to our team of analysts. They have carried out research to find out whether it is true, and it has confirmed that Myluckysurfing.com is nothing more than another browser hijacker having an appearance of a genuine search provider. Browser hijackers are annoying threats which usually illegally enter users' computers and applies changes on their web browsers. Some users do not really care which search tool to use, but others immediately notice Myluckysurfing.com set and find those changes undesirable because they no longer see a website they like when they launch their web browsers. This dubious search tool usually changes the default homepage, so it will be opened for you automatically each time you open your Internet Explorer/Google Chrome/Mozilla Firefox. The situation can be changed only by going to set a new URL as a homepage.
It is not so easy to say whether a search tool can really be trusted fully because those untrustworthy ones are usually made to look like legitimate search providers. In the case of Myluckysurfing.com, it does not look harmful at all, and ordinary users would never say that it belongs to the ELEX family of browser hijackers. Users usually decide to find more information about it because they notice its appearance on their browsers. Only then they find out that this search tool cannot be trusted. If you are reading this article with the intention of finding more about Myluckysurfing.com too, you should know that it not only alters browsers' settings. Our experts have also managed to reveal that this search engine might provide users with the modified search results. These are search results used to promote certain third-party pages. According to security specialists, they might be dangerous in a sense that they might promote corrupted pages containing untrustworthy software. Additionally, these pages might gather sensitive data. Since we have already started talking about the collection of information, Myluckysurfing.com is not innocent in this sense either. Information available in its Privacy Policy document tells users that it also collects personal information. These details are, luckily, not online banking credentials or passwords. More precisely, these are the following: name, gender, date of birth, and country. We are sure you would not want them to end up in the hands of bad people. Unfortunately, privacy-related issues might arise sooner or later if you do not do anything about the presence of this untrustworthy search tool because it can really disclose all the gathered data to third parties.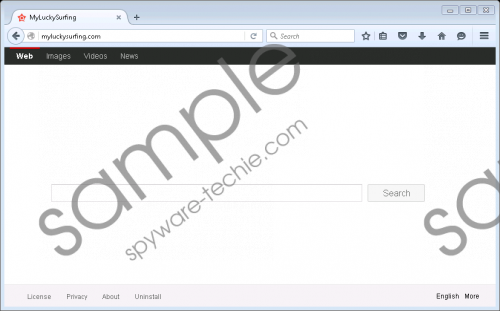 Myluckysurfing.com screenshot
Scroll down for full removal instructions
It should be already clear that it is highly recommended to delete Myluckysurfing.com, but before we talk about its deletion in detail, we want to make it clear how ELEX browser hijackers are usually distributed to make it easier for users to avoid them. Researchers say that, in most cases, browser hijackers enter computers together with third-party software in software packages, i.e. they travel bundled. Luckily, there is still a way to prevent them from entering the computer - install reputable security software, download applications from their official websites only and check whether they can be trusted before the installation, and, finally, always install software carefully.
We promise that you will no longer see Myluckysurfing.com when you launch your browsers if you reset them to default settings one by one. If you feel that you need some help with that, feel free to use our instructions. Keep in mind that you might need to erase other untrustworthy programs from your computer too.
Delete Myluckysurfing.com
Internet Explorer
Open Internet Explorer.
Click Tools at the top to open its menu.
Click Internet Options.
Open the Advanced tab.
Click Reset.
Mark the Delete personal settings box.
Click Reset again.
Mozilla Firefox
Open your web browser and tap Alt+H.
Select Troubleshooting information from the Help menu.
Click on the Refresh Firefox button located at the top.
In the confirmation window, click Refresh Firefox again.
Google Chrome
Launch your Google Chrome browser.
Tap Alt+F and select Settings.
Scroll down.
Click Show advanced settings.
Click on the button Reset settings.
Click Reset.
In non-techie terms:
Myluckysurfing.com might look like a reputable search provider, but it surely is not. It cannot be called trustworthy because it arrives on PCs in software bundles and then changes browsers' settings without permission. Additionally, it cannot be trusted because of all these sponsored search results it presents to users. No doubt you will delete Myluckysurfing.com, but we want to remind you that it is not enough – other active malicious applications must be deleted from the system too.