Do you know what MyLuckyPage123.com is?
MyLuckyPage123.com can show up in your major browsers as your homepage after a browser hijacker slithers onto your system. This is usually possible when you are installing a free program that you downloaded from questionable sources. Our researchers say that it is likely that this infection introduces you to questionable content that could expose you to additional infections and online scams. Since there may be other malware threats on your system that came with this hijacker on board, you cannot go online and feel safe again. Therefore, we suggest that you remove MyLuckyPage123.com from your system right now. But do not forget about the rest of the threats either. Let us tell you now in more details about this browser hijacker so that you may learn how you can avoid such infections in the future.
Browser hijackers are generally distributed in questionable ways. It is possible that you click on a pop-up ad that tells you to update your Flash driver and you get redirected to a fake updater page that will drop a malicious bundle onto your system. But it is also possible that you directly install it with the click of a button over a banner or pop-up ad. Many users can infect their system by trying to download free files (music, movies, games, and other programs) from unreliable sources, such as torrent and shareware sites. You should know that these pages may promote questionable third-party installers that can pack several malware infections alongside legitimate free software. If you are not cautious enough during the installation process, you may allow the full content of the bundle to come on board. This could have serious consequences and your virtual security may become way more vulnerable. Hopefully, this would be enough for you to want to delete MyLuckyPage123.com, but we have more to share.
You can also be exposed to such content if you land on a suspicious website that displays an annoying number of flashy and all kinds of banner and pop-up ads. As a matter of fact, these ads can also be disguised or downright invisible. You may have seen torrent pages with four download buttons, for instance, or two to three sets of next-page buttons. When you are on an unfamiliar page, it is quite likely that you click on the wrong content and drop a malicious package. The same can also happen if you let adware programs, browser hijackers, or potentially unwanted applications onto your system previously. These may all be capable of showing unreliable advertisements, links, or redirect you to malicious pages. If you are a security-minded computer user, there should be no doubt that you need to use a reliable online malware scanner to detect all possibly risky applications that may be endangering your system. But before you set out to scan your system, you can certainly eliminate MyLuckyPage123.com to get it out of the way.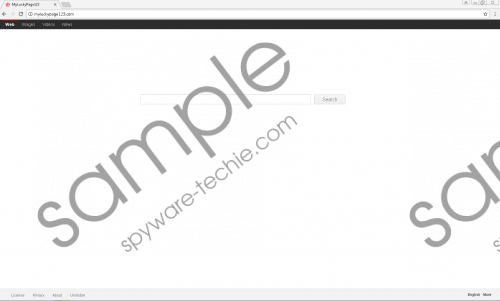 MyLuckyPage123.com screenshot
Scroll down for full removal instructions
This search engine page is indeed a new clone from the ever-growing ELEX family of browser hijackers that also includes the identical predecessor MyLuckyStarting.com. When you look at this search page, you cannot see or notice anything unusual. Actually, this could be its trick. Because when you do not see of feel anything unusual about your new homepage when you launch your browser, it means that you will not start investigating what this page might be; you will simply leave it be. However, this browser hijacker may collect information about you and your browsing habits, including how long you spend on websites, which ads you tend to click on, your IP-address, and more. Based on this information customized ads and links can be sent to your screen, which would not be a big issue as such. But, unfortunately, this can be exploited by cyber criminals, who could send malicious content to your screen.
How is that possible? Well, this hijacker redirects your queries to a modified Yahoo results page that could contain several questionable third-party ads, sponsored contents, and links whose source could be unreliable third parties or cyber criminals. Clicking on such ads and links could cause you even more trouble than you may be in right now. You could drop other malware infections or end up on malicious websites on new tabs or windows. The latter can end very badly for you as you could lose your personal and banking details in no time and your bank accounts could be drained soon afterward, not to mention the possible online frauds such criminals could commit under your name. These may sound rather scary and they are, too. We do not claim that all your clicks can result in such horrible aftermaths. But these scenarios are certainly possible. Thus, we recommend that you remove MyLuckyPage123.com from your browsers.
We have prepared the manual instructions for you if you wanted to put an end to this infection yourself. Please follow these steps carefully to eliminate this browser hijacker. You can easily accomplish this even if you are not an advanced user. But it is still possible that you would rather use an automated method, such as a malware remover. So we recommend that you download and install SpyHunter or any other trustworthy security software to protect your PC automatically from all existing malware infections.
Remove MyLuckyPage123.com from browsers
Internet Explorer
Tap Win+R and type regedit. Press OK.
Find the HKEY_CURRENT_USER\Software\Microsoft\Internet Explorer\Main\Start Page registry key.
Replace the value data ("MyLuckyPage123.com") with a homepage URL address of your liking.
Close the editor.
Mozilla Firefox
Tap Win+E.
Find the "C:\Users\[User name]\AppData\Roaming\Mozilla\Firefox\Profiles\[Mozilla User ID]" directory.
Open the prefs.js file in a text editor (e.g., Notepad).
Replace the URL in the user_pref("browser.startup.homepage", "http://MyLuckyPage123.com"); string with a homepage URL address of your preference.
Save the changes and exit the file.
Google Chrome
Tap Win+E.
Find the "C:\Users\[User name]\AppData\Local\Google\Chrome\User Data\Default" directory.
Delete Preferences, Secure Preferences, and Web Data files.
In non-techie terms:
MyLuckyPage123.com is a new browser hijacker coming from the notorious ELEX family. This search website may appear to be normal and innocent to you but you should know that it may present to you unreliable third-party ads and sponsored links, which can lead to further infections and landing on malicious websites if you click on them. This browser hijacker may enter you system along with other malware infections, which obviously mean multiple system security threats for your computer. We recommend that you act now and remove MyLuckyPage123.com together with all other related and unrelated threats. If you want an effective solution for your protection, we suggest that you install a professional malware removal application.