Do you know what Myinfosearch.biz is?
Myinfosearch.biz is one of those infections that enter operating systems via software bundles. Many legitimate software distributors use software bundling as a method to promote legitimate apps; however, unreliable distributors use this method to spread malware as well. Even if this browser hijacker does not enter along with malicious infections, you need to scan your operating system just to make sure that other threats are not active. Luckily, it will not be hard for you to figure out if a hijacker has invaded your operating system because it will become obvious the moment you launch an infected browser. Unfortunately, this threat could affect all kinds of popular browsers, including Google Chrome, Microsoft Edge, Internet Explorer, and Mozilla Firefox. On top of that, you might need to delete Myinfosearch.biz from several browsers active on your PC.
You might be unaware of the entrance of the suspicious Myinfosearch.biz, or you might let this hijacker in with full permission. Obviously, if this search tool corrupts your browsers illegally, it will be very easy for you to recognize it as a threat. Now, if you install it willingly, it might take some time before you realize that it requires removal. Our research team believes that this hijacker deserves elimination because it is untrustworthy. First of all, it is most likely to use a third-party search engine to showcase the search results you request, which means that the hijacker is capable of redirecting to third-party sites. Sure, you might be routed to the Google search engine or some other familiar engine, but that does not mean that the hijacker is helpful. On top of that, you might be introduced to sponsored links instead of normal search results, which means that you might be exposed to unwanted or even unreliable websites. You need to be particularly careful about unfamiliar installers, suspicious surveys, and potentially misleading deals. If you cannot recognize them yourself, stay away from Myinfosearch.biz altogether.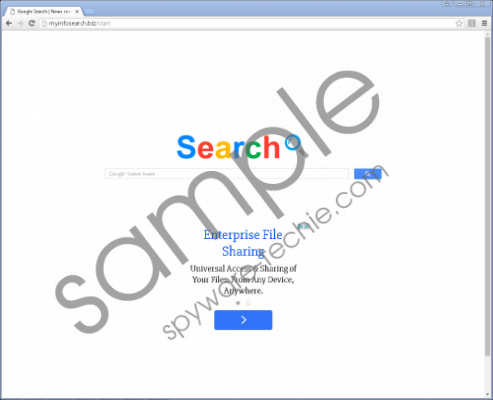 Myinfosearch.biz screenshot
Scroll down for full removal instructions
The suspicious Myinfosearch.biz is currently down, and it is possible that it will not be revived again. If you have let in the hijacker before this, it is possible that your homepage and default search provider are now showing blank pages. Our research has revealed that most users of this unreliable, dysfunctional search tool live in France, the United Arab Emirates, or Argentina, which is a very random collection. All in all, you might be struggling with this worthless piece of junk even if you live in a different country. When working, it was found that this search tool performs redirecting to Reimageplus.com. The software within this website has been promoted by various ad-supported programs, potentially unwanted programs, and browser hijackers, which is why we consider it highly suspicious. Another thing that is worth mentioning about this search tool is that it is capable of adding the Policies to the Windows Registry. If done successfully, this allows launching the hijacker even when it is removed from the browsers.
If you do not remove Myinfosearch.biz from your browsers, it is possible that all of your virtual activity will be recorded. This browser hijacker is likely to employ tracking cookies and similar tools not only to track the activity of software but also to spy on you. It is possible that the information collected could be sold to third parties, who could use it in various different ways (e.g., to develop more attractive offers). We suggest resetting your browsers as this will erase all traces of the infection, including its tracking cookies. Additionally, you should check the Registry Editor to see if the Policies were added to ensure the activity of the hijacker. If you find these entries, remove them instantly.
Delete Myinfosearch.biz from browsers
Google Chrome
Tap Alt+F to access the menu on the right of your Chrome browser.
Choose Settings, move down, and click Show advanced settings.
Scroll down and click Reset settings.
Confirm the selection and then restart your browser.
Internet Explorer
Open the browser, tap Alt+T, and choose Internet options.
Click the Advanced tab and scroll down to the Reset Internet Explorer settings menu.
Click the Reset button and choose Delete personal settings.
Confirm the selection and then restart your browser.
Mozilla Firefox
Simultaneously tap Alt+H for the Firefox Help menu.
Select Troubleshooting Information to access the about:support menu.
Click the Refresh Firefox button on the right.
Confirm the selection and then restart your browser.
Microsoft Edge
N.B. Since you cannot reset Edge, you will have to follow these steps.
Open the browser and click the More button (three dots) on the top right corner.
Click Settings and go to Clear browsing data menu.
Click Choose what to clear, check the desired boxes (we recommend all), and click Clear.
Go back to the Settings menu and move to the Open with section.
Click X to remove the unwanted URL and enter the desired URL.
Scroll down and click View advanced settings.
Go to the Search in the address bar with menu and click Change.
Remove the unwanted provider and set the desired one.
Restart your browser.
Check the Registry
Launch the RUN dialog box by tapping Win+R keys together.
Enter regedit.exe and click OK to access the Registry Editor.
Right-click and Delete these keys:

HKLM\SOFTWARE\Wow6432Node\Policies\Google\Chrome\HomepageLocation
HKLM\SOFTWARE\Wow6432Node\Policies\Google\Chrome\RestoreOnStartupURLs\1
In non-techie terms:
Although it might not look like it, your operating system is extremely vulnerable if your do not take any precautionary measures. Removing undesirable software/malicious infections can be very easy, as long as you identify and catch them in time. Now, protecting your operating system from threats that could come in all kinds of forms is much more complicated. If you are not sure if you can protect your PC from malware, the best thing you can do is employ a security tool you can trust. Anti-malware software can simultaneously remove malware and protect your PC from their invasion in the future, which is why we strongly recommend installing it without further hesitation. You should install reliable anti-malware software even if you manage to remove Myinfosearch.biz manually.