Do you know what MyImageConverter Toolbar is?
MyImageConverter Toolbar is just a new means of easy money making for Mindspark Interactive Network, Inc., who is infamous for creating annoying and useless toolbars. What's more, this toolbar may introduce you to potentially unsafe third-party content, just like any product from this questionable Mindspark family. Even worse is the possibility that this bad toolbar may come on-board together with other malware programs. In that case you are facing several security issues at the same time. If you know about the risks involved and understand them too, you can effectively step up against these infections. It is possible that removing MyImageConverter Toolbar is just the beginning, the first battle in a malware war you have to fight towards the ultimate goal for a clean and safe computer.
There seems to be an endless line of worthless toolbars coming from this family, including YourLocalLotto Toolbar, FreeMaps Toolbar, and EverydayLookup Toolbar, to mention a few recently discovered ones. MyImageConverter Toolbar also has an official webpage at myimageconverter.com, where you can directly install it from; however, we are always skeptic about these websites, and especially about the number of users that can find them at all. We do not think that this site is the major distribution "center" for this toolbar. It is more likely that it travels in free software bundles. And if it does so, you can imagine that this is not the only malware you will find in that bundle. Most commonly, adware apps, browser hijackers, and potentially unwanted programs can be found in infected bundles. These are usually hosted and promoted on questionable shareware websites, but you can also "accidentally" download them from torrent sites by clicking on third-party ads or fake buttons.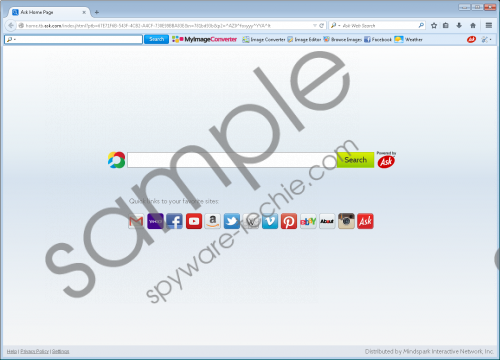 MyImageConverter Toolbar screenshot
Scroll down for full removal instructions
That is why we advise you to be very careful about the websites you choose to visit; and even more careful about the links and buttons you click on. Most users get their machines infected with malware by clicking on pop-up ads or banner ads on suspicious websites. If you stay away from these, there is a good chance that you avoid a lot of problems these malware infections may cause for you and your computer. But if you installed such a bundle, you need to know that even if you delete MyImageConverter Toolbar, you will still need to identify all the other potential threats and eliminate them all, too.
MyImageConverter Toolbar offers you quick-link buttons to third-party websites relating to image converting, obviously. It also provides you with the usual Ask.com search tool, and it also sets a modified Ask.com page as your new home page, new tab page, and default search engine as well. The only problem is that the third-party services this toolbar presents to you cannot ever be trusted 100% because the company does not take any responsibility for those. That means that even cyber criminals might exploit certain features of this browser extension and embed corrupted links in order to redirect you to their infected websites. In a single click you might get close to criminals and you might be scammed out of your personal details or even your money. That is not what you want, we believe. That is why we recommend that you remove MyImageConverter Toolbar ASAP.
We have finally reached the stage where you can actually have a solution for your malware infection problem. It is not too complicated to eliminate MyImageConverter Toolbar even if you are not the James Bond of IT. If you are hesitant about the manual steps of removal, please follow our instructions below this article. However, if you want to make sure that your operating system is well-protected, you may want to consider installing an authentic antimalware application.
MyImageConverter Toolbar Removal from Windows
Windows 8/Windows 8.1/Windows 10
Press Win+Q and type in control panel. Click OK.
Open Uninstall a program.
Select the application and press Uninstall.
Windows Vista/Windows 7
Open the Start menu and access Control Panel.
Click Uninstall a program.
Select the application and press Uninstall.
Windows XP
Click Start and go to Control Panel.
Click Add or Remove Programs.
Select the application and press Remove.
Reset your browsers
Mozilla Firefox
Press Alt+H and select Troubleshooting Information.
Click Refresh Firefox and click Refresh Firefox again in the pop-up.
Press Finish.
Internet Explorer
Press Alt+T and go to Internet Options.
Click the Advanced tab and click Reset.
Mark the Delete personal settings checkbox and click Reset.
Press Close.
Google Chrome
Press Alt+F and go to Settings.
Click Show advanced settings at the bottom.
Click Reset settings at the bottom.
Click Reset in the pop-up.
In non-techie terms:
MyImageConverter Toolbar is a so-called bad toolbar that most likely sneaks onto your computer in an infected software bundle and exposes you to potentially harmful web content. By keeping this toolbar on your computer, you risk having more malware infections or even becoming a victim of online fraud. In order to protect yourself and your computer from these dangers, we advise you to remove MyImageConverter Toolbar as soon as possible. If you are looking for an effective way to stand up to malware infections, you should use a reliable malware removal tool.