Do you know what MyHoome.com is?
MyHoome.com is considered to be a typical browser hijacker because it tends to change your homepage to myhoome.com without your permission, which looks rather suspicious. It is known that this browser hijacker might appear on Internet Explorer, Mozilla Firefox, and Google Chrome. It means that it does not matter which browser you use, it still might infiltrate into your computer. As it might cause you some inconvenience, you should definitely remove MyHoome.com and try not to install it ever again.
It is worth mentioning that there are several reasons why you should not trust MyHoome.com. First of all, you will not be able to keep your favorite homepage because it will be changed to myhoome.com. Secondly, you might see various advertisements every time you launch your browser. Besides, if you use the search engine which can be found on myhoome.com, you will soon notice that search results are provided together with various ads. We definitely do not recommend clicking on them. Instead, we suggest that you remove MyHoome.com from your computer. It is because you might be exposed to the websites with unknown or even malicious content.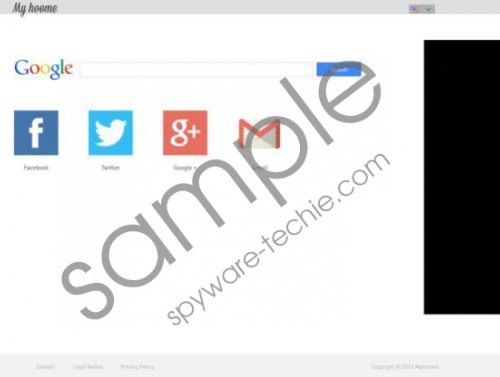 MyHoome.com screenshot
Scroll down for full removal instructions
It might be suggested that the advertisements displayed are used in order to generate more traffic or even boost sales of the products which are advertised. In addition, non-identifiable information might be collected in order to show you the most suitable advertisements. Such data as browsing history, search queries, and the time you spend on particular websites are of the main interest, which is why we advise you to delete MyHoome.com from your computer.
If you want to avoid similar software from getting onto your computer, you should be careful when downloading free software such as PDF converters and video streamers. It is especially true if you download them from unreliable sources. Each time you install a program, you should select custom installation in order to be able to see what components are going to be installed and unmark all the additional components if you do not want them appear on your system.
You will minimize the risk of infecting your computer, if you remove MyHoome.com from the system. You can use our manual removal instructions in order to change your homepage back to normal, but you should definitely scan your computer for other existing threats. We recommend using SpyHunter antimalware tool. It will not only keep your computer protected, but also let you feel relaxed as it always takes care of infections itself.
How to change your homepage
Internet Explorer
Open your browser and press Alt+T, then select Internet Options.
Under the General tab, type in a new URL of your homepage.
Click OK.
Mozilla Firefox
Open your browser and press Alt+T.
Go to Options.
Type in your homepage address under the General tab and click OK.
Google Chrome
Open Google Chrome and press Alt+F.
Select Settings.
Under the On startup section, select the third option Open a specific page or set of pages.
Click Set pages and add a new page.
Click OK.
In non-techie terms:
MyHoome.com acts like a very useful search engine but you should not trust it as it might expose you to potential threats and might even collect information about your browsing habits, which is why you should remove it from your computer. The easiest way to do that is to use a reliable antimalware tool.
Aliases: MyHoome virus.