How does Myhomepage123.com work?
What is it about Myhomepage123.com that compelled you to install it? Did you install it yourself? If it has hijacked your web browser illegally, you should realize already that it is a threat that deserves immediate removal. If you installed it thinking it would offer you beneficial services, you probably have understood already that this seemingly harmless search tool is not so harmless after all. If you do not think that your virtual security is at risk using this search provider, you must not know much about it. Our research team has conducted thorough research and analysis focusing on this hijacker, and the conclusion is that it is best for you to delete Myhomepage123.com. If you realize this already, you can find the instructions showing how to erase the threat below. If you are curious to learn more, we suggest reading this report.
According to our research, the suspicious Myhomepage123.com is identical to Funnysite123.com, Amisites.com, and all other suspicious hijackers that belong to the Elex family. This is already a bad sign. Surely, a tool that belongs to the same family as other known threats cannot be completely reliable and authentic. Keeping that in mind, every single threat is unique, and so if you are currently dealing with what appears to be a clone of Myhomepage123.com, we suggest you find a report that was specifically created after analyzing that threat. If you cannot find a report you need on our website, post a comment below and we will get back to you as soon as possible. Unfortunately, it is likely that you will need to read a few different reports because the hijacker is likely to enter your operating system bundled with malware. Note that malware could slither in unnoticed, or you could install it thinking that it is authentic and trustworthy software.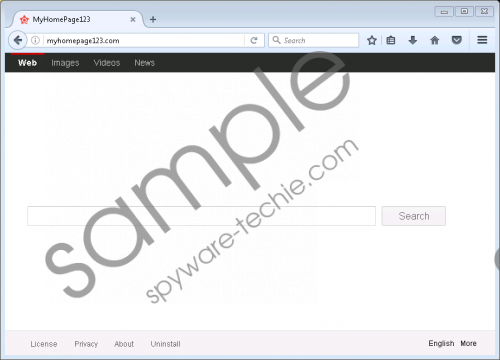 Myhomepage123.com screenshot
Scroll down for full removal instructions
One of the main reasons for removing Myhomepage123.com is the uselessness of this "search tool." If you have used it already, you know that its only function is to redirect you to Google Search. While this might seem fine to you at first, our research team warns that the hijacker could showcase advertisements and unreliable sponsored links when you browse Web, Images, Videos, and News. Sure, the interface of the results page might look just like a regular Google Search results page, but the results themselves could be modified. So, if you do not want to put yourself at risk, you should not interact with them. Another reason to get rid of the hijacker has to do with the collection of personal information. Whether or not you produce this information voluntarily, the people behind the hijacker are too untrustworthy to handle personal and non-personal data. If you agree with that, you probably want to remove Myhomepage123.com as soon as possible.
As you can see, it does not take much effort to delete Myhomepage123.com from the infected browser. In fact, all you need to do is replace the hijacker's URL with the URL of the desired startup page. Note that you can apply the preferred search provider, or you can use your favorite site. The choice is yours. Once you readjust your browser, you need to scan your operating system. If other infections are found, we urge you to eliminate them as soon as possible. As mentioned previously, you can use the guides on this website to learn how to erase malware manually, or you can install an automated malware remover to have all threats eradicated at the same time. If you want to discuss your options further, use the comments section.
Delete Myhomepage123.com
Internet Explorer
Launch the browser.
Simultaneously tap Alt+T for the Tools menu.
Select Internet options.
Click the General tab and move to Home Page.
Overwrite the URL and click OK.
Mozilla Firefox
Launch the browser.
Simultaneously tap Alt+T for the Tools menu.
Select Options.
Navigate to the General menu.
Overwrite the Home Page URL.
Google Chrome
Launch the browser.
Simultaneously tap Alt+F for the Chrome menu.
Select Settings and find the On Startup menu.
Choose Open a specific page or set of pages.
Click Set pages and overwrite the URL. Click OK.
In non-techie terms:
It is not recommend that you have Myhomepage123.com set as your homepage because this search tool is not useful and, more important, potentially unreliable. You can erase this browser hijacker manually (see guide above), but we suggest using automated malware removal software. If you are not sure about this option, scan your PC first to check which other infections might be active. If you realize that you simply cannot get rid of them yourself, using automated removal software might be the best idea. Also, do not forget about the protection of your operating system. Whether you clean your PC manually or using software, protecting your operating system is crucial.