Do you know what Myhomepage-7.info is?
Although Myhomepage-7.info is not a widespread program, some users still wonder about its removal. It is most likely that this search tool has taken over your browsers a long time ago, and you are only now getting around to eliminating it. It is also possible that it was a test version of some much more aggressive, more widely spread hijacker. Whatever the case might be, you should be able to eliminate this search provider from your web browsers. The last thing you should do is ignore the existence of undesirable, unreliable, or even useless software because you do not want to clutter your PC with worthless and potentially dangerous programs. Keep in mind that, in some cases, harmless-looking programs can turn out to be extremely malicious, which is why you should not judge software by the looks. Malicious activity is usually silent, and this is exactly why we advise removing Myhomepage-7.info.
Our research team has found that Myhomepage-7.info is very similar to mystartsearch.com (the same logo) and very similar to mysearchmarket.com and several other hijackers in the way it is operated. After digging a bit more, we found that these hijackers are created by the same company. Unfortunately, this company is concealed, and the lack of this information means two things. First of all, this means that users might have difficulty linking suspicious search tools to one another and realizing that they are unreliable. On the other hand, this should help you realize that this program is potentially unreliable. Only transparent programs that provide all necessary information should be considered trustworthy. Of course, if Myhomepage-7.info has taken over your browsers without your permission, it should be obvious that this search tool is unreliable. Note that programs that enter without permission are almost always malicious, and it is best to remove them immediately.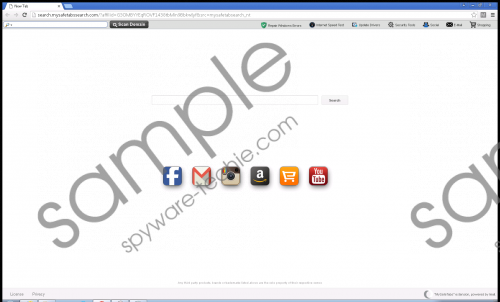 Myhomepage-7.info screenshot
Scroll down for full removal instructions
Myhomepage-7.info does not function as a normal search provider. When you enter keywords into the box provided (via homepage) or using the default search provider tool, you will be shown a blank page with a URL address promoting tlbsearch.com. This search tool is allegedly powered by Google; however, if you try using it, you will be introduced to ads and nothing else. Of course, you should not interact with the advertisements shown to you because this is a security loophole that could be used to infiltrate many other infections. Even if you do not interact with the ads shown or use Myhomepage-7.info as a regular search tool, it has tracking cookies that might spy on you while you browse the web. Although personal information should not be collected by the cookies of this search tool, other kinds of data could be used in many different ways. At the moment, it seems to be inactive, but the data collected by its cookies could be employed for the creation and enhancement of other programs. Hopefully, this data will not be used to trick you and scam you.
It should not be difficult to detect Myhomepage-7.info if it replaces your homepage and search provider tools on your popular browsers (Chrome, Firefox, and Internet Explorer). Eliminating this search provider might be more complicated than that. First of all, you need to reset the affected browser to erase all traces, and then you need to set up the desired search tools. Afterward, you need to inspect your PC for any remaining threats. You might even detect the leftovers of this search engine. Whatever kind of malware exists on your PC, you can trust a legitimate malware scanner to find it. Finally, set up a trusted protection system, and you are ready to go. If you want to makes things easier for yourself, install an anti-malware tool right now, before eliminating existing threats, as this tool will eliminate them for you.
Remove Myhomepage-7.info
Internet Explorer
Open the browser, tap Alt+T, and select Internet options.
Click the Advanced tab and click the Reset button.
Confirm the reset and restart the browser.
Click Alt+T and select Internet options again.
Click the General tab, enter the URL of the desired Home Page, and click OK.
Tap Alt+T one last time and select Manage Add-ons.
Move to the Search Providers menu.
Add (or choose from existing) the preferred provider and click Set as default.
Click Close and tap restart again.
Mozilla Firefox
Open the browser, tap Alt+H, and click Troubleshooting Information.
Click Refresh Firefox, confirm the reset, and restart Firefox.
Tap Alt+T to access the Tools menu and click Options.
In the General menu move to Home Page and enter the desired URL.
Move to the Search menu and expand the Default Search Engine list.
Select the desired provider (or add a new one) and restart the browser.
Google Chrome
Open the browser, tap Alt+F, and select Settings.
Scroll down and click Show advanced settings.
Scroll down to the bottom again and click Reset settings.
Confirm the reset and restart Chrome.
Tap Alt+T and select Settings again.
Under On Startup select Open a specific page or set of pages and click Set pages.
Enter the URL of the desired homepage and click OK.
Under Appearance select Show home button and click Change.
Enter the URL of the desired home button option and click OK.
Under Search click Manage search engines…
Select (or add) the desired provider and click Make default.
Click Done and restart Chrome again.
In non-techie terms:
Myhomepage-7.info might provide links to many popular sites, including facebook.com and gmail.com, but it is not a useful search tool, and it should not take long for you to realize this. If you have found that this search tool has replaced your regular homepage/search provider tools, you might recognize it as a hijacker. Unfortunately, if it has slithered in without your knowledge, it is very likely that other threats are present as well. Although you might be tempted to get rid of the existing threats manually – especially because it should not take much to erase this search engine – we advise using automated malware removal software just to ensure that all threats are eliminated from your PC successfully.