Do you know what MyFileConvert Toolbar is?
Nowadays our team categorizes MyFileConvert Toolbar as a potentially unwanted program. Previously, we used to put this program either in the browser hijacker or browser extension categories. To tell you the truth, the program might be considered either because of how it gets installed on your computer, and what it does to your system. While the application cannot be considered malware, it is still for the best to remove MyFileConvert Toolbar from your system immediately. The thing is that this program must have entered your PC accidentally, so you should not tolerate something you were not supposed to have on-board.
Technically, there is nothing new about this application because it belongs to the Mindspark family. There are multiple browser extensions from this group, some of which we have discussed before. For example, CreateDocsOnline Toolbar, QuickWeatherTracker Toolbar, AllinOneDocs Toolbar, and many others. The point is that all these applications are rather similar, although they seem to be offering different functions. Yet, if you strip them off those "unique" services, the main framework and the behavioral patterns prove to be the same: These programs tend to expose users to undesirable third-party content, and that is definitely something all of us should avoid.
What puts these potentially unwanted programs apart from most of the other undesirable apps is that they have official distribution sources. In other words, you can download MyFileConvert Toolbar directly from its homepage. The homepage is located at myfileconvert.com, and the information on the page says that with this application you can "convert over 30 file formats and share across platforms." It surely makes it seem like a reliable and useful tool that you can definitely use on a daily basis. However, this is probably where you would stop and tell us that you did not download this application from its official homepage.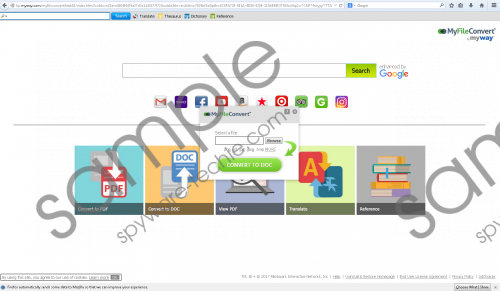 MyFileConvert Toolbar screenshot
Scroll down for full removal instructions
How, then, did MyFileConvert Toolbar manage to enter your computer? This does not surprise us at all. Programs from the Mindspark family are very good at employing other means of distribution. Just like most of the other potentially unwanted applications they can arrive bundled with freeware. You could have easily downloaded some third-party installer from a file-sharing website that you came across accidentally. We would like to emphasize (once again) how risky it is to download programs from third-party sources. These installers tend to carry more than just one program, and if you go through the installation automatically, you end up installing all of them at once!
Of course, MyFileConvert Toolbar is not a malicious infection, and it cannot destroy your computer. It actually says that it will help you convert file formats for free. However, there are some side effects you cannot ignore. For instance, the tool will change your homepage and new tab settings upon the installation. The program will set its own search engine as your homepage, and it will also add a tool there that should help you convert your documents to .doc or .pdf formats. It also offers a variation of Google Translate and even has shortcuts to Encyclopedia Britannica.
From this, we can tell that MyFileConvert Toolbar tries to come across as something necessary, but the truth is that you can have all of these links as bookmarked in your shortcut tab on your browser. So the question is whether you really need a third-party application to provide you with such services. Not to mention that there is no guarantee the application would open the sites without any redirection. It is very likely that MyFileConvert Toolbar will collect information on your web browsing habits to display commercial content. It needs you to click that content because that is how such programs make money. But if you click it, there is always a chance that you will end up on some dangerous website, you should never do that.
Instead, remove MyFileConvert Toolbar following the instructions below. Manual removal is not complicated, and you can easily achieve it on your own. Yet, please remember that there might be more unwanted applications on-board, and if you find it too bothersome to look for them on your own, you can run a full system scan with the SpyHunter free scanner. Do what is right and protect your computer from harm.
How to Remove MyFileConvert Toolbar
Chrome
Press Win+R and type %LocalAppData%. Click OK.
Go to Google\Chrome\User Data\[PROFILE].
Open Extensions and delete the dklojdcnnnnpfndcmmanejekaocnba folder.
Go back to your Profile and open the Local Extensions Settings folder.
Delete the dklojdcnnnnpfndcmmanejekaocnba folder.
Go back to the Profile folder and open Sync Extension Settings.
Delete the dklojdcnnnnpfndcmmanejekaocnba folder.
Firefox
Press Win+R and type %AppData%. Click OK.
Go to Mozilla\Firefox\Profiles\[PROFILE]\extensions.
Delete the _hvMembers_@free.myfileconvert.com file.
Go a step back to the Profile folder.
Delete the MyFileConvert_hv file.
Internet Explorer
Press Win+R and type Control panel. Press OK.
Open Uninstall a program (Add or Remove programs for Windows XP).
Remove MyFileConvert Toolbar Internet Explorer Homepage and New Tab.
In non-techie terms:
MyFileConvert Toolbar is not much of a security threat, but it is a very annoying program. It will change your browser's settings without your permission. Your browser will become very slow, and you will always see annoying pop-ups when you browse the web. To protect yourself and your personal information, you have to remove MyFileConvert Toolbar right now. Such applications can be easily exploited by cyber criminals, so you need to nip the problem in the bud.