Do you know what Myfast-search.com is?
Although Myfast-search.com has an IP that geographically locates it in the US, this suspicious hijacker is mainly spread across India. Because it does not have an official installer, it is most likely spread using software bundles, in which case, it might be spread along with malware as well. Have you installed this hijacker packaged with other programs? Are you sure they are harmless? Even if you think they are, it is wise to inspect them using a legitimate malware scanner. Most scanners are free, and so you should not skip this step, especially because there are infections that can hide themselves, as well as conceal themselves using very intricate disguises. Do not panic if malware is found because you might be able to delete it before anything bad happens (of course, it all depends on the malware that has slithered in). Continue reading, and you will learn how to remove Myfast-search.com and all other threats.
Although Myfast-search.com is very similar to StartSearch.info, Coolsearch.info, and other infamous hijackers, our researchers have found that it is most similar to Search.fastsearchanswer.com. Both of these threats share the same IP address, and, according to their Privacy Policies, they belong to the so-called MadX Services family. Even the interfaces of these threats are identical. Speaking of the interface, it is very clean, and no additional buttons or tabs are attached to promote any third-party services. Needless to say, this makes Myfast-search.com a little more safe-looking. Also, the "Search" logo in the middle of the screen has the same colors that the Google Search logo uses, and that might confuse you, especially since the search dialog box also represents Google. In fact, the Images, Maps, Videos, and News tools all redirect to Google services. Do not be mistaken, the hijacker is not an affiliate of Google Search, and you need to be extremely cautious about it.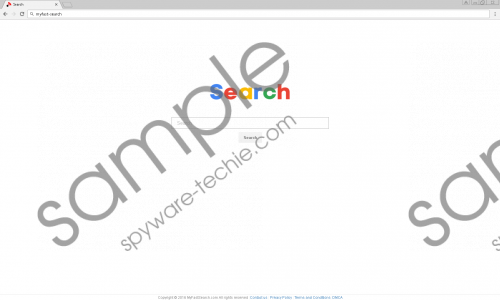 Myfast-search.com screenshot
Scroll down for full removal instructions
Was the homepage of your web browser – the hijacker was found to affect Chrome, Internet Explorer, and Firefox – modified? Although it is possible that Myfast-search.com could hijack the New Tab and the default search provider, our research team reports that it is primarily a homepage hijacker. Your homepage, obviously, is your gateway to the web, and, considering that the main objective behind the hijacker is to force you into using it, it is not surprising that it lurks for you via the startup page. If you do not delete Myfast-search.com, you will keep seeing it every time you launch your browser, and, even if it has slithered in without your permission, you are likely to interact with it. If you do, you subject yourself to potentially unreliable "Web" search results. Also, the infection might share the data it records using tracking cookies, beacons, pixels and other data-trackers with unknown parties.
Myfast-search.com is not a complex infection, and removing it is quite simple. In fact, all you need to do is modify the homepage URL, and we are sure that most users will not even need to follow the guide below to succeed. If you are inexperienced, delete Myfast-search.com using the detailed step-by-step instructions. In case you have scanned your PC and more infections were found, consider using an anti-malware tool to have all of them erased automatically. We advise using this tool for further system's protection as well. If you do not employ it, you will have to guard your operating system yourself.
Remove Myfast-search.com from browsers
Google Chrome
Open the browser and tap keys Alt+F.
In the Chrome menu on the right select Settings.
Select Open a specific page or set of pages under On Startup.
Click Set pages and then overwrite the hijacker's URL. Click OK.
Internet Explorer
Open the browser and tap keys Alt+T.
In the Tools menu at the top select Internet options.
Click the General tab on the left and move to Home Page.
Overwrite the hijacker's URL and then click OK.
Mozilla Firefox
Open the browser and tap keys Alt+T.
In the Tools menu at the top select Options.
In the menu on the left click General and move to Home Page.
Overwrite the hijacker's URL with the preferred URL.
In non-techie terms:
You have to decide for yourself if you should delete Myfast-search.com from your browsers, but if you look at the facts represented in this report, it becomes clear that this hijacker is not all that great. Sure, it has a clean interface, but it is not beneficial, and, in fact, it could be dangerous considering that it might showcase unreliable search results, redirect to third-party sites, and record and share information regarding you virtual activity. Although it is fairly easy to remove this hijacker manually, it is advised that all users use anti-malware software. It can automatically erase the hijacker along with all other threats, and it can keep your operating system protected against malware in the future.