Do you know what MyEasyLotto Toolbar is?
MyEasyLotto Toolbar is advertised like a great tool that should prove you with information regarding national lottery. However, there is more to this application than you might think. After an extensive analysis, malware researchers working at Spyware-Techie.com have categorized this piece of software as one more potentially unwanted program that should not be up and running on your personal computer. If unfortunately, this devious application already runs on your personal computer, make sure to execute its complete removal. We advise you to do so because this suspicious program can make your online experience a bothersome one. Learn more about the intricate inner workings of this potentially unwanted program by reading the rest of our article. Besides such information, we include a comprehensive removal guide that you should use to delete MyEasyLotto Toolbar in just a few simple steps.
The primary reason our malware researchers have classified MyEasyLotto Toolbar as a potentially unwanted program is its invasive functionality. As it turns out, the suspicious program installs a questionable browser extension to popular web browsers such as Internet Explorer, Google Chrome, and Mozilla Firefox. Such broad compatibility means that a vast number of users could be affected by this questionable piece of software; thus, being aware of its existence could help you maintain a clean and secure operating system. The dubious plug-in is primarily used to make unauthorized changes to your browser's default settings. Main modifications triggered by this potentially unwanted program are of your default homepage and new tab page. While at first sight such alterations might not seem like a big deal, it is important to note that in the long run, they will have a negative effect on the way you experience the web. Having this questionable program up and running on your personal computer means that you no longer have access to your default homepage. That is so because you will be forced to use a suspicious third-party side as your homepage instead of the one you prefer. Virtually the same thing happens to your new tab page because instead of a blank page you will be presented with a devious third-party site, whether you like that or not. It should be quite obvious that surfing the web the way you like will no longer be possible. To surf the web the way you are used to once again, make sure to remove MyEasyLotto Toolbar once and for all. Otherwise, the unwanted alterations will continue to bother you on a daily basis.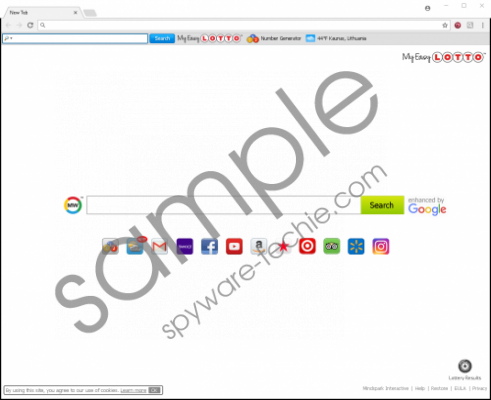 MyEasyLotto Toolbar screenshot
Scroll down for full removal instructions
During our analysis, it has been discovered that in quite a few cases MyEasyLotto Toolbar could be distributed via bundled installers. Thus, it should not be surprising that we advise you to double-check your entire operating system for other dubious software because it could have come along. If you are a security-conscious user that wants to have a secure operating system at all times, you need to take a few preventative steps. Make sure to practice safe browsing habits to lower the risk of coming across a dangerous installer. It is important to download all of your software for its official developers' websites only since unauthorized third-party download sites often host bundled installers. Furthermore, we urge you learn as much as you can about a program before obtaining it because cyber crooks infamously use misleading marketing techniques to lure unsuspecting users into download and installing their application without understanding how it functions. Last, but not least, make sure to install a professional antimalware tool if you do not have one already. Such a tool is paramount because it provides overall system security at all times, meaning that it is designed to top identify and delete any virtual threat automatically.
Make sure to delete MyEasyLotto Toolbar without second thoughts since that it is the only way to regain your browser's default settings. As soon as you are done with the instructions that we provide below, make sure to double check your entire operating system for potential traces associated with MyEasyLotto Toolbar. It is important to perform such analysis because leftovers of this potentially unwanted program could act deviously. Just a few traces might be enough for it to maintain the unwanted changes in place. In other situations, leftovers could initiate a restoration process of MyEasyLotto Toolbar without your knowledge. By rechecking your entire operating system, you will be sure that the termination has been successful.
How to remove MyEasyLotto Toolbar
Click the Windows button
Select Control Panel and click Uninstall a program.
Right-click the potentially unwanted program.
Select the Uninstall option.
How to remove the leftovers of MyEasyLotto Toolbar
Open your File Explorer.
Remove a folder called feeidicocfobomaabepnamkfbepcdhjc from the following directories:
a) C:\Users\[your username]\AppData\Local\Google\Chrome\User Data\Default\Extensions.
b) C:\Users\[your username]\AppData\Local\Google\Chrome\User Data\Default\Local Extension Settings.
c) C:\Users\[your username]\AppData\Local\Google\Chrome\User Data\Default\Sync Extension Settings.
Go to C:\Users\[your username]\AppData\Roaming\Mozilla\Firefox\Profiles\[unique Mozilla ID]\extensions.
Right-click a file called _pnMembers_@free.myeasylotto.com.xpi and then select Delete.
Right-click your Recycle Bin and select the Empty Recycle Bin option.
In non-techie terms:
It is quite natural that some user will find manual removal a bit too complicated. If you are one of those users, do not worry. Malware researchers have crafted an alternative removal guide to help you get rid of MyEasyLotto Toolbar. By following the instructions that we provide below, you will be able to delete this potentially unwanted program automatically.